Abstract
Because of the report on the abnormal local fertility rate at Taizhou area, which is a famous e-waste disassembly center in China, the hormone-like effects in the surface sediment from the local river was investigated. Compared to the control site DG, significant estrogenic effects (p < 0.01) were observed at e-waste recycling sites ranging from 6.01 to 29.31 nmol/kg dw E2 equivalents by water extraction while ranging from 20.47 to 135.02 nmol/kg dw by organic extraction. When coincubated with E2, the water and the organic extractions displayed significant (p < 0.01) synergistic and anti-estrogenic effects respectively.
Access options
Buy single article
Instant access to the full article PDF.
USD 39.95
Price includes VAT (USA)
Tax calculation will be finalised during checkout.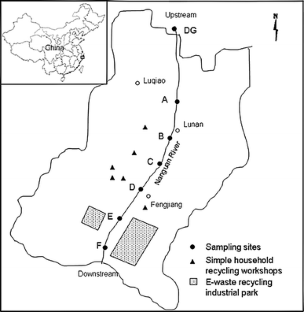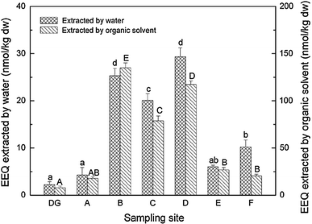 References
Arcaro KF, Yi L, Seegal RF, Vakharia DD, Yang Y, Spink DC, Brosch K, Gierthy JF (1999) 2,2′,6,6′-Tetrachlorobiphenyl is estrogenic in vitro and in vivo. J Cell Biochem 72:94–102

Calò M, Alberghina D, Bitto A, Lauriano ER, Cascio PL (2010) Estrogenic followed by anti-estrogenic effects of PCBs exposure in juvenil fish (Spaurus aurata). Food Chem Toxicol 48:2458–2463

Chen L, Yu CN, Shen CF, Zhang CK, Liu L, Shen KL, Tang XJ, Chen YX (2010) Study on adverse impact of e-waste disassembly on surface sediment in East China by chemical analysis and bioassays. J Soil Sediment 10:359–367

Denier X, Hill EM, Rotchell J, Minier C (2009) Estrogenic activity of cadmium, copper and zinc in the yeast estrogen screen. Toxicol In Vitro 23:569–573

Ha NN, Agusa T, Ramu K, Tu NPC, Murata S, Bulbule KA, Parthasaraty P, Takahashi S, Subramanian A, Tanabe S (2009) Contamination by trace elements at e-waste recycling sites in Bangalore, India. Chemosphere 76:9–15

Halluite J, Linton JD, Yeomans JS, Yoogalingam R (2005) The challenge of hazardous waste management in a sustainable environment: insights from electronic recovery laws. Corp Soc Responsib Environ Manage 12:31–37

Ma R, Sassoon DA (2006) PCBs Exert an estrogenic effect through repression of the Wnt7a signaling pathway in the female reproductive tract. Nature 114:899–904

Ma M, Rao KF, Wang ZJ (2007) Occurrence of estrogenic effects in sewage and industrial wastewaters in Beijing, China. Environ Pollut 147:331–336

Martin MB, Reiter R, Pham T, Avellanet YR, Camara J, Lahm M, Pentecost E, Pratap K, Gilmore BA, Divekar S, Dagata RS, Bull JL, Stoica A (2003) Estrogen-like activity of metals in MCF-7 breast cancer cells. Endocrinology 144:2425–2436

Nesatyy VJ, Ammann AA, Rutishauser BV, Suter MJ (2006) Effect of cadmium on the interaction of 17beta-estradiol with the rainbow trout estrogen receptor. Environ Sci Technol 40:1358–1363

Nomiyama K, Nomura Y, Takahashi T, Uchiyama Y, Arizono K, Shinohara R (2010) Hydroxylated polychlorinated biphenyls (OH-PCBs) induce vitellogenin through estrogenic activity in primary-cultured hepatocytes of the Xenopus laevis. Chemosphere 78:800–806

Routledge EJ, Sumpter JP (1996) Estrogenic activity of surfactants and some of their degradation products assessed using a recombinant yeast screen. Environ Toxicol Chem 15:241–248

Shekhar PV, Werdell J, Basrur VS (1997) Environmental estrogen stimulation of growth and estrogen receptor function in preneoplastic and cancerous human breast cell lines. J Natl Cancer Inst 89:1774–1782

Shen CF, Chen YX, Huang SB, Wang ZJ, Yu CN, Qiao M, Xu YP, Setty K, Zhang JY, Zhu YF, Lin Q (2009) Dioxin-like compounds in agricultural soils near e-waste recycling sites from Taizhou area, China: chemical and bioanalytical characterization. Environ Int 35:50–55

BAN and SVTC (The Basel Action Network and Silicon Valley Toxics Coalition) (2002) Exporting harm: the high-tech trashing of Asia. Seattle, WA. http://www.ban.org

Thomas KV, Langford K, Petersen K, Smith AJ, Tollefsen KE (2009) Effect-directed identification of naphthenic acids as important in vitro xeno-estrogens and anti-androgens in northsea offshore produced water discharges. Environ Sci Technol 43:8066–8071

Wang JX, Wu WZ, Henkelmann B, You L, Kettrup A, Schramm KW (2003) Presence of estrogenic activity from emission of fossil fuel combustion as detected by a recombinant yeast bioassay. Atmos Environ 37:3225–3235

Wu WZ, Chen J, Rehmann K, Schramm KW, Kettrup A (2002) Estrogenic effects from household stoves. Ecotox Environ Safe 53:65–69

Wu JP, Luo XJ, Zhang Y, Chen SJ, Mai BX, Guan YT, Yang ZY (2009) Residues of polybrominated diphenyl ethers in frogs (Rana limnocharis) from a contaminated site, South China: tissue distribution, biomagnification, and maternal transfer. Environ Sci Technol 43:5212–5217

Xing GH, Chan JKY, Leung AOW, Wu SC, Wong MH (2009) Environmental impact and human exposure to PCBs in Guiyu, an electronic waste recycling site in China. Environ Int 35:76–82

Zhao GF, Wang ZJ, Zhou HD, Zhao Q (2009a) Burdens of PBBs, PBDEs, and PCBs in tissues of the cancer patients in the e-waste disassembly sites in Zhejiang, China. Sci Total Environ 407:4831–4837

Zhao GF, Zhou HD, Wang DH, Zha JM, Xu YP, Rao KF, Ma M, Huang SB, Wang ZJ (2009b) PBBs, PBDEs, and PCBs in foods collected from e-waste disassembly sites and daily intake by local residents. Sci Total Environ 407:2565–2575
Acknowledgments
This work was supported by This work was supported by the National High Technology Research and Development Program of China (2009AA063104), National Natural Science Foundation of China (40901153) and Science and Technology Foundation of Zhejiang Province, China (2009C13003).
About this article
Cite this article
Chen, L., Yu, C., Shen, C. et al. Occurrence of (Anti)estrogenic Effects in Surface Sediment from an E-Waste Disassembly Region in East China. Bull Environ Contam Toxicol 89, 161–165 (2012). https://doi.org/10.1007/s00128-012-0632-9
Received:

Accepted:

Published:

Issue Date:
Keywords
E-waste recycling

Yeast estrogen screen assay (YES)