Abstract
A field experiment was conducted at the Research Farm of CCS HAU, Hisar to study the dissipation and decontamination behavior of bifenthrin on tomato crop following the application of 25 g a.i ha−1 (T1) and 50 g a.i ha−1 (T2). Samples were collected periodically on the sampling days after applications. Residues were reached below detectable level of 0.005 mg kg−1 on 10th day after application showing half-life period of 1.83 and 2.05 days at room temperature and 2.02 and 2.32 days under refrigerated condition for single and double dose, respectively. Processing was found effective in reducing the residues of bifenthrin in tomato fruits. Maximum reduction (42.10–45.23 %) was observed by washing + boiling followed by washing (16.66–19.04 %). Reduction was slightly less when samples were stored under refrigerated conditions as compared to room temperature conditions.
Access options
Buy single article
Instant access to the full article PDF.
USD 39.95
Price includes VAT (USA)
Tax calculation will be finalised during checkout.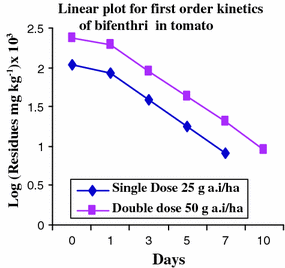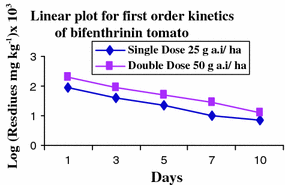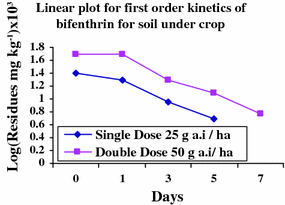 References
Angioni A, Schirra M, Garau VL, Melis M, Tuberoso CIG, Cabras P (2004) Residues of azoxystrobin, fenhexamid and pyrimethanil in strawberry following field treatments and the effect of domestic washing. Food Add Contam 21:1065–1070

Boulaid M, Aguilera A, Camacho F, Soussi M, Valrade A (2005) Effect of household processing and unit to unit variability of pyrifenox, pyridaben and tralomethrin residues in tomatoes. J Agric Food Chem 53:4054–4058

Cengiz MF, Certel M, Karakas B, Göçmen H (2007) Residue contents of captan and procymidone applied on tomatoes grown in greenhouses and their reduction by duration of a pre-harvest interval and post-harvest culinary applications. Food Chem 100:1611–1619

Chauhan R, Monga S, Kumari B (2012) Effect of processing on reduction of λ-cyhalothrin residues in tomato fruits. Bulletin Environ Contam Toxicol 88:352–357

Dikshit AK, Pachaury DC, Jindal T (2003) Maximum residue limit and risk assessment of etacyfluthrin and imidacloprid on tomato. Bull Environ Contam Toxicol 70:1143–1150

Gill K, Kumari B, Kathpal TS (2001) Dissipation of alphamethrin residues in/or brinjal and tomato during some storage and processing conditions. J Food Sci Technol 38(1):43–46

Jayakrishnan S, Dikshit AK, Singh JP, Pachauri DC (2005) Dissipation of λ-cyhalothrin on tomato (Lycopersicon esculentum Mill.) and removal of its residues by different washing processes and steaming. Bull Environ Contam Toxicol 75:324–328

Krol WJ, Arsenault TL, Pylypiw HM Jr, Mattina MJI (2000) Reduction of pesticide residues on produce by rinsing. J Agric Food Chem 48:4666–4670

Kumari B, Madan VK, Kathpal TS (2008) Status of insecticide contamination of soil and water in Haryana, India. Environ Monit Assess 136:239–244

Kwon HY, Lee HD, Kim JB, Jin YD, Moon BC, Park BC, Son KA, Kwon OK, Hong MK (2009) Reduction of pesticide residues in field sprayed leafy vegetables by washing and boiling. J Food Hyg Saf 24(2):182–187

Malik K, Kumari B, Kathpal TS (1998) Persistence and decontamination of α-methrin residues in/on cauliflower at two different temperatures. Pestic Res J 10(2):246–250

Mourkidou EP, Holland PT, Hamilton D, Ohlin B, Skidmore MW (1994) Effects of storage and processing on pesticide residue in plant products. (Technical report of International Union of Pureand Applied Chemistry). Pure Appl Chem 66(2):357–372

Rushtapakornchai W, Petchwichit P (1996) Efficiency of some insecticides for controlling tobacco whitefly Bemisia tabaci and leaf miner Liriomyza trifolii on tomato. Agric J 24:184–189

Sudhakar K, Punnaiah KC, Krishnayya PV (1998) Efficacy of certain selected insecticides on the sucking pest complex of brinjal. Indian J Entomol 60:241–244

Walter JK, Arsenault TL, Pylypiw HM, Mattina MJI (2000) Reduction of pesticide residues on produce by rinsing. J Agric Food Chem 48:4666–4670

Zhang ZY, Liu XJ, Hong XY (2007) Effect of home preparation on pesticide residues in cabbage. Food Control 18:1484–1487
Acknowledgments
The authors wish to express their gratitude to the Head, Department of Entomology for providing research facilities.
About this article
Cite this article
Chauhan, R., Monga, S. & Kumari, B. Dissipation and Decontamination of Bifenthrin Residues in Tomato (Lycopersicon esculentum Mill). Bull Environ Contam Toxicol 89, 181–186 (2012). https://doi.org/10.1007/s00128-012-0629-4
Received:

Accepted:

Published:

Issue Date:
Keywords
Tomato

Bifenthrin

Residues

Processing

Half-Life Period

Soil