Abstract
This work evaluates for the first time the relationships between copper-tolerance, -solubilization and -bioaccumulation in the entomopathogen Beauveria bassiana exposed to Bordeaux mixture, copper oxychloride or copper hydroxide. Bordeaux mixture was highly detrimental to fungus, by inhibiting the growth totally at the recommended dose (RD) and 2×RD. Copper hydroxide and copper oxychloride were found to be less toxic, reducing fungus growth, sporulation and conidial germination in an average of 29  %, 30 % and 58 %, respectively. These two copper forms were the easiest to solubilize, to precipitate and the most accumulated by B. bassiana, suggesting the involvement of all these processes on fungus copper-tolerance.
Access options
Buy single article
Instant access to the full article PDF.
USD 39.95
Price includes VAT (USA)
Tax calculation will be finalised during checkout.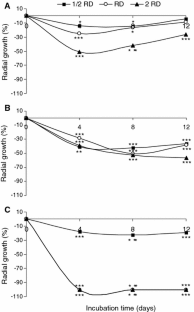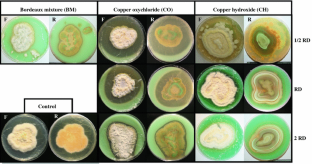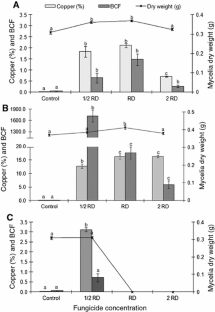 References
Agrios GN (2005) Plant Pathology, 5th edn. Elsevier Academic Press, New York

Akello J, Dubois T, Coyne D, Kyamanywa S (2009) The effects of Beauveria bassiana dose and exposure duration on colonization and growth of tissue cultured banana (Musa sp.) plants. Biol Control 49:6–10

Bååth E (1991) Tolerance of copper by entomogenous fungi and the use of copper-amended media for isolation of entomogenous fungi from soil. Mycol Res 95:1140–1152

Baptista P, Ferreira S, Soares E, Coelho V, Bastos M (2009) Tolerance and stress response of Macrolepiota procera to nickel. J Agric Food Chem 57:7145–7152

Cervantes C, Gutierrez-Crona F (1994) Copper resistance mechanisms in bacteria and fungi. FEMS Microbiol Rev 14:121–138

Clausen CA, Green F (2003) Oxalic acid overproduction by copper-tolerant brown-rot basidiomycetes on southern yellow pine treated with copper-based preservatives. Int Biodeterior Biodegrad 51:139–144

Durán J, Carballo M, Hidalgo E (2004) Efecto de fungicidas sobre la germinación y el crecimiento de Beauveria bassiana. Manejo Integrado de Plagas y Agroecología. Costa Rica 71:73–78

Figueiredo E, Soares ME, Baptista P, Castro M, Bastos ML (2007) Validation of an electrothermal atomization atomic absorption spectrometry method for quantification of total chromium and chromium(VI) in wild mushrooms and underlying soils. J Agric Food Chem 55:7192–7198

Fomina M, Alexandre IJ, Hillier S, Gadd GM (2004) Zinc phosphate and pyromorphite solubilization by soil plant-symbiotic fungi. Geomicrobiol J 21:351–366

Fomina MA, Burford EP, Gadd GM (2005a) Toxic metals and fungal communities. In: Dighton J, White JF, Oudemans P (eds) The Fungal Community: Its Organization and Role in the Ecosystem. Taylor & Francis, CRC Press, USA, pp 733–758

Fomina M, Hillier S, Charnock JM, Melville K, Alexander IJ, Gadd GM (2005b) Role of oxalic acid overexcretion in transformations of toxic metal minerals by Beauveria caledonica. Appl Environ Microbiol 71:371–381

Gadd GM (1993) Interaction of fungi with toxic metals. New Phytol 124:25–60

Gharied MM (2002) Biosorption and solubilization of copper oxychloridefungicide by Aspergillus niger and the influence of calcium. Biodegradation 13:191–199

Gharied MM, Ali IM, El-Shoura AA (2004) Transformation of copper oxychloride fungicide into copper oxalate by tolerant fungi and the effect of nitrogen source on tolerance. Biodegradation 15:49–57

Gisi U, Sierotzki H (2008) Fungicide modes of action and resistance in downy mildews. Eur J Plant Pathol 122:157–167

Jaros-Su J, Groden E, Zhang J (1999) Effects of selected fungicides and timing of fungicide application on Beauveria bassiana-induced mortality of the colorado potato beetle (Coleoptera: Chrysomelidae). Biol Control 15:259–269

Kouassi M, Coderre D, Todorova SI (2003) Effects of the timing of applications on the incompatability of three fungicides and one isolate of the entomopathogenic fungus Beauveria bassiana (Balsamo) Vuillemin (Deuteromycotina). J Appl Entomol 127:421–426

Loria RS, Galaini S, Roberts DW (1983) Survival of the entomopathogenic fungus Beauveria bassiana as influenced by fungicides. Environ Entomol 12:1724–1726

Majchrowicz I, Poprawski TJ (1993) Effects in vitro of nine fungicides on growth of entomopathogenic fungi. Biocontrol Sci Tech 3:321–336

Oliveira I, Pereira JA, Bento A, Baptista P (2010) Viability of Beauveria bassiana isolates after storage under several preservation methods. Ann of Microbiol 61:339–344

Oliveira I, Pereira JA, Lino-Neto T, Bento A, Baptista P (in press) Fungal diversity associated to the olive moth, Prays oleae Bernard: a survey for potential entomopathogenic fungi. Microb Ecol

Olmert I, Kenneth RG (1974) Sensitivity of the entomopathogenic fungi Beauveria bassiana, Verticillium lecanii, Verticillium sp. to fungicides and insecticides. Environ Entomol 3:33–38

Ownley BH, Griffin MR, Klingeman WE, Gwinn KD, Moulton JK, Pereira RM (2008) Beauveria bassiana: Endophytic colonization and plant disease control. J Invertebr Pathol 98:267–270

Popowska-Nowak E, Sosak-Oewiderska B, Bajan C, Bieñkowski P (2004) Response of isolates of entomopathogenic fungus Metarhizium anisopliae to heavy metal pollution and their accumulative abilities. Chem InZ Ekol 11:71

Rachappa V, Lingappa S, Patil RK (2007) Effect of agrochemicals on growth and sporulation of Metarhizium Anisopliae (Metschnikoff) Sorokin Karnataka. J Agric Sci 20:410–413

Shah FA, Ansari MA, Watkins J, Phelps Z, Cross J, Butt TM (2009) Influence of commercial fungicides on the germination, growth and virulence of four species of entomopathogenic fungi. Biocontrol Sci Technol 19:743–753

Shapiro-Ilan DI, Reilly CC, Hotchkiss MW, Wood BW (2002) The potential for enhanced fungicide resistance in Beauveria bassiana through strain discovery and artificial selection. J Invertebr Pathol 81:86–93

Soares ME, Pereira JA, Bastos L (2006) Validation of a method to quantify copper and other metals in olive fruit by ETAAS. Application to the residual metal control after olive tree treatments with different copper formulations. J Agric Food Chem 54:3923–3928

Tamai MA, Alves SB, Lopes RB, Faion M, Padulla LFL (2002) Toxicidade de produtos fitossanitários para Beauveria bassiana. Arq Inst Biol 69:89–96

Todorova SI, Coderre D, Duchesne RM, Côté JC (1998) Compatibility of Beauveria bassiana with selected fungicides and herbicides. Environ Entomol 27:427–433

White Tj, Bruns T, Lee S, Taylor J (1990) Amplification and direct sequencing of fungal ribosomal RNA genes for phylogenetics. In: Innis M, Gelfand D, Shinsky J, White Tj (eds) PCR Protocols: A guide to methods and applications, Academic Press, San Diego, pp. 315–322
Acknowledgments
Authors are grateful to Fundação para a Ciência e Tecnologia (FCT) for financial support (Project PTCD/AGR-AAM/102600/2008).
About this article
Cite this article
Martins, F., Soares, M.E., Oliveira, I. et al. Tolerance and Bioaccumulation of Copper by the Entomopathogen Beauveria bassiana (Bals.-Criv.) Vuill. Exposed to Various Copper-Based Fungicides. Bull Environ Contam Toxicol 89, 53–60 (2012). https://doi.org/10.1007/s00128-012-0628-5
Received:

Accepted:

Published:

Issue Date:
Keywords
Beauveria bassiana

Copper-based fungicides

Tolerance