Abstract
A simple and efficient analytical method was standardized for the estimation of residues of carbaryl in various substrates comprising grape berries, kinnow pulps, kinnow rind and soil. The samples were refluxed using mixture of methanol: 0.5 N HCl (1:1 v/v); diluted with brine solution, partitioned into chloroform and dried over anhydrous sodium sulfate. Further the samples were treated with anhydrous magnesium sulfate and primary secondary amine. Final clear extracts were concentrated under vacuum and reconstituted the volume into acetone. The residues were estimated directly on gas liquid chromatograph equipped with nitrogen phosphorus detection system equipped with a capillary column packed with 5 % diphenyl 95 % dimethyl polysiloxane non-polar phase. A consistent recovery from 82 % to 97 % for carbaryl was observed when samples were spiked at levels ranging from 0.05 to 1.00 mg kg−1. The limit of quantification of the method was worked out to be 0.05 mg kg−1 for grape berries, kinnow pulp, kinnow rind and soil.
Access options
Buy single article
Instant access to the full article PDF.
USD 39.95
Price includes VAT (USA)
Tax calculation will be finalised during checkout.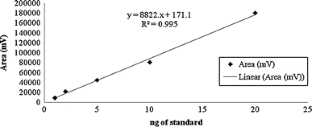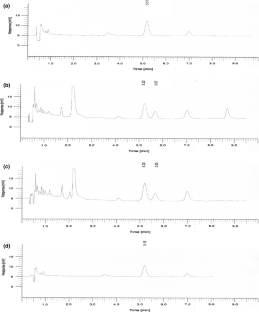 References
Abad A, Montoya A (1995) Application of a monoclonal antibody-based ELISA to the determination of carbaryl in apple and grape juices. Anal Chim Acta 311:365–370

Abad A, Moreno MJ, Pelegri R, Martinez MI, Sáez A, Gamón M, Montoya AJ (2001) Monoclonal enzyme immunoassay for the analysis of carbaryl in fruits and vegetables without sample cleanup. J Agric Food Chem 49:1707–1712

Bacchetta R, Mantecca P, Andrioletti M, Vismara C, Vailati G (2008) Axial-skeletal defects caused by carbaryl in Xenopus laevis embryos. Sci Total Environ 392:110–118

Benson WR, Finocchiaro JM (1965) Rapid procedure for carbaryl residues: modification of the official colorimetric method. J Assoc Off Anal Chem 48:676–679

Biswas AK, Kondaiah N, Anjaneyulu ASR, Rao GS, Singh RP (2010) A simple assay for analyzing residues of carbaryl insecticide in buffalo meat by liquid chromatography-photodiode array detection. Anal Methods 2:393–396

Chiba M (1981) A rapid method for analysis of carbaryl spray deposits on fruit tree foliage. J Agric Food Chem 29:118–121

Choudhary R, Singh KM, Singh RN (1988) Dissipation of carbaryl residues in Sesamum indicum Linn. Indian J Ent 50:1–4

Deshmukh SN, Saramma PV (1971) Estimation of carbaryl residues in maize and cauliflower. Indian J Ent 33:338–341

Dikshit AK, Mishra SS, Lal L (1988) Persistence of endosulfan and carbaryl residues in potatoes. Indian J Ent 50:429–432

Ecobichon DJ (2001) Carbamate Insecticides. In: Krieger R (ed) Handbook of pesticide toxicology, vol 2. Academic Press, San Diego, pp 1087–1106

Francotte E, Davatz A, Richart P (1996) Development and validation of chiral high-performance liquid chromatograpic methods for the quantification of valsartan and of the tosylate of valinebenzyl ester. J Chrom B 686:77–83

Galhotra R, Garg PK, Halve AK, Pandey SY, Sivasankaran K (1985) Carbaryl and lindane residues in potato crop. J Ent Res 9:57–59

Gebreegzi YT, Foster GD, Khan SU (2000) Simultanous determination of carbaryl, malathion, fenitrothion and diazinon residues in sesamum seeds (Sesamum indicum L.). J Agric Food Chem 48:5165–5168

Iwata Y, DiLsch ME, Carman GE, Gunther FA (1979) Worker environment research: residues from carbaryl, chlorobenzilate, dimethoate and trichlorfon applied to citrus trees. J Agric Food Chem 27:1141–1145

Mathew L, Reddy MLP, Rao TP, Iyer GSP, Damodaran AC (1995) Simple spectrophotometric method for the determination of carbaryl in soil and insecticide formulations. Analyst 120:1799–1801

O'Malley M (1997) Clinical evaluation of pesticide exposure and poisonings. Lancet 349:1161–1166

Rao NB, Ramasubbaiah K (1988) Dissipation of monocrotophos and carbaryl in tomato Lycopersicon lycopersicum L. Indian J Ent 50:209–214

Sachan AP, Singh G (1994) Dissipation of carbaryl and monocrotophos residues from mango fruits during storage. Indian J Ent 56:408–417

Singh KP, Pandey SY, Galhotra R, Srivastava OP, Singh S, Paralikar AB (1980) Dissipation of carbaryl residues in/on cabbage. J Ent Res 4:25–27

Sun J, Dong T, Zhang Y, Wang S (2010) Development of enzyme linked immunoassay for the simultaneous detection of carbaryl and metolcarb in different agricultural products. Anal Chim Acta 666:76–82

Viswanathan CT, Bansal S, Booth B, DeStefano AJ, Rose MJ, Sailstad J, Shah VP, Skelly JP, Swann PG, Weiner R (2007) Quantitative bioanalytical methods validation and implementation: best practices for chromatographic and ligand binding assays. Pharm Res 24:1962–1973

Yucel U, Ilim M, Aslan N (2006) 14C-carbaryl residues in hazalnut. J Environ Sci Health B 41:585–593
Acknowledgments
The authors are thankful to the professor and Head, Department of Entomology, PAU, Ludhiana for providing the necessary research facilities. Financial assistance provided by Indian Council of Agricultural Research (ICAR), New Delhi is also gratefully acknowledged.
About this article
Cite this article
Battu, R.S., Mandal, K., Urvashi et al. Direct Estimation of Carbaryl by Gas Liquid Chromatography with Nitrogen Phosphorus Detection. Bull Environ Contam Toxicol 89, 15–20 (2012). https://doi.org/10.1007/s00128-012-0624-9
Received:

Accepted:

Published:

Issue Date:
Keywords
Carbaryl

Grape berries

Kinnow pulp

Kinnow rind

Soil