Abstract
Birth weight data (22,012 live-births) from a public hospital in Porto Velho (Amazon) was used in multiple statistical models to assess the effects of forest-fire smoke on human reproductive outcome. Mean birth weights for girls (3,139 g) and boys (3,393 g) were considered statistically different (p-value < 2.2e-16). Among all models analyzed, the means were considered statistically different only when treated as a function of month and year (p-value = 0.0989, girls and 0.0079, boys) . The R 2 statistics indicate that the regression models considered are able to explain 65 % (girls) and 54 % (boys) of the variation of the mean birth weight.
Access options
Buy single article
Instant access to the full article PDF.
USD 39.95
Price includes VAT (USA)
Tax calculation will be finalised during checkout.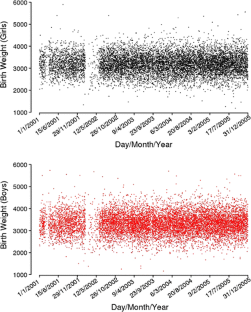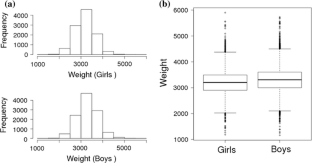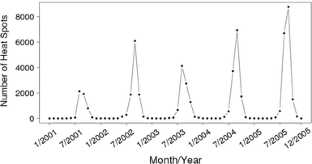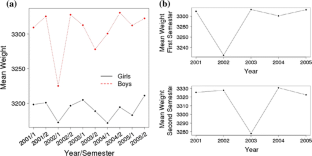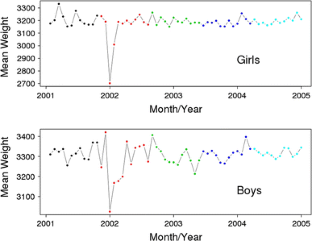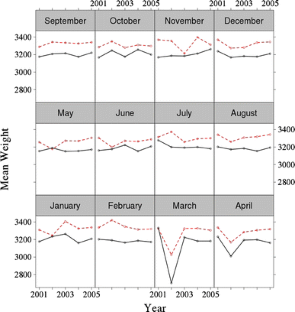 References
Aragão LEOC, Shimabukuro YE (2010) The incidence of fire in amazonian forests with implications for REDD. Science 330(6011):1627

Boy E, Bruce N, Delgado H (2002) Birth weight and exposure to kitchen wood smoke during pregnancy in rural Guatemala. Environ Health Perspect 110:109–114

Castro HA, Gonçalves KS, Hacon SS (2009) Trend of mortality from respiratory disease in elderly and the forest fires in the state of Rondonia/Brazil - period between 1998 and 2005. Cien Saude Colet 14:2083–2090

Dórea JG, Marques RC, Brandão KG (2009) Neonate exposure to thimerosal mercury from hepatitis B vaccines. Am J Perinatol 26(7):523–527

Ignotti E, Valente JG, Longo KM, Freitas SR, Hacon SS, Netto PA (2010) Impact on human health of particulate matter emitted from burnings in the Brazilian Amazon region. Rev Saude Publica 44:121–130

Mascarenhas MD, Vieira LC, Lanzieri TM, Leal AP, Duarte AF, Hatch DL (2008) Anthropogenic air pollution and respiratory disease-related emergency room visits in Rio Branco, Brazil, September, 2005. J Bras Pneumol 34:42–46

Scheffé H (1959) Analysis of variance. Wiley, New York.

Schwarze PE, Ovrevik J, Lag M, Refsnes M, Nafstad P, Hetland RB (2006) Particulate matter properties and health effects: consistency of epidemiological and toxicological studies. Hum Exp Toxicol 25:559–579

Siddiqui AR, Gold EB, Yang X, Lee K, Brown KH, Bhutta ZA (2008) Prenatal exposure to wood fuel smoke and low birth weight. Environ Health Perspect 116(4):543–549

Sreeramareddy CT, Shidhaye RR, Sathiakumar N (2011) Association between biomass fuel use and maternal report of child size at birth—an analysis of 2005–2006 India Demographic Health Survey data. BMC Public Health 11:403

Tielsch JM, Katz J, Thulasiraj RD, Coles CL, Sheeladevi S, Yanik EL, Rahmathullah L (2009) Exposure to indoor biomass fuel and tobacco smoke and risk of adverse reproductive outcomes, mortality, respiratory morbidity and growth among newborn infants in south India. Int J Epidemiol 38:1351–1363

Thompson LM, Bruce N, Eskenazi B, Díaz A, Pope D, Smith KR (2011) Impact of reduced maternal exposures to woodsmoke from an introduced chimney stove on newborn birth weight in rural guatemala. Environ Health Perspect 119:489–1494
Acknowledgments
Taiane S. Prass was partially supported by CNPq-Brazil. S.R.C. Lopes was partially supported by CNPq-Brazil, by CAPES-Brazil, by INCT em Matemática and by Pronex Probabilidade e Processos Estocásticos - E-26/170.008/2008 -APQ1.
About this article
Cite this article
Prass, T.S., Lopes, S.R.C., Dórea, J.G. et al. Amazon Forest Fires Between 2001 and 2006 and Birth Weight in Porto Velho. Bull Environ Contam Toxicol 89, 1–7 (2012). https://doi.org/10.1007/s00128-012-0621-z
Received:

Accepted:

Published:

Issue Date:
Keywords
Forest fires

Birth weight

ANOVA

Regression model