Abstract
Immunohistological and histopathological methods were used to highlight the importance of cell damages and some biomarkers for health risk assessment. A comparative study between 3 sites of the lagoons showed that the most polluted areas (Adiake and Ebrah), influenced by human activities, presented more damaged cells and stained cells in gills and livers of Chrysichthys nigrodigitatus than the less polluted area (Layo): gill cell hyperplasia and liver cells vacuolation were more evident in fish from Adiake than in fish from Ebrah and Layo. The percentage of proliferating cell nuclear antigen (PCNA)-positive cells in gill were 45.8 % ± 23.7 % for Adiake, 18.2 % ± 4.6 % for Ebrah and 11.4 % ± 6.51 % for Layo; The percentage of PCNA-positive in liver cells were 3.8 % ± 3.6 % for Adiake, 4.9 % ± 4.7 % for Ebrah and 2.6 % ± 2.5 % for Layo. Gills were more affected than livers. The Adiake site was the most contaminated area of the lagoon complex of Cote d'Ivoire.
Access options
Buy single article
Instant access to the full article PDF.
USD 39.95
Price includes VAT (USA)
Tax calculation will be finalised during checkout.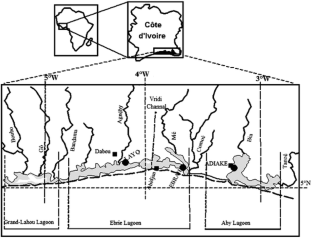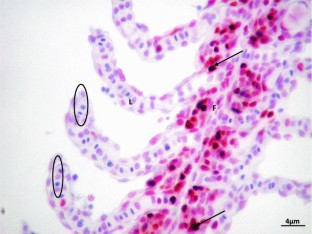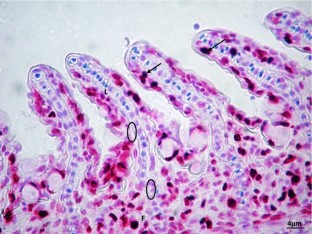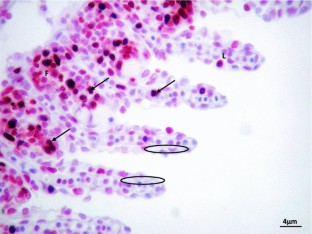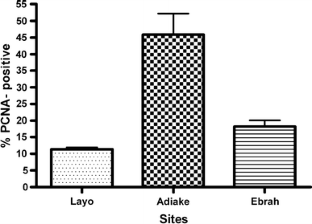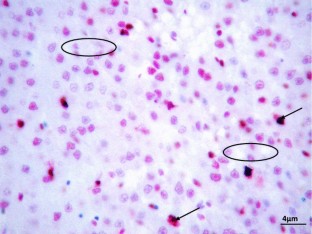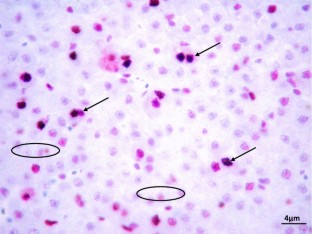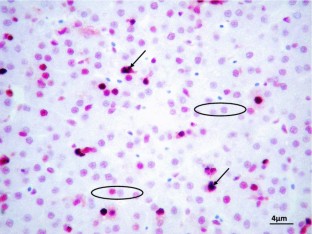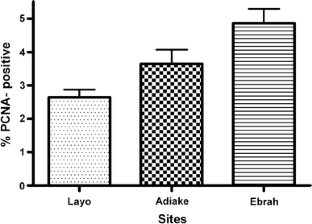 References
Berntssen M, Hyllan K, Julshamn K, Lundebye AK, Waagbo R (2004) Maximum limits of organic and inorganic mercury in fish feeds. Aquac Nutr 10:83–97

Blas-Machado U, Taylor WH, Means JC (2000) Apoptosis, PCNA and p53 in Fundulusgrandis fish liver after in vivo exposure to N-methyl-N′-nitro-N-nitrosoguanidine and 2-aminofluorene. Toxicol Pathol 28(4):601–609

Bravo R, Frank R, Blundell PA, Mac Donald BH (1987) Cyclin/PCNA is the auxiliary protein of DNA polymerase-delta. Nature 326:515–517

Coulibaly S, Atse BC, Koffi KM, Sylla S, Konan KJ, N'Guessan JK (2012). Seasonal accumulations of some heavy metal in water, sediment and tissues of black-chinned Tilapia Sarotherodon melanotheron from Biétri Bay in Ebrié Lagoon, Ivory Coast. Bull Environ ContamToxicol. doi:10.1007/s00128-012-0522-1

Dang Z, Lock Robert AC, Flik G, Wendelaar BSE (2000) Na+/K+-APase immunoreactivity in branchial chloride cells of Oreochromis mossambicus exposed to copper. J Exp Biol 203:379–387

Dezfuli BS, Giari L, Konecny R, Jaeger P, Manera M (2003) Immunohistochemistry, ultrastructure and pathology of gills of Abramisbrama from Lake Mondsee, Austria, infected with Ergasilus sieboldi (Copepoda). Dis Aquat Org 53:257–262

Ikusemiju K, Olaniyan CIO (1975) The food and feeding habits of the catfishes, Chrysichthys walker (Günther), Chrysichthys filamentosus (Boulanger) and Chrysichthys nigrodigitatus (Lacépède) in the Lekki lagoon, Nigeria. J Fish Biol 10(2):105–112

Kohler A, Cornelis JF (1998) Initial velocities in situ of G6PDH and PGDH and expression of proliferating cell nuclear antigen (PCNA): sensitive diagnostic markers of environmentally induced hepatocellular carcinogenesis in a marine flatfish (Platichthysflesus L.). Aquat Toxicol 40:233–252

Leino RL (1996) Teaction of rodlet cells to a myxosporean infection in kidney of bluegill Lepomis macrochirus. Can J Zool 74:217–225

Mallatt J (1985) Fish gill structural changes induced by toxicants and their irritants: a statistical review Can. J Fish Aquat Sci 42:630–648

Monteiro SM, Dos Santos NMS, Calejo M, Fontainhas-Fernandez A, Sousa M (2009) Copper toxicity in gills of teleost fish, Oreochromis niloticus: Effects in apoptosis induction and cell proliferation. Aquat Toxicol 94:219–223

Olarinmoye MO, Taiwo VO, Clarke EO, Kumolu-Johnson CA, Aderinola OJ, Adekundi F (2009) Hepatic pathologies in brackish water catfish (Chrysichthys nigrodigitatus) from contaminated location of Lagos Lagoon complex. J Cell Ani Biol 3(11):196–201

Ortego LS, Hawkins WE, Walker WW, Krol RM, Benson WH (1995) Immunohistochemical detection of proliferating cell nuclear antigen (PCNA) in tissues of aquatic animals utilized in toxicity bioassays. Mar Environ Res 39:271–273

Roche H, Tidou A (2009) First ecotoxicological assessment assay in a hydroelectric reservoir: the Lake Taabo (Cote d'Ivoire). Bull Environ Contam Toxicol 82:322–326

Roy PK, Munshi S (1991) Malathion induced structural of morphometric changes of gills of a freshwater major carp Cirrhinus mrigala (Ham). J Environ Biol 12:79–87

Weis JS, Weis P (1989) Effects of environmental pollutants on early fish development. Rev Aquat Sci 1:45–74

Wilson JG, Laurent P (2002) Fish gill morphology: inside out. J Exp Zool 293:192–213

Zilbergo D, Munday BL (2000) Pathology of experimental amoebic gill disease in Atlantic salmon Salmosalar L. and the effect of pre-maintenance of fish in sea water on the infection. J Fish Dis 23:401–402
Acknowledgments
This research was funded with a grant from the Fulbright Scholars Program (Advanced Research and University lecturing Awards). We thank the Williams Laboratory at Oregon State University (OSU) and the team at the Veterinary Diagnostic Lab at OSU, especially Kay Fisher and Christiane Löhr, for their continuous support and expertise. We are grateful to Gayle Orner, Lyndsey Shorey and Sharon Krueger for help in the lab.
About this article
Cite this article
Tidou, A.S., Yapi, Ac.D., Kouamé, V.K. et al. Histological Analysis of the Impact of Lagoon Pollution on Chrysichthys nigrodigitatus from Cote d'Ivoire. Bull Environ Contam Toxicol 89, 44–52 (2012). https://doi.org/10.1007/s00128-012-0617-8
Received:

Accepted:

Published:

Issue Date:
Keywords
PCNA

Immunohistochemistry

Fish tissue damages

Lagoon Cote d'Ivoire