Abstract
The concentrations of metals in tissues of Callinectes danae were evaluated, aiming to determine the bioaccumulation process of this species. Gills presented the highest mean concentrations for most metals, except for Hg (<LOD) and Zn (13.293 μg g−1). According to results of the principal component analysis, the type of tissue was distinguished due to the concentrations of metals. An evaluation of individuals from other sites of the Santos Estuarine System (where the Sao Vicente Channel is included) would be important to confirm if this pattern of bioaccumulation can be extended to the population of C. danae of this estuary.
Access options
Buy single article
Instant access to the full article PDF.
USD 39.95
Price includes VAT (USA)
Tax calculation will be finalised during checkout.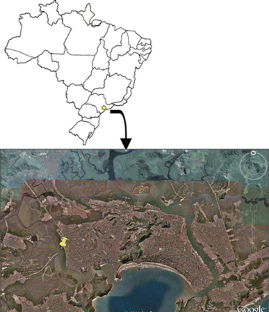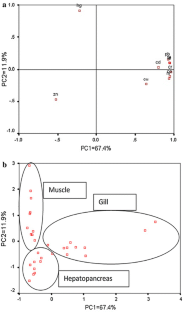 References
Bordon ICAC, Sarkis JES, Gobbato GM, Hortellani MA, Peixoto CM (2011) Metal concentration in sediments from the Santos estuarine system: a recent assessment. J Braz Chem Soc 22(10):1858–1865

Harris RR, Santos MCF (2000) Heavy metal contamination and physiological variability in the Brazilian mangrove crabs Ucides cordatus and Callinectes danae (Crustacea: Decapoda). Mar Biol 137(4):691–703

Jop KM, Biever RC, Hoberg JR, Shepherd SP (1997) Analysis of metals in blue crabs, Callinectes sapidus, from two Connecticut estuaries. Bull Environ Contam Toxicol 58:311–317

Lamparelli ML, Costa MP, Prósperi VA, Bevilácqua JE, Araújo RPA, Eysink GGL, Pompéia S (2001) Sistema Estuarino de Santos e São Vicente. CETESB, Sao Paulo

Luiz-Silva W, Machado W, Mattos RHR (2008) Multi-elemental contamination and historic record in sediments from the Santos-Cubatão Estuarine System. Brazil J Braz Chem Soc 19(8):1490–1500

Melo GAS (1996) Manual de identificação dos Brachyura (caranguejos e siris) do litoral brasileiro. Ed Plêiade, FAPESP, Sao Paulo

Reichmuth JM, Weis P, Weis JS (2010) Bioaccumulation and depuration of metals in blue crabs (Callinectes sapidus Rathbun) from a contaminated and clean estuary. Environ Pollut 158:361–368

Sastre MP, Reyes P, Ramos H, Romero R, Rivera J (1999) Heavy metal bioaccumulation in Puerto Rican blue crabs (Callinectes spp). Bull Mar Sci 64(2):209–217

Severino-Rodrigues E, Pita JB, Graça-Lopes R (2001) Pesca artesanal de siris (Crustacea, Portunidae) na região estuarina de Santos e São Vicente (SP). Brasil Bol Inst Pesca 27(1):7–19

USEPA (1996) Method 3052- Microwave assisted acid digestion of siliceous and organically based matrices. Available via http://www.epa.gov/osw/hazard/testmethods/sw846/pdfs/3052.pdf. Accessed 04 Oct 2011

Virga RHP, Geraldo LP (2008) Investigação dos teores de metais pesados em espécies de siris azuis do gênero Callinectes sp. Ciênc Tecnol Aliment 28(4):943–948

Virga RHP, Geraldo LP, Santos FH (2007) Avaliação de contaminação por metais pesados em amostras de siris azuis. Ciênc Tecnol Aliment 27(4):787–792

Willians MJ (1974) The swimming crabs of genus Callinectes (Decapoda: Portunidae). Fish Bull 72:685–789
Acknowledgments
We would like to thank Fundação de Amparo à Pesquisa do Estado de São Paulo (FAPESP) for financial support.
About this article
Cite this article
Bordon, I.C.A.C., Sarkis, J.E.S., Tomás, A.R.G. et al. A Preliminary Assessment of Metal Bioaccumulation in the Blue Crab, Callinectes danae S., from the Sao Vicente Channel, Sao Paulo State, Brazil. Bull Environ Contam Toxicol 88, 577–581 (2012). https://doi.org/10.1007/s00128-012-0539-5
Received:

Accepted:

Published:

Issue Date:
Keywords
Callinectes danae

Sao Vicente Channel

Metal

Bioaccumulation