Abstract
Chlorpyrifos ethyl was found to be widely distributed in water and sediment in Lake Naivasha. Higher levels were reported in sediment (11.2–30.0 ng g−1 dry weight (dw) in wet season than in dry season (4.7–17.4 ng g−1 dw). The mean concentration of chlorpyrifos ethyl in water in wet season ranged between 8.8 and 26.6 μg L−1 and decreased to between below detection limit to 14.0 μg L−1 in dry season. On average, higher concentrations of chlorpyrifos ethyl were observed in sediment than water samples. Statistical analysis revealed a significant difference in concentration between the seasons, and a significant interaction between seasons and mean concentrations at p ≤ 0.05. However, levels of diazinon and carbofuran were below the detection limit in all the samples analyzed. Notably, levels of chlorpyrifos ethyl were higher than the maximum allowable limits (0.1 μg L−1) recommended by European Union for drinking water and general water quality criterion for protection of freshwater water organisms (0.083 μg L−1).
Access options
Buy single article
Instant access to the full article PDF.
USD 39.95
Price includes VAT (USA)
Tax calculation will be finalised during checkout.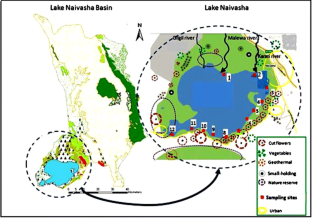 References
Anderson BS, Hunt J, Phillips BM, Nicely PA, de Vlaming V, Conner V, Richard N, Tjeerdema RS (2003) Integrated assessment of the impacts of agricultural drain water in the Salinas River. Environ Pollut 124:523–532

Bailey HC, Deanovic LA, Reyes E, Kimball T, Larson K, Cortright K, Connor V, Hinton DE (2000) Diazinon and chlorpyrifos in urban waterways in northern California, USA. Environ Toxicol Chem 19:82–87

Bloomfield JP, Williams RJ, Gooddy DC, Cape JN, Guha P (2006) Impacts of climate change on the fate and behavior of pesticides in surface groundwater. A UK perspective. Sci Total Environ 369:166–177

Byer JD, Struger J, Sverko E, Klawunn P, Todd A (2011) Spatial and seasonal variations in atrazine and metolachlor surface water concentrations in Ontario (Canada) using ELISA. Chemosphere 82:1155–1160

IPCC United nation Intergovernmental Panel on Climate Change (2007) Climate change: physical sciences basis. Cambridge University Press, Cambridge, Britain. Available at http://www.ipcc.ch/ipccreports/assessment-reports.htm. Accessed 23 June 2011

Dhillon AS (2008) Pesticide environmental exposure and Parkinson's disease in East Texas. J Agromed 13:37–48

Ensminger M, Bergin R, Spurlock F, Goh K (2011) Pesticide concentrations in water and sediment and associated invertebrates toxicity in Del Puerto and Orestimba Creeks, California, 2007–2008. Environ Monit Assess 175:573–587

Gao J, Liu L, Liu X, Zhou H, Lu J, Huang S (2009) The occurrence and spatial distribution of organophosphorus pesticides in Chinese surface water. Bull Environ Contam Toxicol 82:223–229

Gitahi SM, Harper DM, Muchiri SM, Tole MP, Ng'ang'a RN (2002) Organochlorine and organophosphates pesticide in water, sediment and selected organisms in Lake Naivasha (Kenya). Public Health 488:122–128

Harper DM, Mavuti KM (2004) Lake Naivasha, Kenya: ecohydrology to guide the management of a tropical protected area. Ecohydrol Hydrobiol 4:287–305

Howard PE (1991) Handbook of environmental fate and exposure data for organic chemicals. Lewis Publishers, Inc., Chelsea, pp 209–221

Huber A, Bach M, Frede HG (2000) Pollution of surface waters with pesticides in Germany: modeling non-point sources inputs. Agric Ecosyst Environ 80:191–204

Kanekar PP, Bhadbhade BJ, Deshpande M, Sarnaik SS (2004) Biodegradation of organophosphorus pesticides. Proc Indian Natl Sci Acad B 70:57–70

Mitoko-Ohayo CJ (1997) Occupational pesticide exposure among Kenyan Agricultural workers: an epidemiological and public health perspective. PhD dissertation, Kenya Medical Research Institute (KEMRI) and Department of Epidemiology and Public Health, Wageningen Agricultural University, Wageningen, The Netherlands

Moore MT, Schulz R, Cooper CM, Smith S, Rodgers JH (2002) Mitigation of chlorpyrifos runoff using constructed wetlands. Chemosphere 46:827–835

Noyes PD, McLewee MK, Miller DH, Clark WB, Tiem LAV, Walcott KC, Erwin KN, Levin ED (2009) The toxicology of climate change: environmental contaminants in a warming world. Environ Int 35:971–986

Odenkirchen EW, Eisler E (1988) Chlorpyrifos Hazards to fish, wildlife and invertebrates: a synoptic review. US Fish Wildl Serv Biol Rep 85:34

Ollevier F, Coene H (2001) The assessment of the impact of pesticide use on the ecosystem of Lake Victoria. Laboratory of Aquatic Ecology and Evolutionary Biology Belgium Flemish Inter-University Council, Kenya

Otieno PO, Lalah JO, Virani M, Jondiko IO, Schramm KW (2010) Soil and water contamination with carbofuran residues in agricultural farmlands in Kenya following the application of the technical formulation Furadan. J Environ Sci Health B 45:137–144

Readman JW, Weekwong LL, Mee LD, Bartocci J, Nilve G, Rodriguez-Solano JA, González-Farias F (1992) Persistence organophosphorus pesticides in tropical marine 526 environments. Mar Pollut Bull 24:398–402

Schramm KW, Jaser W, Welzl G, Pfister G, Wohler-Moorhoff GF, Hense B (2008) Impact of 17 α-ethinylestradiol on the plankton in freshwater microcosms-I: response of zooplankton and abiotic variables. Ecotoxicol Environ Saf 69:437–452

Sullivan JJ, Chen YG, Goh SK (2007) Performance assessment and validation of a paramagnetic particle-based enzyme linked immunosorbent assay for chlorpyrifos in agricultural run-off waters. J Agric Food Chem 55:6407–6416

Tomlin CDS (2006) The pesticides manual: in world compendium, 14th edn. British Crop Protection Council, Hampshire, p 245

USEPA United States Environmental Protection Agency (2011) Report on revised chlorpyrifos preliminary registration review for drinking water assessment. Washington, DC, 20460

Vu SH, Ishihara S, Wanatabe H (2006) Exposure risk assessment and evaluation of the best management practice for controlling pesticide runoff from paddy fields. Part 1: paddy watershed monitoring. J Manag Sci 62:1193–1206

Wu J, Laird OA (2004) Interaction of chlorpyrifos with colloidal materials in aqueous zooplankton and abiotic variables. J Environ Qual 33:1765–1770
Acknowledgments
The authors of this paper sincerely thank Alexander von Humboldt Foundation for awarding Peter Otieno the International Climate Protection fellowship at the Institute of Ecological Chemistry, German National Centre for Environmental Health in Germany.
About this article
Cite this article
Otieno, P.O., Schramm, KW., Pfister, G. et al. Spatial Distribution and Temporal Trend in Concentration of Carbofuran, Diazinon and Chlorpyrifos Ethyl Residues in Sediment and Water in Lake Naivasha, Kenya. Bull Environ Contam Toxicol 88, 526–532 (2012). https://doi.org/10.1007/s00128-012-0529-7
Received:

Accepted:

Published:

Issue Date:
Keywords
Lake Naivasha

Pesticides

Horticultural farming

Water

Sediment