Abstract
The present study determined the average mercury bioaccumulation in the muscle tissue of four shark species (Carcharhinus falciformis, Prionace glauca, Sphyrna zygaena and Isurus oxyrinchus) captured in the Baja California Peninsula. We also evaluated biomagnification of some prey consumed by sharks. All sharks' species had mercury levels over the limit specified by the Mexican government for human consumption. Blue shark (P. glauca) presented highest mercury values (1.96 ± 1.48 μg/g Hg d.w.) and it was the unique specie that showed a negative correlation with mercury content (Rs = −0.035, p = 0.91). Scomber japonicus was the prey with high content of mercury (0.57 ± 0.02 μg/g).
Access options
Buy single article
Instant access to the full article PDF.
USD 39.95
Price includes VAT (USA)
Tax calculation will be finalised during checkout.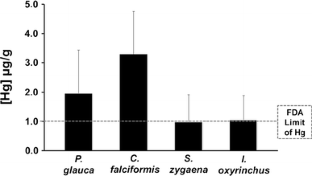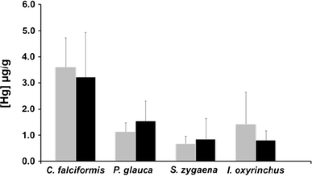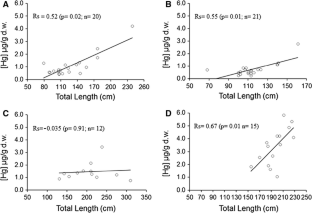 References
Adams DH, McMichael JR, Robert H (1999) Mercury levels in four species of sharks from the Atlantic coast of Florida. Fish Bull 97(2):372–379

Branco V, Canario J, Vale C, Raimundo J, Reis C (2004) Total and organic mercury concentrations in muscle tissues of the blue shark (Prionace glauca L. 1758) from the Northeast Atlantic. Mar Pollut Bull 49:854–874

Cabrera-Chávez AAC, Galván-Magaña F, Escobar-Sánchez O (2010) Food habits of the silky shark Carcharhinus falciformis (Müller & Henle, 1839) off the western coast of Baja California Sur, Mexico. J Appl Ichthyol 26:499–503

Campos H (1987) Los metales pesados su contaminación y sus efectos tóxicos. Contam Ambient Medellín. Colombia 9(17):63–70

Carrier C, Musick J, Heithaus M (2004) Biology of sharks and their relatives. CRC Press, New York

Cuvin-Aralar ML, Furness RW (1991) Mercury and selenium interaction: a review. Ecotoxicol Environ Saf 21:348–364

Fitgerald SL (2004) Metales pesados en cuatro especies de tortugas marinas de Baja California México. Master's degree dissertation, CIBNOR. La Paz, Baja California Sur, Mexico

Gomes FA, Vieira FV, Veiga De Carvalho CE, Teixeira LRP, Santana Da Silva FM (2004) Total mercury in the night shark, Carcharhinus signatus in the western equatorial Atlantic Ocean. Braz Arch Biol Technol 47(4):1–9

Gray J (2002) Biomagnification in marine systems: the perspective of an ecologist. Mar Pollut Bull 45:46–52

Lyle JM (1981) Mercury concentration in four carcharhinid and three hammerhead from coastal waters of the Northern territory. Aust J Mar Freshw Res 35:441–451

Martínez-Aguilar S, Morales–Bojórquez E, Díaz-Uribe JG, Suárez-Higuera MC, Hernández-Herrera A (2004) La pesquería del calamar gigante (Dosidicus gigas) en el Golfo de California. Recomendaciones de investigación y tácticas de regulación. Mexico. CONAPESCA, INP, SAGARPA

Norma Oficial Mexicana. NOM-027-SSA1 (1993) Bienes y Servicios. Productos de la pesca. Crustáceos frescos- refrigerados y congelados. Especificaciones sanitarias. http://www.cofepris.gob.mx/work/sites/cfp/resources/LocalContent/614/2/027ssa1.pdf. Accessed 30 JAN 2011

Núñez-Nogueira G, Ordoñez-Bautista J, Rosiles-Martínez R (1998) Concentración y distribución de mercurio en tejidos del cazón (Rhizoprionodon terraenovae) del Golfo de México. Vet Mex 29(1):15–20

Rand GM, Wells PG, McCarthy LS (1995) Introduction to aquatic ecology. In: Rand GM (ed) Fundamentals of aquatic toxicology. Taylor and Francis, London, p 276

Storelli MM, Ceci E, Storelli A, Marcotrigiano GO (2003) Polychlorinated biphenyl, heavy metal and methylmercury residues in hammerhead sharks: contaminant status and assessment. Mar Pollut Bull 46:1035–1048

Velasco-Tarelo PM (2005) Hábitos alimenticios e isótopos de 13C y 15N del tiburón mako Isurus oxyrinchus (Rafinesque, 1810) en la costa occidental de Baja California Sur. Master's Degree Dissertation, Centro Interdisciplinario de Ciencias Marinas- Instituto Politécnico Nacional (CICIMAR-IPN). La Paz, Baja California Sur, Mexico

Watling JR, Mcclurg TT, Staton RC (1981) Relation between mercury concentration and size in the mako shark. Bull Environ Contam Toxicol 26:352–358

Wetherbee MB, Gruber HS, Cortes E. (1990) Diet, feeding habits, digestion and consumption in sharks, with special reference to the lemon shark, Negaprion brevirostris. In: Pratt LH, Gruber HS, Taniuchi T (eds) Elasmobranchs living resources: advances in the biology, ecology, systematics and the status of the fisheries. Springfield NOAA Technical Report, NMFS 90, pp 29–47
Acknowledgments
We would like to thank the Instituto Politécnico Nacional (COFAA, EDI). This study is part of the Centro Interdisciplinario de Ciencias Marinas (CICIMAR) project entitled "Ecology of sharks in the Gulf of California". We thank laboratory personnel at the veterinary faculty of the UNAM.
About this article
Cite this article
Maz-Courrau, A., López-Vera, C., Galván-Magaña, F. et al. Bioaccumulation and Biomagnification of Total Mercury in Four Exploited Shark Species in the Baja California Peninsula, Mexico. Bull Environ Contam Toxicol 88, 129–134 (2012). https://doi.org/10.1007/s00128-011-0499-1
Received:

Accepted:

Published:

Issue Date:
Keywords
Mercury

Bioaccumulation

Biomagnification

Shark

Pacific Ocean

Mexico