Abstract
Lead levels in human breast milk and blood plasma or serum were analyzed and qualitatively their intelligence quotient (I.Q.) studied. Samples at different stages of lactation, from 5 days to 51 weeks post partum, were collected from 25 healthy breast-feeding mothers in Ranipet Industrial area of Vellore district of Tamil Nadu and from 25 lactating mothers in the non-industrial areas of the same district. The samples from mothers in non-industrial area showed lower lead levels ranging from 5 to 25 μg/L whereas samples from mothers in industrial area showed higher lead levels ranging between 15 and 44.5 μg/L. It was generally noticed that the lactating mothers from industrial area have lower I.Q. levels compared to mothers from non-industrial area.
Access options
Buy single article
Instant access to the full article PDF.
USD 39.95
Price includes VAT (USA)
Tax calculation will be finalised during checkout.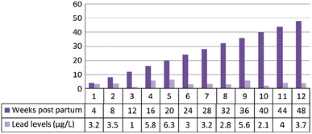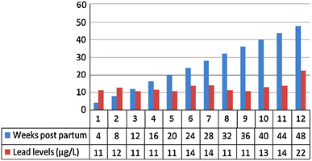 References
Bates CJ, Prentice A (1994) Breast milk as a source of vitamins, essential minerals and trace elements. Pharmacol Ther 62:193–220

Canfield RL, Henderson CR Jr, Cory-Slechta DA, Cox C, Jusko TA, Lanphear BP (2003) Intellectual impairment in children with blood lead concentrations below 10 microg per deciliter. N Engl J Med 348:1517–1526

Casey CE, Neville MC, Hambidge KM (1989) Studies in human lactation: secretion of zinc, copper, and manganese in human milk. Am J Clin Nutr 49:577–585

Chierici R, Saccomandi D, Vigi V (1998) Dietary supplements for the lactating mother. Influence on the trace element content of milk. Acta Paediatr Suppl 88:7–13

Domell M, Lonnerdal B, Dewey KG, Cohen RJ, Hernell O (2004) Iron, zinc, and copper concentrations in breast milk are independent of maternal mineral status. Am J Clin Nutr 79:111–115

Eckhardt CL, Rivera J, Adair LS, Martorell R (2001) Full breast-feeding for at least four months has differential effects on growth before and after six months of age among children in a Mexican community. J Nutr 13:2304–2309

Grandjean P, Weihe P, Needham LL, Burse VW, Patterson DG Jr, Sampson EJ, Jorgensen PJ, Vahter M (1995) Relation of a seafood diet to mercury, selenium, arsenic, and polychlorinated biphenyl and other organochlorine concentrations in human milk. Environ Res 71:29–38

Gulson BL, Jameson CW, Mahaffey KR, Mizon KJ, Patison N, Law AJ, Korsch MJ, Salter MA (1998) Relationships of lead in breast milk to lead in blood, urine, and diet of the infant and mother. Environ Health Perspect 106:667–674

Gundacker C, Pietschnig B, Wittmann KJ, Lischka A, Salzer H, Hohenauer L, Schuster E (2002) Lead and mercury in breast milk. Pediatrics 110:873–878

Hannan MA, Dogadkin NN, Ashuir IA, Markus WM (2005) Copper, selenium, and zinc concentrations in human milk during the first three weeks of lactation. Biol Trace Elem Res 107:11–20

Koletzko B, Aggett PJ, Bindels JG, Bung P, Ferre P, Lentze MJ, Roberfroid M, Strobel S (1998) Growth, development and differentiation: a functional food science approach. Br J Nutr 80:5–45

Myers GJ, Davidson PW (2000) Does methylmercury have a role in causing developmental disabilities in children? Environ Health Perspect 108:413–420

Namihira D, Saldivar L, Pustilnik N, Carreon GJ, Salinas ME (1993) Lead in human blood and milk from nursing women living near a smelter in Mexico City. J Toxicol Environ Health 38:225–232

Pronczuk J, Akre J, Moy G, Vallenas C (2002) Global perspectives in breast milk contamination: infectious and toxic hazards. Environ Health Perspect 110:349–351

Rossipal E, Krachler M (1998) Pattern of trace element in human milk during the course of lactation. Nutr Res 18:11–24

Rydzewska A, Krol I (1996) Contents of zinc, copper and cadmium in mild of women living in Poznan, Ginekol. Polska 67:125–128

Sharma R, Pervez S (2005) Toxic metals status in human blood and breast milk samples in an integrated steel plant environment in central India. Environ Geochem Health 27:39–45

Shiao-Shan Y, Yi S, Hui-Min L, Fu-Shing L, Hui-Juan S, Shui Lang G (1988) Deposition and clearance of 141Ce in the respiratory tract following inhalation of 141CeO2 in rats. Ann Occup Hyg 32:957–962

Taylor H, Appleton JD, Lister R, Smith B, Chitamweba D, Mkumbo O, Machiwa JF, Tesha AL, Beinhoff C (2005) Environmental assessment of mercury contamination from the Rwamagasa artisanal gold mining centre, Geita District, Tanzania. Sci Total Environ 343:111–133

Wappelhorst O, Kuehn I, Heidenreich H, Markert B (2002) Transfer of selected elements from food into human milk. Nutrition 18:316–322

Yang J, Jiang Z, Qureshi IA, Wang Y, Wu XD (1997) Maternal–fetal transfer of metallic mercury via the placenta and milk. Ann Clin Lab Sci 27(2):135–141

Ziegler EE, Edwards BB, Jensen RL, Mahaffey KR, Fomon SJ (1978) Absorption and retention of lead by infants. Pediatr Res 12:29–34
Acknowledgments
The authors thank VIT University, Vellore and Tychicus. D, Selvin James. S for their help in sample collection and determination of actual concentrations of toxicants.
About this article
Cite this article
Isaac, C.P.J., Sivakumar, A. & Kumar, C.R.P. Lead Levels in Breast Milk, Blood Plasma and Intelligence Quotient: A Health Hazard for Women and Infants. Bull Environ Contam Toxicol 88, 145–149 (2012). https://doi.org/10.1007/s00128-011-0475-9
Received:

Accepted:

Published:

Issue Date:
Keywords
Lead (Pb)

Breast milk

Intelligence quotient (I.Q.)

Human