Abstract
This study investigated the effect of coartemether on antioxidant and hepatotoxic biomarkers in Plasmodium berghei infected mice. Erythrocyte, hepatic and renal superoxide dismutase (2.71 ± 0.51; 1.96 ± 0.87; 2.84 ± 0.22 Units/mg protein respectively) and catalase (4.10 ± 0.10; 8.25 ± 1.24; 6.28 ± 0.11 Units/mg protein respectively) activities were significantly (p < 0.05) elevated in "parasitized and treated" (PnT) animals. Renal glutathione level (19.02 ± 0.20 μg/mL) was elevated in PnT animals. Glutathione S-transferase and malondialdehyde levels in hepatic (8.76 ± 0.49 μmol/min/mg; 527.23 ± 24.56 mmol/dL) and renal (3.35 ± 0.30 μmol/min/mg; 464.42 ± 59.13 mmol/dL) tissues were significantly high (p < 0.05) in coartemether-treated animals alone. Plasma aspartate transferase (9.45 ± 3.59 U/L) and alanine transferase (5.78 ± 2.36 U/L) were high in PnT animals. Therefore, data indicates that in the presence of P. berghei, coartemether could alter the antioxidant status and induce hepatotoxic damage in mice.
Access options
Buy single article
Instant access to the full article PDF.
US$ 39.95
Tax calculation will be finalised during checkout.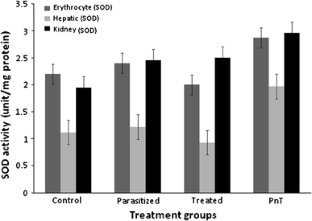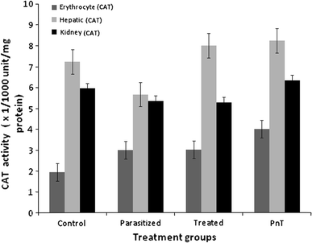 References
Andy OE, Gabriel I, Onyebuguwa PN (2004) Lipid peroxidation and ascorbic acid levels in Nigeria children with acute falciparum malaria. Afr J Biotechnol 3(10):560–563

Anyasor GN, Ajayi EIO, Saliu JA, Ajagbonna O, Olorunsogo OO (2009) Artesunate opens mitochondrial membrane permeability transition pore opening. Ann Trop Med Public Health 2(2):37–41

Becker K, Tilley L, Vennerstrom JL, Roberts D, Rogerson S et al (2004) Oxidative stress in malaria parasite infected erythrocytes: host-parasite interactions. Int J Parasitol 34:163–189

Breman JG, Alilio MS, Mills A (2004) Conquering the intolerable burden of malaria: what's new, what's needed: a summary. Am J Trop Med Hyg 71:1–15

Cousin M, Kummerer S, Lefevre G, Marrast AC, Stein D, Weaver M (2008) Coartem (artemether-lumefantrine) tablets for the treatment of malaria in patients with acute uncomplicated infections due to plasmodium falciparum or mixed infections including iP. Falciparum. Novartis, Africa, pp 14–20

Gornall AG, Bardwill CS, David MM (1949) Determination of serum proteins by means of biuret reaction. J Biol Chem 177:751–766

Habig WH, Pabst MJ, Jakoby WB (1974) Glutathione S-transferases. The first enzymatic step in mercapturic acid formation. J Biol Chem 249:7130–7139

Hassan SW, Salawu K, Ladan MJ, Hassan LG, Umar RA, Fatihu MY (2010) Hepatoprotective, antioxidant and phytochemical properties of leaf extracts of Newbouldia laevies. Int J PharmTech Res 2(1):573–584

Iyawe HOT, Onigbinde AO (2009) Impact of plasmodium berghei and chloroquine on haematological and antioxidant indices in mice. Asian J Biochem 4(1):30–35

Jollow DJ, Mitchell JR, Zampaglione N, Gillete J (1974) A perspective on the role of chemically reactive metabolites of foreign compounds in toxicity. Pharmacology 11:151–169

Kidd PM (1997) Glutathione systemic protestant against oxidative and free radical damage. Altern Med Rev 2:155–176

Makinde JM, Awe SO, Salako LA (1993) Seasonal variation in the antimalarial activity of Morinda lucida on Plasmodium berghei berghei in mice. Fitoterapia 15:2

Mistra HP, Fridovich I (1972) The role of Superoxide anion in the autoxidation of epinephrine and a simple assay of Superoxide Dismutase. J Biol Chem 247:3170–3175

Mwesigwa J, Parikh S, McGee B, German P, Drysdale T, Kalyangp JN, Clark TD (2010) Pharmacokinetics of artemether-lumefantrine and artesunate and amodiaquine in Children in kampala, Uganda. Antimicrob Agents Chemother 54:52–59

Pham-Huy LA, He H, Pham-Huy C (2008) Free radicals, antioxidants in disease and health. Int J Biomed Sci 42(2):89–96

Rahlfs S, Becker K (2006) Interference with redox-active enzymes as a basis for the design of antimalarial drugs. Mini Rev Med Chem 6:163–176

Sedlak J, Lindsay RH (1968) Estimation of total protein bound and non protein sulphydryl groups in tissues with Ellman's reagent. Anal Biochem 25(1):192–205

Sinha AK (1972) Colorimetric assay of catalase. Anal Biochem 47:389–394

Stocks J, Dormandy TL (1971) The auto-oxidation of human red cells lipid induced by hydrogen peroxide. Brit J Haematol 20:95–111

Wongsrichanalai C, Pickard AL, Wernsdorfer WH, Meshnick SR (2002) Epidemiology of drug-resistant malaria. Lancet Infect Dis 2:209–221
Acknowledgments
We express gratitude to Babcock University Administration for their support. We are grateful to the Head of Department of Chemical and Environmental Sciences, Babcock University Prof. E. B. Esan for constant encouragement, support and critique of the manuscript. Our appreciation goes to Anyasor Chiamaka O. for typesetting and editing of the manuscript. We declare no conflict of interest and are solely responsible for the writing and content of this work.
About this article
Cite this article
Anyasor, G.N., Oyewole, I.O., Ogunwenmo, K.O. et al. Coartemether Induced Oxidative and Hepatic Damage in Plasmodium berghei Strain Anka Infected Mice. Bull Environ Contam Toxicol 88, 108–111 (2012). https://doi.org/10.1007/s00128-011-0460-3
Received:

Accepted:

Published:

Issue Date:
Keywords
Antioxidant

Tissues

Mice

Plasmodium berghei