Abstract
Endosulfan is a cyclodiene insecticide used all over the world for the control of various insect pests on variety of food and non crop products. Despite judicious use endosulfan has been detected in atmosphere, soil, water, sediment, surface water rain water and food stuffs, which is of concern. In view of the above the use of mustard and maize plants as potential phytoremediation inputs have been evaluated. The potential of mustard (brassica campestris Linn.) and maize (Zea Maize) to remove a organochlorine pesticide endosulfan was investigated. The disappearance rate constants of endosulfan from soil were 0.03684, 0.23490 and 0.17272 day−1 for unplanted treatment, planted with mustard and maize, respectively, which implied that plant uptake and phytoextraction with maize and mustard contributed 47.2% and 34.5%, respectively and other degradation processes took up 38.7% and 35.9%, respectively to the removal of the applied endosulfan from soil. The accumulated endosulfan decreased by 55%–91% in soil after growing the crop plants in soil, suggesting that plant uptake and phytoextraction might be the dominant process for endosulfan removal by the plant. This plant might be utilized as an efficient, economical and ecological alternative to accelerate the removal and degradation of agro-industrial wastewater polluted with endosulfan.
Access options
Buy single article
Instant access to the full article PDF.
USD 39.95
Price includes VAT (USA)
Tax calculation will be finalised during checkout.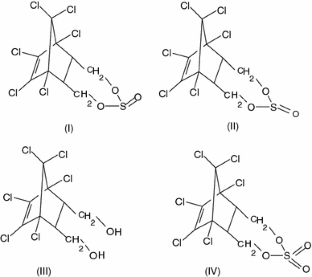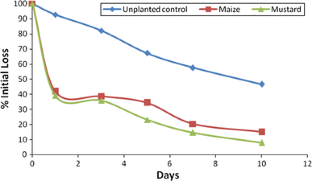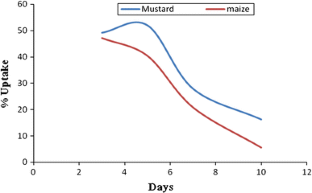 References
Briggs GG, Bromilow RH, Evans A (1982) Relationship between lipophilicity and root uptake and translocation of non-ionised chemicals by barley. Pestic Sci 13:495–504

Hullong X, Xiangiun M (2006) Phytoremediation of ethion by water hycacinth (Eichhornia crassipes) from water. Biores Tech 97:1050–1054

Jayshree R, Vasudevan N (2007) Effect of Tween 80 added to the soil on the degradation of endosulfan by Pseudomonas uuerginosa. Int J Environ Sci Tech 4:203–210

Kwon GS, Kim JE, Kim TK, Sohn HY, Koh SC (2002) Klebsiella pneumonia KE 1 degrades endosulfan without the formation of toxic metabolite endosulfan sulfate. FEMS Microbiol Lett 215:255–289

Macek TM, Kas J (2000) Exploitation of plants for the removal of organics in environmental remediation. Biotech Adv 18:23–34

Mukherjee I, Gopal M (1994) Interconversion of stereoisomers of endosulfan on chickpea crop under field conditions. Pestic Sci 40:103–106

Mukherjee I, Gopal M (1996) Degradation of beta-endosulfan by Aspergillus niger. Toxicol Environ Chem 46:217–221

Mukherjee I, Gopal M (1998) Behaviour of endosulfan and lindane on cowpea. Bull Environ Contam Toxicol 60:25–30

Mukherjee I, Mittal A (2005) Biodegradation of endosulfan by using Aspergillus terrus and Cladasporun. Toxicol Environ Chem 46:217–221

Mukherjee I, Gopal M, Das TK (2007) Soil amendment: a technique for soil remediation of lactofen. Bull Environ Contam Toxicol 79:49–52

Muramoto S, Oki Y (1983) Removal of some heavy metals from polluted water by water hyacinth (Eichhornia crassipes). Bull Environ Contam Toxicol 30:170–177

Reddy KR (2003) Fate of nitrogen and phosphorus in a waste-water retention reservoir containing aquatic macrophytes. J Environ Qual 12:137–141

Schnoor JL, Licht LA, McCutcheon SC, Wolfe NL, Carreira LH (1995) Phytoremediation of organic and nutrient contaminants. Environ Sci Technol 29:318A–323A

Singhal V, Rai JPN (2003) Biogas production from water hyacinth and channel grass used for phytoremediation of industrial effluents. Biores Technol 86:221–225

Susarla S, Medina VF, McCutcheon SC (2002) Pytoremediation: an ecological solution to organic chemical contamination. Ecol Engg 1818:647–658

Trivedy RK, Pattanshetty SM, Tsuno H, Orhon D, Tasli R (2002) Treatment of dairy waste by using water hyacinth. Water Sci Technol 45:329–334

Xia H, Xiangjuan M (2006) Phytoremediation of ethion by water hyacinth (Eichhornia crassipes) from water. Bioresource Technol 97:1050–1054. doi:10.1016/j.biortech.2005.04.039

Xia H, Wu L, Tao Q (2003) A review on phytoremediation of organic contaminants. Chinese J Appl Ecol 14:457–460

Yedla S, Miltra A, Bandyopadhyay M (2002) Purification of pulp and paper mill effluent using Eichhornia crassipes. Environ Tech 23:453–465

Zhu YL, Zayed AM, Qian JH, Souza M, Terry N (1999) Phytoaccumulation of trace elements by wetland plants: II. Water hyacinth. J Environ Qual 28:339–344
Acknowledgments
The authors are grateful to Dr. V.T. Gajbjhiye, head Division of Agricultural Chemicals for support and infrastructural facility during the course of work. Contribution No. 1341 Division of Agricultural Chemicals.
About this article
Cite this article
Mukherjee, I., Kumar, A. Phytoextraction of Endosulfan a Remediation Technique. Bull Environ Contam Toxicol 88, 250–254 (2012). https://doi.org/10.1007/s00128-011-0454-1
Received:

Accepted:

Published:

Issue Date:
Keywords
α endosulfan

β endosulfan

Phytoextraction

Remediation

Mustard

Maize