Abstract
The concentrations of mercury and cadmium in surface soil along the three ring road with high traffic density from Beijing, China, were investigated. The concentrations of cadmium and mercury in urban soils were in the range of 0.086–1.59 and 0.16–3.68 mg kg−1, which exceeded the upper limits of potential toxic elements concentration for agricultural soils of China (PTE-MPC). The metal elements of cadmium and mercury showed similar spatial distribution and seasonal variations. Concentrations of cadmium and mercury in surface soil along the three ring road were significantly higher than previous reported values, which was attributed to the increased traffic density in Beijing. Results from this study demonstrated that the soil of the three ring road had endured severe cadmium and mercury pollution.
Access options
Buy single article
Instant access to the full article PDF.
USD 39.95
Price includes VAT (USA)
Tax calculation will be finalised during checkout.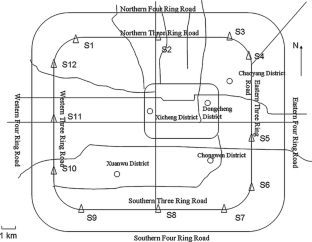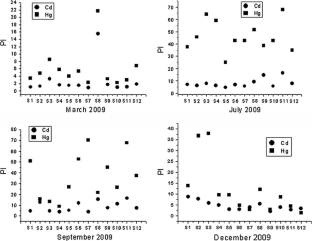 References
Al-Khashman OA (2004) Heavy metal distribution in dust and soils from the work place in Korak Industrial Estate, Jordan. Atmos Environ 38:6803–6812

Bilos C, Colombo JC, Skorupka CN (2001) Source, distribution and variability of airborne trace metals in La Plata City area, Argentina. Environ Pollut 111:149–158

Blake L, Goulding KWT (2002) Effects of atmospheric deposition, soil pH and acidification on heavy metal concentrations in soils and vegetation of semi-natural ecosystems at Rothamsted Experimental Station, UK. Plant Soil 240:245–251

CEPA (Chinese Environmental Protection Administration) (1990) Elemental background values of soils in China. Environmental Science Press of China, Beijing

Chary NS, Kamala CT (2008) Assessing risk of heavy metals from consuming food grown on sewage irrigated soils and food chain transfer. Ecotoxicol Environ Safe 69:513–524

Chen TB, Wong JWC, Zhou HY (1997) Assessment of trace metal distribution and contamination in surface soils of Hong Kong. Environ Pollut 96:61–68

Chen T, Zheng Y, Lei M, Huang Z (2005) Assessment of heavy metal pollution in surface soils of urban parks in Beijing, China. Chemosphere 60:542–551

Chen T, Liu XM, Zhu MZ (2008) Identification of trace element sources and associated risk assessment in vegetable soils of the urban–rural transitional area of Hangzhou, China. Environ Pollut 151:77–78

Cheng SP (2003) Heavy metal pollution in China: origin, pattern and control. Environ Sci Pollut Res Int 10:192–198

Cui YJ, Zhu YG, Zhai RH (2005) Exposure to metal mixtures and human health impacts in a contaminated area in Nanning, China. Environ Int 31:784–790

Gallego JL, Ordonez R (2002) Investigation of trace element sources from an industrialized area (Aviles, northern Spain) using multivariate statistical methods. Environ Int 27:589–596

Goovaerts P, Webster R, Dubois JP (1997) Assessing the risk of soil contamination in the Swiss Jura using indicator geostatistics. Environ Ecol Stat 4:49–64

Heng T, Heuvelink GBM, Stein A (2004) A generic framework for spatial prediction of soil variables based on regression-kriging. Geoderma 120:75–93

Hu K, Zhang L, Li G (2006) Spatial patterns of soil heavy metals in urban-rural transition zone of Beijing. Pedosphere 16:690–696

Jiang GB, Shi JB, Fen XB (2006) Mercury pollution in China. Environ Sci Technol 40:3672–3678

Liu XM, Xu JM, Zhang MK (2004) Application of geostatistics and GIS technique to characterize spatial variabilities of bioavailable micronutrients in paddy soils. Environ Geol 46:189–194

Liu YJ, Zhu YG, Ding H (2007) Lead and cadmium in leaves of deciduous trees in Beijing, China: development of a metal accumulation index (MAI). Environ Pollut 145:387–390

McLaughlin MJ, Parker DR, Clarke JM (1999) Metals and micronutrients-food safety issues. Field Crops Res 60:143–163

Wei BG, Yang LS (2010) A review of heavy metal contaminations in urban soils, urban road dusts and agricultural soils from China. Microchem J 94:99–107

Yang P, Mao R, Shao H, Gao Y (2009) The spatial variability of heavy metal distribution in the suburban farmland of Taihang Piedmont Plain, China. C R Biol 332:558–566
Acknowledgments
The authors are grateful to the financial support of National Basic Research Program of China (No. 2007CB407303), The National Natural Science Foundation of China (40875082) and 2010 Seed Program of Beijing Academy of Science and Technology.
About this article
Cite this article
Liu, Q., Liu, Y. & Zhang, M. Mercury and Cadmium Contamination in Traffic Soil of Beijing, China. Bull Environ Contam Toxicol 88, 154–157 (2012). https://doi.org/10.1007/s00128-011-0441-6
Received:

Accepted:

Published:

Issue Date:
Keywords
Mercury

Cadmium

Soil

Traffic pollution

Beijing