Abstract
Flubendiamide insecticide is widely used in Indian subtropical condition to control lepidopteron pests mainly in rice and cotton. The present study reports leaching behaviour of flubendiamide, N 2-[1,1-dimethyl-2-(methylsulfonyl)ethyl]-3-iodo-N 1-[2-methyl-4-[1,2,2,2-tetrafluoro-1 (trifluoromethyl)ethyl] phenyl]-1,2-benzene dicarboxamide, in packed soil columns under different rainfall conditions. Flubendiamide did not leach out of the 25 cm long soil columns even after percolating water equivalent to 462.18 mm rainfall. After leaching with water equivalent to 462.18 mm rainfall, in analytical grade treatment, 68.06% of the recovered flubendiamide was the major amount present in 5–10 cm depth whereas in the formulation 67.22% of the recovered flubendiamide was confined to 0–5 cm depth. Results revealed that with percolating 160 mL of water residues of desiodo flubendiamide detected up to 20–25 cm layer along with 9.47% residues in this layer, indicating that metabolite is more mobile as compared to analytical grade flubendiamide and 39.35% SC formulation. Formulation slowed the downward mobility of flubendiamide in soil column. Flubendiamide is slightly mobile in sandy loam soil, but desiodo flubendiamide is relatively more mobile and may leach into ground water.
Access options
Buy single article
Instant access to the full article PDF.
USD 39.95
Price includes VAT (USA)
Tax calculation will be finalised during checkout.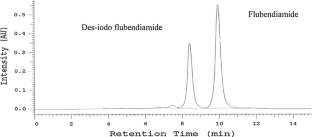 References
Black CA (1965) Method of soil analysis (parts 1 and 2). American Society of Agronomy, Madison

Cohen SZ, Creeger SM, Carsel RF, Enfield CG (1984) Potential pesticide contamination of groundwater from agricultural uses, in treatment and disposal of pesticide wastes. ACS Symposium Series No.259, ed. American Chemical Society, Washington, DC, pp 297–325

Gustafson DI (2002) Groundwater ubiquity score: a simple method for assessing pesticide leachability. Environ Toxicol Chem 8:339–357

Jackson ML (1967) Soil chemical analysis. Prentice Hall, New Delhi

Masaki T, Yasokawa N, Tohnishi M, Motoba K, Hirooka T (2006) Flubendiamide: a novel Ca2+ channel modulator, reveals evidence for functional cooperation between Ca2+ pumps and Ca2+ release. Mole Pharmacol 69:1733–1739

Pesticide Fact Sheet on Flubendiamide (2008) Us Environmental Protection Agency. (http://www.epa.gov/opprd001/factsheet/flubendiamide.pdf)

Regulatory Note RG 2008-03 (2008) Publication coordinator, Pest Management Regulatory Agency, Health Canada, Ottawa, Canada (200). (http://www.hc-sc.gc.ca/pmra-arla)

Tohnishi M, Nakao H, Furuya T, Seo A, Kodama H, Tsubata K, Fujioka S, Kodama H, Hirooka T, Nishimatsu T (2005) Flubendiamide, a novel insecticide highly active against lepidopterous insect pests. J Pestic Sci 30:354–360
Acknowledgment
The first author is thankful to Indian Council of Agricultural Research, New Delhi for financial assistance. Contribution No. 1035, Division of Agricultural Chemicals, IARI, New Delhi.
About this article
Cite this article
Das, S.K., Mukherjee, I. Flubendiamide Transport Through Packed Soil Columns. Bull Environ Contam Toxicol 88, 229–233 (2012). https://doi.org/10.1007/s00128-011-0429-2
Received:

Accepted:

Published:

Issue Date:
Keywords
Flubendiamide

Desiodo-flubendiamide

39.35% SC formulation

Leaching