Abstract
Feather and muscle of 10 avian species (n = 46), were analyzed for polychlorinated biphenyls (PCBs) and organochlorine pesticides (OCPs). Muscle contained significantly higher PCB and OCP than liver and feather. Mean muscle and feather PCB was 408.5 ± 134.5 and 32 ± 4.5 ng/g wet weight. Highly chlorinated PCBs were found in muscle and liver while feather had PCBs with less chlorination. Gulls had highest levels of both pollutants. Gull feather PCB and OCP were strongly correlated with their levels in the liver and muscle tissues (0.6 < r < 0.9, p < 0.01). Analysis of gull feather can be used as a non-invasive method for monitoring organic pollutants.
Access options
Buy single article
Instant access to the full article PDF.
USD 39.95
Price includes VAT (USA)
Tax calculation will be finalised during checkout.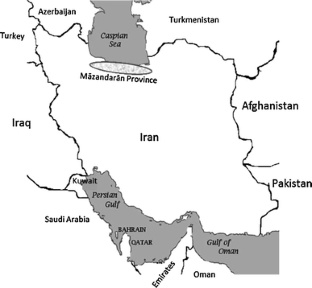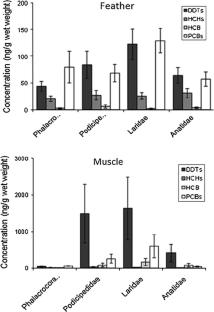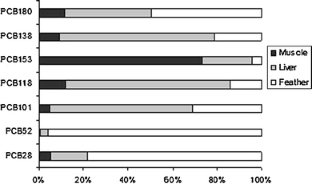 References
Boumphrey RS, Harrad SJ, Jones KC, Osborn D (1993) Polychlorinated biphenyl congeners patterns in tissues in from a selection of British birds. Environ Contam Toxicol 25:346–352

Covaci A, Schepens P (2001) Chromatographic aspects of the analysis of selected persistent organochlorine pollutants in human hair. Chromatographia 53:S366–S371

Dauwe T, Jaspers V, Covaci A, Schepens P, Eens M (2005) Feathers as a nondestructive biomonitor for persistent organic pollutants. Environ Toxicol Chem 24:442–449

Fossi MC, Massi A, Lari L, Marsili L, Focardi S, Leonzio C, Renzoni A (1995) Interspecies differences in mixed function oxidase activity in birds: relationship between feeding habits detoxication activities and organochlorine accumulation. Environ Pollut 90:15–24

Henriksen EO, Gabrielsen GW, Trudeau S, Wolkers J, Sagerup K, Skaare JU (2000) Organochlorines and possible biochemical effects in glaucous gulls (Larus hyperboreus) from Bjørnøya, the Barents Sea. Arch Environ Contam Toxicol 38:234–243

Jaspers V, Voorspoels S, Covaci A, Lepoint G, Eens M (2006) Evaluation of the usefulness of bird feathers as a non-destructive biomonitoring tool for organic pollutants: a comparative and meta-analytical approach. Environ Inter 33:328–337

Kajiwara N, Ueno D, Monirith I, Tanabe S, Pourkazemi M, Aubrey D (2003) Contamination by organochlorine compounds in sturgeons from Caspian Sea during 2001 and 2002. Mar Pollut Bull 46:741–747

Nakata H, Tanabe S, Tatsukawa R, Koyama Y, Miyazaki N, Belikov S, Boltunov A (1998) Persistent organochlorine contaminants in ringed Seals (Phoca hispida) from the Kara sea, Russian Arctic. Environ Toxicol Chem 17:1745–1755

Rajaei F, Esmaili-Sari A, Bahramifar N, Ghasempouri M, Savabieasfahani M (2010) Avian liver organochlorine and PCB from South coast of the Caspian Sea, Iran. Ecotoxicology 9:329–337

Watanabe M, Tanabe S, Tatsukawa R, Amano M, Miyazaki N, Petrov E, Khuraskin S (1999) Contamination levels and specific accumulation of persistent organochlorines in Caspian Seal (Phoca Caspica) from the Caspian Sea, Russia. Arch Environ Contam Toxicol 37:396–407

Yamashita R, Hideshige T, Murakami M, Fukuwaka M, Watanuki Y (2007) Evaluation of non-invasive approach for monitoring PCB pollution of seabirds using preen gland oil. Environ Sci Technol 41:4901–4906
About this article
Cite this article
Rajaei, F., Sari, A.E., Bahramifar, N. et al. Persistent Organic Pollutants in Muscle and Feather of Ten Avian Species from Māzandarān Province of Iran, on the Coast of the Caspian Sea. Bull Environ Contam Toxicol 87, 678–683 (2011). https://doi.org/10.1007/s00128-011-0420-y
Received:

Accepted:

Published:

Issue Date:
Keywords
Polychlorinated biphenyls and organochlorine pesticides

Liver

Muscle

Feather

Avian

Māzandarān Province of Iran