Abstract
The relationship between gonadal development and the concentrations of four heavy metals Mn, Zn, Fe and Hg in the tissues of the clam Galatea paradoxa was evaluated at the Volta estuary, Ghana, over an 18-month period. Metal concentrations in the clam tissues were highly variable over the sampling period and seemed to be influenced by the reproductive cycle of the clam. Mn concentrations varied over a wide range from 49 to 867 μg/g and exhibited a significant positive correlation with gonadal development (p = 0.0146, r2 = 0.3190). Zn and Fe concentrations ranged from 13 to 59 μg/g and 79 to 484 μg/g, respectively and both revealed negative relationships between gonad development and metal accumulation (Zn (p = 0.0554, r2 = 0.0554) and Fe (p = 0.1040, r2 = 0.1567)). Hg concentrations ranged from 0.026 to 0.059 μg/g over the sampling period and exhibited a slight positive relationship between gonadal development and metal accumulation (p = 0.0861, r2 = 0.1730).
Access options
Buy single article
Instant access to the full article PDF.
USD 39.95
Price includes VAT (USA)
Tax calculation will be finalised during checkout.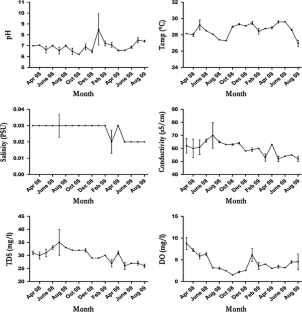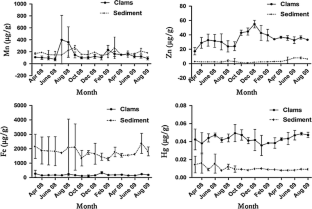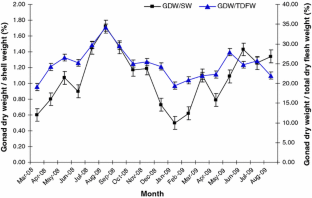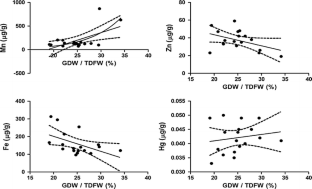 References
Adjei-Boateng D, Wilson JG (In press) Gametogenic development and spawning in the freshwater clam Galatea paradoxa (Born 1778) from the Volta River, Ghana. Aqua Res

Blackmore G, Wang WX (2003) Comparison of metal accumulation in mussels at different local and global scales. Environ Toxicol Chem 22(2):388–395

Boyden CR, Phillips DJH (1981) Seasonal variation and inherent variability of trace elements in oysters and their implications for indicator studies. Mar Ecol Prog Ser 5:29–40

Chiu ST, Lam FS, Tze WL, Chau CW, Ye DY (2000) Trace metals in mussel from mariculture zones, Hong Kong. Chemosphere 41:101–108

Chong K, Wang W-X (2001) Comparative studies on the biokinetics of Cd, Cr, and Zn in the green mussel Perna viridis and the Manila clam Ruditapes philippinarum. Environ Pollut 115:107–121

Cossa D, Rondeau JG (1985) Seasonal, geographical and size induced variability in mercury content of Mytilus edulis in an estuarine environment: a re-assessment of mercury pollution level in the Estuary and gulf of St. Lawreence. Mar Biol 88:43–49

Cunningham PA, Tripp MR (1975) Factors affecting accumulation and removal of mercury from tissues of the American oyster Crassostrea virginica. Mar Biol 31:311–319

Etim LE (1990) Annual variation in proximate composition and condition index of Egeria radiata (Bivalvia : Tellinacea : Donacidae) from Cross River in Nigeria. Nig J Tech Res 2:95–98

Etim L, Akpan ER, Muller P (1991) Temporal trends in heavy metal concentrations in the clam E. radiata (Bivalvia: Tellinacea Donacidae) from the Cross River, Nigeria. Rev Hydrobiol Trop 24(4):327–333

Fowler SW, Oregioni B (1976) Trace metals in mussels from the N.W. Mediterranean. Mar Pollut Bull 7:26–29

Galstoff P (1964) The American oyster Crassostrea virginica. Fish Bull Fish Wildl Serv 64:1–480

Jin Q, Liang F, Zhang H, Zhao L, Huan Y, Song D (1999) Application of microwave techniques in analytical chemistry. Trac Trends Anal Chem 18(7):479–484

Joiris CR, Azokwu MI, Otchere FA, Ali IB (1998) Mercury in the bivalve Anadara (Senilia) senilis from Ghana and Nigeria. Sci Total Environ 224:181–188

King RP, Udoidoing OM (1991) Perspectives in the development and conservation of freshwater fisheries resources of the Cross River, Nigeria. Trans Ni Soc Biol Conserv 2:7–16

Latouche YD, Mix MC (1982) The effects of depuration, size and sex on trace metal levels in Bay Mussels. Mar Pollut Bull 13(1):27–29

MP GESA (1982) Joint group of experts on the scientific aspects of marine pollution, the health of the oceans. Rep Stud GESAMP 15:108

Obirikorang KA, Adjei-Boateng D, Amisah S (2009) Consumption of the Clam, Galatea paradoxa (Born 1778) in Ghana: human health implications with reference to heavy metals. Water Qual Expo Health 1:191–201

Obirikorang KA, Amisah S, Adjei-Boateng D, Madkour HA, Otchere FA (2010) Mercury accumulation in the clam, Galatea paradoxa (Born 1778) at the Volta Estuary, Ghana. Bull Environ Contam Toxicol 85:497–501

Otchere FA, Joiris C, Holsbeek L, Ali IB, Vanderpuye CJ (2000) Heavy metals concentration and burden in the bivalves Anadara (Senilia) senilis, Perna perna and Crassostrea tulipa from Ghana. In: Nriagu J (ed) 11th annual international conference on heavy metals in the environment, contrbution number 10161. University of Michigan, School of Public Health, Ann Arbor

Otchere FA, Joiris C, Holsbeek. L (2003) Mercury in the bivalves Anadara (Senilis) senilis, Perna perna and Crassostrea tulipa from Ghana. Sci Total Environ 304:369–375

Páez-Osun P, Frias-Espericueta MG, Osuna-López JI (1995) Trace metal concentrations in relation to season and gonadal maturation in the oyster Crassostrea iridescens. Mar Environ Res 40(1):19–31

Pan J-F, Wang WX (2004) Influences of dissolved and colloidal organic carbon on the uptake of Ag, Cd, and Cr by the marine mussel Perna viridis. Environ Pollut 129:467–477

Perera P (2004) Heavy metal concentrations in the Pacific oyster; Crassostrea gigas. Thesis submitted to the Auckland University of Technology, Auckland, New Zealand

Phelps HL, Wright DA, Mihursky JA (1985) Factors affecting trace metal accumulation by estuarine oysters, Crassostrea virginica. Mar Ecol Progr Ser 22:187–197

Phillips DJH (1976) The common mussel, Mytilus edulis as an indicator of pollution by zinc, cadmium, lead and copper. Effects of environmental variables on uptake of metals. Mar Biol 38:59–69

Phillips DJH, Rainbow PS (1994) Biomonitoring of trace aquatic contaminants, 2nd edn. Chapman & Hall, London

Phillips DJH, Yim WW-S (1981) A comparative evaluation of oysters, mussels and sediments as indicators of trace metals in Hong Kong waters. Mar Ecol Prog Ser 6:285–293

Regoli F (1998) Trace metals and antioxidant enzymes in gills and digestive gland of the Mediterranean mussel Mytilus galloprovincialis. Arch Environ Contam Toxicol 34:48–63

Riget F, Johanson P, Asmund G (1996) Influence of length on element concentrations in Blue mussels (Mytilus edulis). Mar Pollut Bull 32(10):745–751

Saavedra Y, Gonzalez A, Fernandez P, Blanco J (2004) The effect of size on trace metal levels in raft cultivated mussels (Mytilus galloprovincialis). Sci Total Environ 318:115–124

Sokolowski A, Richard P, Fichet D, Radenac G, Guyot T (2003) Application of trichloroacetic acid (TCA) to extraction of soft body for the determination of tissue Cd, Cu, Pb and Zn in the prosobranch Hydrobia ulvae (Pennant). Mar Pollut Bull 46:1326–1333

United Kingdom Environmental Agency (2008) Using science to create a better place- Environmental quality standards for trace metals in the aquatic environment Science Report—SC030194

United States Environmental Protection Agency (USEPA) (1994) Sediment Sampling. SOP#: 2016

WHO (2000) Safety evaluation of certain food additives and contaminants. WHO food additives series, vol 44. Cambridge University Press, Cambridge

Zooragian GE (1980) Crassostrea virginica as an indicator of cadmium pollution. Mar Biol 58:275–284
Acknowledgments
The authors are grateful to the International Foundation for Science (IFS) for providing financial support (A/4421-1) to conduct this research work and the Department of Fisheries and Watershed Management of the Kwame Nkrumah University of Science and Technology, Kumasi for logistical support.
About this article
Cite this article
Adjei-Boateng, D., Obirikorang, K.A., Amisah, S. et al. Relationship Between Gonad Maturation and Heavy Metal Accumulation in the Clam, Galatea paradoxa (Born 1778) from the Volta Estuary, Ghana. Bull Environ Contam Toxicol 87, 626–632 (2011). https://doi.org/10.1007/s00128-011-0417-6
Received:

Accepted:

Published:

Issue Date:
Keywords
Reproductive cycle

Galatea paradoxa

Heavy metals

Volta estuary