Abstract
Anzali and Gomishan wetlands are considered as two of the most important wetlands in southern coast of Caspian Sea. To investigate mercury accumulation in these ecosystems, total mercury concentrations were measured in the muscle tissue of two fish species. Higher mercury concentrations were detected in C. carpio, an omnivorous benthic/pelagic species (Anzali wetland: 0.2 μg g−1 wet weight; Gomishan wetland: 0.2 μg g−1 wet weight), than in S. lucioperca, a carnivorous pelagic species (Anzali: 0.06 μg g−1 wet weight; Gomishan: 0.15 μg g−1 wet weight).
Access options
Buy single article
Instant access to the full article PDF.
USD 39.95
Price includes VAT (USA)
Tax calculation will be finalised during checkout.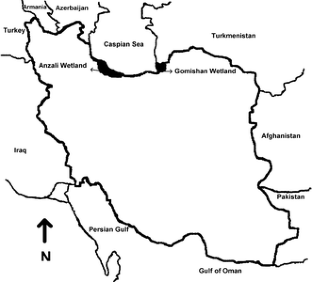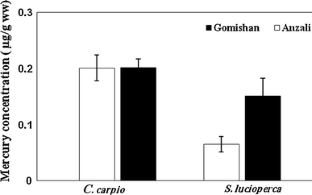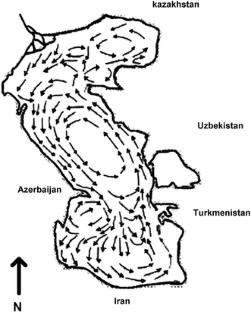 References
Al-Majid NB, Preston MR (2000) Factors influencing the total mercury and methyl mercury in the hair of the fishermen of Kuwait. Environ Pollut 109:239–250

Altındag A, Yigit S (2005) Assessment of heavy metal concentrations in the food web of lake Beysehir, Turkey. Chemosphere 60:552–556

Ebrahimi M, Taherianfard M (2010) Concentration of four heavy metals (cadmium, lead, mercury, and arsenic) in organs of two cyprinid fish)C. carpio and Capoeta sp.) from the Kor River (Iran). Environ Monit Assess 168:575–585

Health and Welfare Canada (1979) Methylmercury in Canada exposure of Indian and Inuit residents to methylmercury in the Canadian environment. Ottawa7 Medical Services Branch. pp 200

Houserova P, Kuban V, Kracmar S, Sitko J (2007) Total mercury and mercury species in birds and fish in an aquatic ecosystem in the Czech Republic. Environ Pollut 145:185–194

Jeffree RA, Warnau M, Teyssie JL, Markich SJ (2006) Comparison of the bioaccumulationfrom seawater and depuration of heavy metals andradionuclides in the spotted dogfish Scyliorhinuscanicula (Chondrichthys) and the turbot Psettamaxima (Actinopterygii: Teleostei). Sci. Total Environ 368(2–3):839–852

Jin L, Liang L, Jiang G, Xu Y (2006) Methylmercury, total mercury and total selenium in four common freshwater fish species from Ya-Er Lake, China. Environ Geochem Health 28:401–407

Kaewsarn P, Yu Q (2001) Cadmium removal from aqueous solutions by pre-treated biomass of marine alga Padina sp. Environ Pollut 122:209–213

Kenšová R, Čelechovská O, Doubravová J, Svobodová Z (2010) Concentrations of metals in tissues of fish from the Věstonice reservoir. Acta Vet Brno 79:335–345

Korotenko KA, Mamedove RM, Mooers CNK (2000) Prediction of the dispersal of oil transport in the Caspian Sea resulting from a continuous release. Spill Sci Technol Bull 6(5/6):323–339

Official Journal of the European Communities (1994) L. 144 of 16 June 1994

Ramsar Convention Bureau (1997) The Ramsar convention manual, a guide tothe convention on wetlands, 2nd edn. Ramsar Convention Bureau, Gland, p 161

Storelli MM, Marcotrigiano GO (2000) Fish for human consumption: risk of contamination by mercury. Food Addit Contam 17:1007–1011

Storelli MM, Storelli A, Giacominelli-Stuffler R, Marcotrigiano GO (2005) Mercury speciation in the muscle of two commercially important fish, hake (Merluccius merluccius) and striped mullet (Mullus barbatus) from the Mediterranean sea: estimated weekly intake. Food Chem 89:295–300

Sun Y, Xie Z, Li J, Xu J, Chen Z, Naidu R (2006) Assessment of toxicity of heavy metal contaminated soils by the toxicity characteristic leaching procedure. Environ Geochem Health 28(1–2):73–78

Tabari S, Saeedi Saravi SS, Bandany G, Dehghan A, Shokrzadeh M (2010) Heavy metals (Zn, Pb, Cd and Cr) in fish, water and sediments sampled form Southern Caspian Sea, Iran. Toxicol Ind Health 10:649–656

WHO (1990) Methylmercury. Environmental health criteria no. 101. World Health Organization, Geneva
Acknowledgments
Many thanks to Dr. Savabi, Mr. Alahverdi, Mr. Malvandi and Mr. Daneshi for insightful comments.
About this article
Cite this article
Tabatabaie, T., Ghomi, M.R., Amiri, F. et al. Comparative Study of Mercury Accumulation in Two Fish Species, (Cyprinus carpio and Sander lucioperca) from Anzali and Gomishan Wetlands in the Southern Coast of the Caspian Sea. Bull Environ Contam Toxicol 87, 674–677 (2011). https://doi.org/10.1007/s00128-011-0413-x
Received:

Accepted:

Published:

Issue Date:
Keywords
Mercury

Anzali and Gomishan wetlands

European pike perch

Common carp