Abstract
To determine the water environment and pollutants in West Java, the contents of metals and general water quality of the Ciliwung River in the Jakarta area were measured. High Escherichia coli number (116–149/mL) was detected downstream in the Ciliwung River. In addition to evaluate mercury pollution caused by gold mining, mercury contents of water and sediment samples from the Cikaniki River, and from paddy samples were determined. The water was not badly polluted. However, toxic metals such as mercury were detected at levels close to the baseline environmental standard of Indonesia (0.83–1.07 μg/g of sediments in the Cikaniki River). From analyses of the paddy samples (0.08 μg/g), it is considered that there is a health risk caused by mercury.
Access options
Buy single article
Instant access to the full article PDF.
USD 39.95
Price includes VAT (USA)
Tax calculation will be finalised during checkout.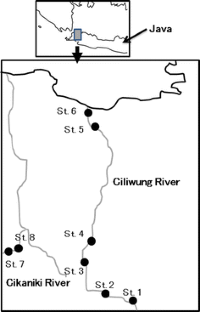 References
Benedetto A, Au C, Avila DS, Milatovic D, Aschner M (2010) Extracellular dopamine potentiates Mn-induced oxidative stress, lifespan reduction, and dopaminergic neurodegeneration in a BLI-3-dependent manner in Caenorhabditis elegans. PLoS Genet 26:e1001084

Environmental White Paper of Yamaguchi Prefecture (2006) Yamaguchi Prefecture, Yamaguchi, Japan

Estudillo JP, Otsuka K (1999) Green revolution, human capital, off-farm employment: changing sources of income among farm households in central Luzon, 1966–1994. Econ Dev Cult Change 47:162–168

Hutagalung HP (1987) Mercury content in the water in marine organisms in Angke Estuary, Jakarta Bay. Bul Env Contam Toxicol 39:406–411

Kido M, Yustiawati, Syawal MS, Sulastri, Hosokawa T, Tanaka S, Saito T, Iwakuma T, Kurasaki M (2009) Comparison of general water quality of rivers in Indonesia and Japan. Environ Monit Assess 156:317–329

Kimura I (1988) Aquatic pollution problems in Japan. Aquat Toxicol 11:287–301

Kudo A, Fujikawa K, Miyahara S, Zheng J, Takigami H, Sugahara M, Muramatsu T (1998) Lessons from minamata mercury pollution, Japan – After a continuous 22 years of observation. Water Sci Tech 38(7):187–193

Kurasaki M, Hartoto DI, Saito T, Suzuki-Kurasaki M, Iwakuma T (2000) Metals in water in the Central Kalimantan, Indonesia. Bull Environ Contam Toxicol 65:591–597

Mahbub T, Kuslan M (1997) In Pemda DKI Jakarta, Studi Potensi Kawasan Perairan Teluk Jakarta. Paper presented on Pemantauan Kualitas Lingkungan Jakarta tahun 1996 (workshop on Jakarta environmental quality monitoring), held in Jakarta

Nakagawa R, Yumita Y (1998) Change and behavior of residual mercury in paddy soils and rice of Japan. Chemosphere 37:1483–1487

Sanfeliu C, Sebastià J, Cristòfol R, Rodríguez-Farré E (2003) Neurotoxicity of organomercurial compounds. Neurotox Res 5:283–305

Shiva V (1991) The violence of the green revolution ecological degradation and political conflict. Ecologist 21:57–60

Yu H, Wang J, Fang W, Yuan J, Yang Z (2006) Cadmium accumulation in different rice cultivars and screening for pollution-safe cultivars of rice. Sci Total Environ 370:302–309

Yustiawati, Syawal MS, Terashima M, Tanaka S (2006) Speciation analysis of mercury in river water in West Java, Indonesia. TROPICS 15:425–428
Acknowledgments
This research was supported by Grants-in-Aid from the Japan Society for the Promotion of Science (No. 18404004 and No. 23406021 for Kurasaki), and by the JST-JICA Project: Wild Fire and Carbon Management in Peat-Forest in Indonesia.
About this article
Cite this article
Yasuda, M., Yustiawati, M. Suhaemi Syawal et al. Metal Concentrations of River Water and Sediments in West Java, Indonesia. Bull Environ Contam Toxicol 87, 669–673 (2011). https://doi.org/10.1007/s00128-011-0411-z
Received:

Accepted:

Published:

Issue Date:
Keywords
Mercury contamination

Paddy

Water quality

West Java