Abstract
Ecotoxicological assessment in the tropics is based mainly on knowledge gained from temperate organisms, although many studies have shown the need for models that are more appropriate to tropical regions. The toxicity of two herbicides and two insecticides to nauplii of two freshwater zooplankton species, Mesocyclops aspericornis (von Daday in Inseln Zool Jb Syst 24:175–206, 1906) from a tropical reservoir and a Mesocyclops sp. from a temperate pond, were compared. Both strains were sensitive to paraquat, temephos and fenitrothion, tropical M. aspericornis being generally more tolerant (EC50s of 207, 1,450 and 1,840 μg L−1 for paraquat, temephos and fenitrothion, respectively) than the temperate Mesocyclops sp. (EC50s of 152, 45 and 1,017 μg L−1 for paraquat, temephos and fenitrothion, respectively) whereas diuron was only slightly toxic (LOEC = 446 μg L−1 for both strains). The nauplii mortality increased with the exposure time for both species during each experiment. Further isolation of model organisms from tropical ecosystems is needed, to meet the requirements for a tropical risk assessment scheme.
Access options
Buy single article
Instant access to the full article PDF.
USD 39.95
Price includes VAT (USA)
Tax calculation will be finalised during checkout.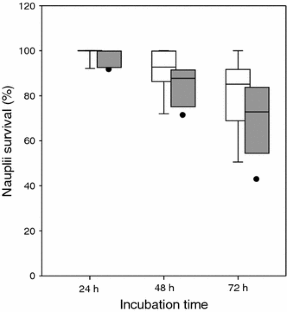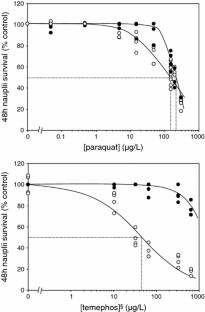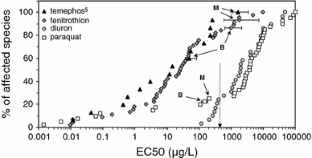 References
Amondham W, Parkpian P, Polprasert C, DeLaune RD, Jugsujinda A (2006) Paraquat adsorption, degradation, and remobilization in tropical soils of Thailand. J Environ Sci Health B 41:485–507

Brausch JM, Smith PN (2009) Pesticide resistance from historical agricultural chemical exposure in Thamnocephalus platyurus (Crustacea: Anostraca). Environ Poll 157:481–487

Brown MD, Thomas D, Mason P, Greenwood JG, Kay BH (1999) Laboratory and field evaluation of the efficacy of four insecticides for Aedes vigilax (Diptera: Culicidae) and toxicity to the nontarget shrimp Leander tenuicornis (Decapoda: Palaemonidae). J Econ Entomol 92:1045–1051

Cairns J Jr (1986) The myth of the most sensitive species. Bioscience 36:670–672

Cairns J Jr, Niederlehner BR (1987) Problems associated with selecting the most sensitive species for toxicity testing. Hydrobiologia 153:87–94

Castillo LE, de la Cruz E, Ruepert C (1997) Ecotoxicology and pesticides in tropical aquatic ecosystems of Central America. Environ Toxicol Chem 16:41–51

Choi JH, Roche H, Caquet T (2001) Hypoxia, hyperoxia, and exposure to potassium dichromate or fenitrothion alter the energy metabolism in Chironomus riparius MG. (Diptera: Chironomidae) larvae. Comp Biochem Physiol C Toxicol Pharmacol 130:11–17

Daam MA, Van den Brink PJ (2010) Implications of differences between temperate and tropical freshwater ecosystems for the ecological risk assessment of pesticides. Ecotoxicology 19:24–37

Delatte H, Paupy C, Dehecq JS, Thiria J, Failloux AB, Fontenille D (2008) Aedes albopictus, vector of chikungunya and dengue viruses in Reunion Island: biology and control. Parasite J Soc Française Parasitol 15:3–13

Do Hong LC, Becker-van Slooten K, Tarradellas J (2004) Tropical testing with Ceriodaphnia cornuta. Environ Toxicol 19:497–504

European Union (1998) Council Directive 98/83/EC of 3 November 1998 on the quality of water intended for human consumption. OJ L 330, 5.12.1998, pp 32–54

Freitas EC, Rocha O (2011) Acute toxicity tests with the tropical cladoceran Pseudosida ramosa: the importance of using native species as test organisms. Arch Environ Contam Toxicol 60:241–249

Hanazato T, Iwakuma T, Yasuno M, Sakamoto M (1989) Effects of temephos on zooplankton communities on enclosures in a shallow eutrophic lake. Environ Poll 59:305–314

Helgen JC, Larson NJ, Anderson RL (1988) Responses of zooplankton and Chaoborus to temephos in a natural pond and in the laboratory. Arch Environ Contam Toxicol 17:459–471

HSDB (2011) Hazardous substances databank: temephos. National Library of Medicine, National Toxicology Program. Available at http://www.toxnet.nlm.nih.gov/cgi-bin/sis/htmlgen?HSDB. Accessed 24 Jun 2011

Kashiwada S, Mochida K, Ozoe Y, Nakamura T (1995) Contribution of zooplankton to disappearance of organophosphorus insecticides in environmental water. J Pest Sci 20:503–512

Kashiwada S, Mochida K, Ozoe Y, Nakamura T (1998) Metabolism of fenitrothion in several brackish and marine zooplankton species. J Pest Sci 23:308–311

Kaur K, Ansal MD (1996) Sensitivity of selected zooplankton exposed to phosphamidon, fenitrothion, and fenthion. Bull Environ Contam Toxicol 57:199–203

Kosiyachinda P, Bhumiratana A, Kittayapong P (2003) Enhancement of the efficacy of a combination of Mesocyclops aspericornis and Bacillus thuringiensis var. israelensis by community-based products in controlling Aedes aegypti larvae in Thailand. Am J Trop Med Hyg 69:206–212

Kwok KWH, Leung KMY, Lui GSG, Chu VKH, Lam PKS, Morritt D, Maltby L, Brock TCM, Van den Brink PJ, Warne MStJ, Crane M (2007) Comparison of tropical and freshwater animal species' acute sensitivities to chemicals: implications for deriving safe extrapolation factors. Integr Environ Assess Managt 3:49–67

Lahr J, Diallo AO, Gadji B, Diouf PS, Bedaux JJM, Badji A, Ndour KB, Andreasen JE, van Straalen NM (2000) Ecological effects of experimental insecticide applications on invertebrates in Sahelian temporary ponds. Environ Toxicol Chem 19:1278–1289

Leboulanger C, Bouvy M, Pagano M, Dufour RA, Got P, Cecchi P (2009) Responses of planktonic microorganisms from tropical reservoirs to paraquat and deltamethrin exposure. Arch Environ Contam Toxicol 56:39–51

Leboulanger C, Bouvy M, Carré C, Cecchi P, Amalric L, Bouchez A, Pagano M, Sarazin G (in press) A comparison of the effects of two herbicides and an insecticide on tropical freshwater plankton in microcosms. Arch Environ Contam Toxicol

Menchaca I, Belzunce MJ, Franco J, Garmendia JM, Montero N, Revilla M (2010) Sensitivity comparison of laboratory-cultured and field-collected amphipod Corophium multisetosum in toxicity tests. Bull Environ Contam Toxicol 84:390–394

Moreira-Santos M, da Silva EM, Soares AMVM, Ribeiro R (2005) In situ and laboratory microalgal assays in the tropics: a microcosm simulation of edge-of-field pesticide runoff. Bull Environ Contam Toxicol 74:48–55

Persbacher PW, Ludwig GM (2004) Effects of diuron and other aerially applied cotton herbicides and defoliants on the plankton communities of aquatic ponds. Aquaculture 233:197–203

Ramanibai R, Kanniga S (2008) Laboratory evaluation of Mesocyclops aspericornis as a biocontrol agent of Aedes aegypti. Dengue Bull 32:207–210

Shaw M, Furnas MJ, Fabricius K, Haynes D, Carter S, Eaglesham G, Mueller JF (2010) Monitoring pesticides in the Great Barrier Reef. Mar Poll Bull 60:113–122

Sucahyo D, van Straalen NM, Krave A, van Gestel CAM (2008) Acute toxicity of pesticides to the tropical freshwater shrimp Caridina laevis. Ecotox Environ Safety 69:421–427

von Daday E (1906) Untersuchungen über die Copepodenfauna von Hinterindien, Sumatra und Java, nebst einem Beitrag zur Copepoden kenntnis Hawaii. Inseln Zool Jb Syst 24:175–206

Zehra A, Altaff K (2002) Redescription of Mesocyclops aspericornis (Daday, 1906) (Copepoda: Cyclopoida) from an Indian pond. J Plankton Res 24:481–493

Zimba PV, Tucker CS, Mischke CC, Grimm CC (2002) Short-term effect of diuron on catfish pond ecology. N Am J Aquac 64:16–23
Acknowledgments
This work was funded by the French Ministry for the Environment under the ECOMET project (grant n° CV70000783). We should like to thank Dr. Laurence Amalric, BRGM Orléans, France, for the pesticide analysis. Editor-in-Chief Dr. Herbert Nigg and anonymous reviewers are acknowledged for improvements on the earlier version of this manuscript. Tony Tebby edited English text.
Additional information
C. Schwartz and P. Somville have contributed equally to this work.
About this article
Cite this article
Leboulanger, C., Schwartz, C., Somville, P. et al. Sensitivity of Two Mesocyclops (Crustacea, Copepoda, Cyclopidae), from Tropical and Temperate Origins, to the Herbicides, Diuron and Paraquat, and the Insecticides, Temephos and Fenitrothion. Bull Environ Contam Toxicol 87, 487 (2011). https://doi.org/10.1007/s00128-011-0406-9
Received:

Accepted:

Published:
Keywords
Zooplankton

Herbicide

Insecticide

Tropical and temperate model organisms