Abstract
The objective of this experiment was not only to provide a simple residue analytical method to evaluate the safe application rate of Emamectin Benzoate for paddy crops but also to give a suitable recommended dosage in paddy crops. Paddy samples were detected using HPLC–MS/MS. The half-lives of emamectin benzoate in paddy plants, water and soil were 2.04–8.66 days, 2.89–4.95 days and 3.65–5.78 days with a dissipation rate of 90% over 7 days after application, respectively. Low residues and short half-life suggested that Emamectin Benzoate could be safely used in paddy crops with the suitable dosage and application.
Access options
Buy single article
Instant access to the full article PDF.
USD 39.95
Price includes VAT (USA)
Tax calculation will be finalised during checkout.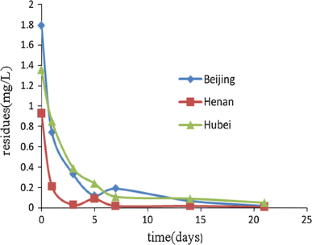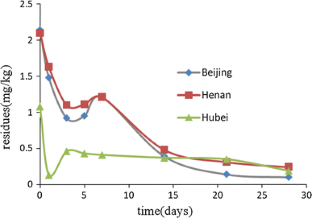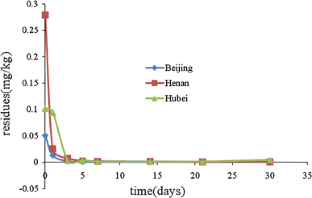 References
Amechi CC, William FF, Thomas JB, Louis SC, Peter GW (1996) Uptake of emamectin benzoate residues from soil by rotational crops. Agric Food Chem 44:4015–4021

Crouch LS, Feely WF (1995) Fate of [14C]emamectin benzoatein head lettuce. J Agric Food Chem 43:3075–3087

Crouch LS, Wrzesinski CL, Feely WF (1997) Fate of [14C] emamectin benzoate in cabbage. 1. extractable residues. J Agric Food Chem 45:2744–2757

Grosman DM, Upton WW (2006) Efficacy of systemic insecticides for protection of lablolly pine against southern pine engraver beetles (Coleoptera: Curculionidae: Scolytine) and wood borers (Coleoptera: Carambycidae). J Econ Entomol 99:94–101

Jansson RK, Peterson RF, Mookerjee PK, Halliday WR, Argentine JA, Dybas RA (1996) Efficacy of solid formulation of emamectin benzoate at controlling lepidopterous pests. Fla Entomol 79:434–449

Mika K, Hiroshi Y, Mikiko U, Takeshi K, Toshihide T, Masahiro F, Machiko S, Seiji I, Shigekazu I, Shiro M (2009) Development of an enzyme-linked immunosorbent. J Agric Food Chem 57:359–364

Mohammad M, William FF, Loretta RS, Peter GW (1996) Immobility of emamectin benzoate in soils. J Agric Food Chem 44:940–944

Shaaya I, Kontsedalov S, Horowitz AR (2002) Emamectin, a novel insecticide for controlling field crop pests. Pest Manag Sci. 091–1095

Shoop WL, Mrozik H, Fisher MH (1995) Structure and activity of avermectins and milbemycins in animal health. Vet Parasitol 59:139–156
Acknowledgments
Supported by Chinese Universities Scientific Fund (Project No. 2011JS038).
About this article
Cite this article
Li, M., Chen, W., Li, M. et al. Dissipation and Residues of Emamectin Benzoate Study in Paddy Under Field Conditions. Bull Environ Contam Toxicol 87, 699–702 (2011). https://doi.org/10.1007/s00128-011-0404-y
Received:

Accepted:

Published:

Issue Date:
Keywords
Emamectin Benzoate

Paddy

Residues

Dissipation