Abstract
Our study investigated multiple biomarker responses of goldfish exposed to sediments collected from northern Taihu Lake. The activities of acetylcholinesterase, 7-ethoxyresorufin-O-deethylase, glutathione-S-transferase and superoxide dismutase did not differ significantly from controls following exposure to sediment from the center of the lake. However, sediment collected from the northern bays did significantly alter enzymatic activities. An integrated biomarker response (IBR) was calculated and used to evaluate the impact of pollutants from different stations. The results indicated that Mashan in Meiliang Bay and Xiaogongshan in Gong Bay were the most stressful places for fish. Sediment polychlorinated biphenyl and polybrominated diphenyl ether concentrations were associated with IBR variation.
Access options
Buy single article
Instant access to the full article PDF.
USD 39.95
Price includes VAT (USA)
Tax calculation will be finalised during checkout.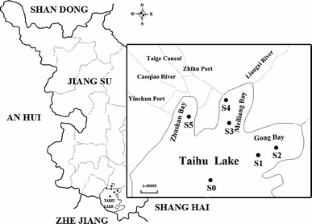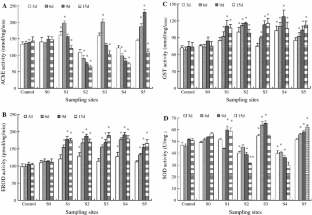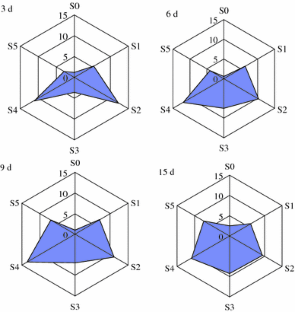 References
Aguiar LH, Moraes G, Avilez IM, Altran AE, Corrêa CF (2004) Metabolical effects of folidol 600 on the neotropical freshwater fish matrinxã, Brycon cephalus. Environ Res 95:224–230

Beliaeff B, Burgeot T (2002) Integrated biomarker response: a useful tool for ecological risk assessment. Environ Toxicol Chem 21:1316–1322

Bradford MM (1976) A rapid and sensitive method for the quantification of microgram quantities of protein utilizing the principle of protein-dye binding. Anal Biochem 72:248–254

Chen JP, Xu LH, Wu ZB, Zhang YY, Paul KSL (1999) Molecular ecotoxicological indicators of fish intoxicated by benzo(a)pyrene. China Environ Sci 19:417–420

Chen YY, Yin Y, Wang XR, Guo HY, Chen SJ, Mai BX (2009) Polycyclic aromatic hydrocarbons and polychlorinated biphenyl in surface sediments of Taihu Lake: the distribution, sources and risk assessment. China Environ Sci 29:118–124

Damiens G, Gnassia-Barelli M, Loqués F, Roméo M, Salbert V (2007) Integrated biomarker response index as a useful tool for environmental assessment evaluated using transplanted mussels. Chemosphere 66:574–583

Dutta HM, Arends DA (2003) Effects of endosulfan on brain acetylcholinesterase activity in juvenile bluegill sunfish. Environ Res 91:157–162

Frasco MF, Guilhermino L (2002) Effects of dimethoate and beta-naphthoflavone on selected biomarkers of Poecilia reticulate. Fish Physiol Biochem 26:149–156

Galloway TS, Sanger RC, Smith KL, Fillmann G, Readman JW, Ford TE, Depledge MH (2002) Rapid assessment of marine pollution using multiple biomarkers and chemical immunoassays. Environ Sci Technol 36:2219–2226

Galloway TS, Brown RJ, Browne MA, Dissanayake A, Lowe D, Depledge MH (2004) A multibiomarker approach to environmental assessment. Environ Sci Technol 38:1723–1731

Guilhermino L, Lopes MC, Carvalho AP, Soares AMVM (1996) Inhibition of acetylcholinesterase activity as effect criterion in acute tests with juvenile Daphnia magna. Chemosphere 32:727–738

Hugla JL, Thomé JP (1999) Effects of polychlorinated biphenyls on liver ultrastructure, hepatic monooxygenases, and reproductive success in the barbell. Ecotoxicol Environ Saf 42:256–273

Kim WK, Lee SK, Jung J (2010) Integrated assessment of biomarker responses in common carp (Cyprinus carpio) exposed to perfluorinated organic compounds. J Hazard Mater 180:395–400

Leaver MJ, Clarke DJ, George SG (1992) Molecular studies of the phase II xenobiotic conjugative enzymes of marine pleuronectid flatfish. Aquat Toxicol 22:265–278

Lu GH, Wang C, Zhu Z (2009) The dose–response relationships for EROD and GST induced by polyaromatic hydrocarbons in Carassius auratus. Bull Environ Contam Toxicol 82:194–199

Lu GH, Ji Y, Zhang HZ, Wu H, Qin J, Wang C (2010) Active biomonitoring of complex pollution in Taihu Lake with Carassius auratus. Chemosphere 79:588–594

Luo Y, Wang XR, Ji LL, Su Y (2009) EPR detection of hydroxyl radical generation and its interaction with antioxidant system in Carassius auratus exposed to pentachlorophenol. J Hazard Mater 171:1096–1102

Marklund S, Marklund G (1974) Involvement of superoxide anion radical in the auto oxidation of pyrogallol and a convenient assay for superoxide dismutase. Eur J Biochem 47:469–474

Miron DS, Crestani M, Shettinger MR, Morsch VM, Baldisserotto B, Tierno MA, Moraes G, Vieira VLP (2005) Effects of the herbicides clomazone, quinclorac, and metsulfuron methyl on acetylcholinesterase activity in the silver catfish (Rhamdia quelen) (Heptapteridae). Ecotoxicol Environ Saf 61:398–403

Ozcan Oruc E, Sevgiler Y, Uner N (2004) Tissue-specific oxidative stress responses in fish exposed to 2, 4-D and azinphosmethyl. Comp Biochem Physiol C 137:43–51

Page DS, Huggett RJ, Stegeman JJ, Parker KR, Woodin B, Brown JS, Edward Bence A (2004) Polycyclic aromatic hydrocarbon sources related to biomarker levels in fish from Prince William Sound and the Gulf of Alaska. Environ Sci Technol 38:4928–4936

Peebua P, Kosiyachinda P, Pokethitiyook P, Kruatrachue M (2007) Evaluation of alachlor herbicide impacts on nile tilapia (Oreochromis niloticus) using biochemical biomarkers. Bull Environ Contam Toxicol 78:138–141

Pereira P, de Pablo H, Vale C, Pacheco M (2010) Combined use of environmental data and biomarkers in fish (Liza aurata) inhabiting a eutrophic and metal-contaminated coastal system–Gills reflect environmental contamination. Mar Environ Res 69:53–62

Richardson BJ, Sharon BDL, McClellan MMK, Lam PKS (2008) Antioxidant responses to polycyclic aromatic hydrocarbons and organochlorine pesticides in green-lipped mussels (Perna viridis): do mussels integrate biomarker responses? Mar Pollut Bull 57:321–328

Song SB, Xu Y, Zhou BS (2006) Effects of hexachlorobenzene on antioxidant status of liver and brain of common carp (Cyprinus carpio). Chemosphere 65:699–706

Stephensen E, Adolfsson-Erici M, Celander M, Hulander M, Parkkonen J, Hegelund T, Sturve J, Hasselberg L, Bengtsson M, Forlin L (2003) Biomarker responses and chemical analyses in fish indicate leakage of polycyclic aromatic hydrocarbons and other compounds from car tire rubber. Environ Toxicol Chem 22:2926–2931

Viganò L, Arillo A, Falugi C, Melodia F, Polesello S (2001) Biomarker of exposure and effect in flounder (Platichthys flesus) exposed to sediments of the Adriatic Sea. Mar Pollu Bull 42:887–894

Wang C, Lu GH, Cui J, Wang PF (2009) Sublethal effects of pesticide mixtures on selected biomarkers of Carassius auratus. Environ Toxicol Pharmacol 28:414–419

Werner I, Teh SJ, Datta S, Lu XQ, Young TM (2004) Biomarker responses in Macoma nasuta (Bivalvia) exposed to sediments from northern San Francisco Bay. Mar Environ Res 58:299–304

Williams TD, Gensberg K, Minchin SD, Chipman JK (2003) A DNA expression array to detect toxic stress response in European flounder (Platichthys flesus). Aquat Toxicol 65:141–157

Yuan XY, Wang Y, Chen J, Sun C, Xu NZ (2003) Organochlorine residues of sediments in Taihu Lake and its risk evaluation. Environ Sci 24:121–125

Zhai SJ, Hu WP, Zhu ZC (2010) Ecological impacts of water transfers on Lake Taihu from the Yangtze River, China. Ecol Eng 36:406–420

Zhang JF, Shen H, Wang XR, Wu JC, Xue YQ (2004) Effects of chronic exposure of 2, 4-dichlorophenol on the antioxidant system in liver of freshwater fish Carassius auratus. Chemosphere 55:167–174
Acknowledgments
This work was supported by the National Natural Science Foundation of China (51079049) and China's National Basic Research Program (2010CB429006).
About this article
Cite this article
Lu, G.H., Qi, P.D., Qin, J. et al. Biomarker Responses in Fish Exposed to Sediments from Northern Taihu Lake. Bull Environ Contam Toxicol 87, 499 (2011). https://doi.org/10.1007/s00128-011-0398-5
Received:

Accepted:

Published:
Keywords
Biomarker

Organic pollutants

Sediments

Taihu Lake