Abstract
The study evaluated the sublethal effects of the herbicides glyphosate (Roundup) and diuron (Hexaron) and the mixture of them, used extremely in agriculture, through biomarkers in fish. The glutathione S-transferase activity increased (74%) and catalase activity decreased (37%) at the higher exposure concentration of Hexaron in comparison to the control group, suggesting an activation of this metabolism route. Membrane damage was observed at the higher exposure of Roundup and in the mixture group compared to the control group, which can be related to the nuclear alterations observed in these exposed groups. The cholinesterase activity was also inhibited (37%) in mixture group compared to the control group and no gill morphology damage was found. The results suggested a potential synergic effect in some analysed parameters.
Access options
Buy single article
Instant access to the full article PDF.
USD 39.95
Price includes VAT (USA)
Tax calculation will be finalised during checkout.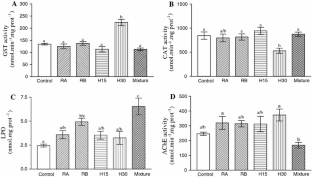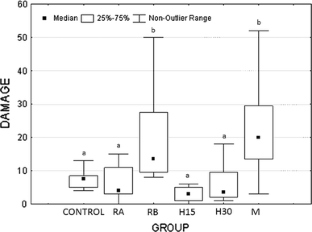 References
Aebi H (1984) Catalase in vitro. Method Enzymol 105:121–126

Akaishi FM, Silva de Assis HC, Jakobi SCG, Eiras-stofella DR, Stjean S, Courtenay SC, Lima EF, Wagener AL, Scofield AL, Oliveira Ribeiro CA (2004) Morphological and neurotoxicological findings in tropical freshwater fish (Astyanax sp.) after waterborne and acute exposure to water soluble fraction (WSF) of crude oil. Arch Environ Contam Toxicol 46:244–253

Ballesteros ML, Wunderlin DA, Bistoni MA (2009) Oxidative stress responses in different organs of Jenynsia multidentata exposed to endosulfan. Ecotox Environ Saf 72:199–205

Bernet D, Schmidt H, Meier W, Burkhardt-Holm P, Wahli T (1999) Histopathology in fish: proposal for a protocol to assess aquatic pollution. J Fish Dis 22:25–34

Bradford M (1976) A rapid and sensitive method for the quantification of microgram quantities of protein utilizing the principle of protein-dye binding. Anal Biochem 72:248–254

Ellman GL, Courtney D, Andres V Jr, Feathersthone RM (1961) A new and rapid colorimetric determination of acetylcholinesterase activity. Biochem Pharmacol 7:88–96

Filipak Neto F, Zanata SM, Silva de Assis HC, Nakao LS, Randi MAF, Oliveira Ribeiro CA (2008) Toxic effects of DDT and methyl mercury on the hepatocytes from Hoplias malabaricus. Toxicol In Vitro 22:1705–1713

Grisolia CK (2002) A comparison between mouse and fish micronucleus test using cyclophosphamide, mitomycin C and various pesticides. Mutat Res 518:145–150

Heddle JA (1973) A rapid in vivo test for chromosomal damage. Mutat Res 18:187–190

Isik I, Celik I (2008) Acute effects of methyl parathion and diazinon as inducers for oxidative stress on certain biomarkers in various tissues of rainbow trout (Oncorhynchus mykiss). Pestic Biochem Physiol 92:38–42

Jiang ZY, Hunt JV, Wolff SP (1992) Ferrous ion oxidation in the presence of xylenol orange for detection of lipid hydroperoxide in low density lipoprotein. Anal Biochem 202:384–389

Keen JH, Habig WH, Jakoby WB (1976) Mechanism for several activities of the glutathione S-transferases. J Biol Chem 251:6183–6188

Langiano VC, Martinez CBR (2008) Toxicity and effects of a glyphosate-based herbicide on the Neotropical fish Prochilodus lineatus. Comp Biochem Physiol 147:222–231

Peixoto F (2005) Comparative effects of the Roundup and glyphosate on mitochondrial oxidative phosphorylation. Chemosphere 61:1115–1122

Ploch SA, Lee YP, MacLean E, Di Giulio RT (1999) Oxidative stress in liver of brown bullhead and channel catfish following exposure to tert-butyl hydroperoxide. Aquat Toxicol 46:231–240

Saglio P, Trijasse S (1998) Behavioural responses to atrazine and diuron in gold fish. Arch Environ Contam Toxicol 35:484–491

Souza MD, Boeira RC, Gomes MAF (2000) Adsorção e dessorção de diuron em solos tropicais. Pesticidas R Ecotoxicol e Meio Ambiente 10:113–124

Sturm A, Silva de Assis HC, Hansen PD (1999) Cholinesterases of marine teleost fish: enzymological characterization and potential use in the monitoring of neurotoxic contamination. Mar Environ Res 47:389–398

Teisseire H, Vernet G (2000) Is the "Diuron Effect" due to a herbicide strengthening of antioxidative defenses of Lemna minor? Comp Biochem Physiol 66:153–160

Wang X, Wang C, Tan C (2005) Degradation and metabolism of hexazinone by two isolated bacterial strains from soil. Chemosphere 61:1468–1474

World Health Organization (WHO) (1994) Glyphosate, international programme on chemical safety. Environ Health Criteria 159, Geneva, Switzerland, pp 110–112

Yi X, Ding H, Lu Y, Liu H, Zhang M, Jiang W (2007) Effects of long-term alachlor exposure on hepatic antioxidant defense and detoxifying enzyme activities in crucian carp (Carassius auratus). Chemosphere 68:1576–1581

Zhonglin Z, Zhengjun S, Daoji C (1998) Evaluation on effect of hexazinone on eco-environment. Adv Environ Sci 6:11–20
Acknowledgments
This research was supported in part by CNPq (Brazilian Agency for Science and Technology).
About this article
Cite this article
Rossi, S.C., Dreyer da Silva, M., Piancini, L.D.S. et al. Sublethal Effects of Waterborne Herbicides in Tropical Freshwater Fish. Bull Environ Contam Toxicol 87, 603–607 (2011). https://doi.org/10.1007/s00128-011-0397-6
Received:

Accepted:

Published:

Issue Date:
Keywords
Astyanax sp.

Bioassay

Biomarkers

Freshwater fish

Herbicides