Abstract
The effects of commercial glyphosate herbicide formulation on the activity of acetylcholinesterase (AChE) enzyme and oxidative stress were studied in Cyprinus carpio exposed for 96 h to 0.0, 0.5, 2.5, 5.0 and 10.0 mg/L and then allowed to equal recovery period in water without herbicide. The activity of AChE was inhibited in the brain and in the muscle after exposure. However, after recovery period brain and muscle AChE activity increased. Brain thiobarbituric acid reactive species (TBARS) were measured as an indicator of oxidative stress. Increased TBARS levels were observed with all concentrations tested of the glyphosate formulation, and remained increased after the recovery period. The results recorded clearly indicate lipid peroxidation and anti-AChE action induced by Roundup® exposure.
Access options
Buy single article
Instant access to the full article PDF.
USD 39.95
Price includes VAT (USA)
Tax calculation will be finalised during checkout.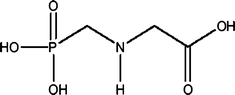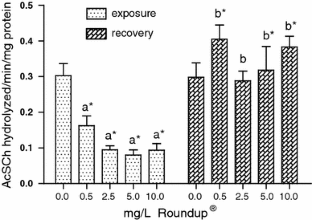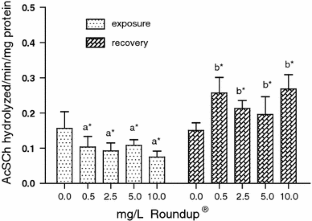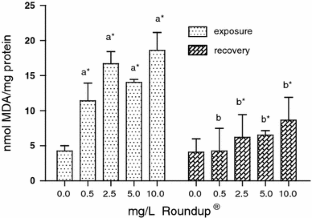 References
Aguiar LH, Moraes G, Avilez IM, Altran AE, Corrêa CF (2004) Metabolical effects of Folidol 600 on the neotropical freshwater fish matrinxã, Brycon cephalus. Environ Res 95:224–230

Antón AA, Laborda E, Ariz M (1994) Acute toxicity of the herbicide glyphosate to fish. Chemosphere 28:745–753

Begum G (2004) Carbofuran insecticide induced biochemical alterations in liver and muscle tissues of the fish Clarias batrachus (Linnaeus) and recovery response. Aquatic Toxicol 66:83–92

Beuret CJ, Zirenlnik F, Giménez MS (2005) Effect of the herbicide glyphosate on liver lipoperoxidation in pregnant rats and their fetuses. Reprod Toxicol 19:501–504

Bradford MM (1976) A rapid and sensitive method for the quantification of microgram quantities of protein utilizing the principle of protein binding. Anal Biochem 72:248–254

Buege JA, Aust SD (1978) Microsomal lipid peroxidation. Method Enzymol 52:302–309

Cox C (1998) Glyphosate (Roundup). J Pestic Reform 18:3–17

Crestani M, Menezes C, Glusczak L, Miron SD, Spanevello R, Silveira A, Gonçalves FF, Zanella R, Loro VL (2007) Effect of clomazone herbicide on biochemical and histological aspects of silver catfish (Rhamdia quelen) and recovery pattern. Chemosphere 67:2305–2311

Dembelé K, Haubruge E, Gaspar C (1999) Recovery of acetycholinesterase activity in the common carp (Cyprinus carpio) after inhibition by organophosphate and carbamate compounds. Bull Environ Contam Tox 62:731–742

Diaz-Sanchez J, Lopez-Martınez N, Lopez-Granados F, De Prado R, Garcıa-Torres L (2002) Absorption, translocation, and fate of herbicides in Orobanche cumana–sunflower system. Pest Biochem Physiol 74:9–15

Dutta HM, Arends DA (2003) Effects of endosulfan on brain acetylcholinesterase activity in juvenile bluegill sunfish. Environ Res 91:157–162

Fernández-Vega C, Sancho E, Ferrando MD, Andreu E (2002) Thiobencarb-induced changes in acetylcholinesterase activities of the fish Anguilla anguilla. Pestic Biochem Phys 72:55–63

Folmar LC, Sanders HO, Julin AM (1979) Toxicity of herbicide glyphosate and several of its formulations to fish and aquatic invertebrates. Arch Environ Contam Toxicol 8:269–278

Fonseca MB, Glusczak L, Moraes BS, Menezes CC, Pretto A, Tierno MA, Zanella R, Gonçalves FF, Loro VL (2008) The 2,4-D herbicide effects on acetylcholinesterase activity and metabolic parameters of piava freshwater fish (Leporinus obtusidens). Ecotox Environ Safe 69:416–420

Giesy JP, Dobson S, Solomon KR (2000) Ecotoxicological risk assessment for roundup herbicide. Rev Environ Contam Toxicol 167:35–120

Glusczak L, Miron DS, Crestani M, Fonseca MB, Pedron FA, Duarte MF, Vieira VL (2006) Effect of glyphosate herbicide on acetylcholinesterase activity and metabolic and hematological parameters in piava (Leporinus obtusidens). Ecotoxicol Environ Safe 65:237–241

Glusczak L, Miron DS, Moraes BS, Simões RR, Schetinger MRC, Morsch VM, Loro VL (2007) Acute effects of glyphosate herbicide on metabolic and enzymatic parameters of silver catfish (Rhamdia quelen). Comp Biochem Physiol C 146:519–524

Hidalgo C, Rios C, Hidalgo M, Salvado V, Sancho JV, Hernández F (2004) Improved coupled-column liquid chromatographic method for the determination of glyphosate and aminomethyl-phosphonic acid residues in environmental waters. J Chromatogr A 1035:153–157

Langiano VC, Martinez CBR (2008) Toxicity and effects of a glyphosate-based herbicide on the neotropical fish Prochilodus lineatus. Comp Biochem Phys C 147:222–231

Lushchak OV, Kubrak OI, Storey JM, Storey KB, Lushchak VI (2009) Low toxic herbicide Roundup induces mild oxidative stress in goldfish tissues. Chemosphere 76:932–937

Miron D, Crestani M, Schetinger MR, Morsch VM, Baldisserotto B, Tierno MA, Moraes G, Vieira VL (2005) Effects of the herbicides clomazone, quinclorac and metsulfuron methyl on acetylcholinesterase activity in the silver catfish (Rhamdia quelen) (Heptapteridae). Ecotox Environ Safe 61:398–403

Miron D, Pretto A, Crestani M, Glusczak L, Schetinger MR, Loro VL, Morsch VM (2008) Biochemical effects of clomazone herbicide on piavas (Leporinus obtusidens). Chemosphere 74:1–5

Modesto KA, Martinez CBR (2010) Roundup® causes oxidative stress in liver and inhibits acetylcholinesterase in muscle and brain of the fish Prochilodus lineatus. Chemosphere 78:294–299

Moraes BS, Clasen B, Loro VL, Pretto A, Toni C, Avila LA, Marchesan E, Machado SLO, Zanella R, Reimche GB (2011) Toxicological response of Cyprinus carpio after exposure to a commercial herbicide containing imazethapyr and imazapic. Ecotoxicol Environ Safe 74:328–335

Oropesa AL, Garcia Cambero JP, Soler F (2008) Effect of long-term exposure to simazine on brain and muscle acetylcholinesterase activity of common carp (Cyprinus carpio). Environ Toxicol 23:285–293

Rodrigues BN, Almeida FS (2005) Guia de Herbicidas, 5th edn. UEL editora, Londrina, p 592

Rodrigues SR, Caldeira C, Castro BB, Gonçalves F, Nunes B, Antunes SC (2011) Cholinesterase (ChE) inhibition in pumpkinseed (Lepomis gibbosus) as environmental biomarker: ChE characterization and potential neurotoxic effects of xenobiotics. Pestic Biochem Physiol 99:181–188

Roex WM, Keijzers R, Van Gestel CAM (2003) Acetylcholinesterase inhibition and increased food consumption rate in the zebrafish, Danio rerio, after chronic exposure to parathion. Aquat Toxicol 64:451–460

Sarikaya R, Yilmaz M (2003) Investigation of acute toxicity and the effect of (2, 4-dichlorophenoxyacetic acid) herbicide on the behavior of the common carp (Cyprinus carpio L., 1758; Pisces, Cyprinidae). Chemosphere 52:195–201

Sevgiler Y, Oruç EO, Üner N (2004) Evaluation of etoxazole toxicity in the liver of Oreochromis niloticus. Pestic Biochem Phys 78:1–8

Üner N, Oruç EO, Sevgiler Y, Sahin N, Durmaz H, Usta D (2006) Effects of diazinon on acetylcholinesterase activity and lipid peroxidation in the brain of Oreochromis niloticus. Environ Toxicol Phar 21:241–245

WHO (1994) Glyphosate. Enviroment health criteria no 159. World Health Organization, Geneva

Wilhelm-Filho D, Torres MA, Tribbes TB, Pedrosa RC, Soares CHI (2001) Influence of season and pollution on the antioxidant defenses of the cichlid fish acará (Geophagus brasiliensis). Braz J Med Biol Res 34:719–726

Yang ZP, Dettbarn WD (1996) Diisopropylphosphorofluriodate-induced cholinergic hyperactivity and lipid peroxidation. Toxicol Appl Pharm 138:48–616
Acknowledgments
We would like to thanks the Universidade Federal de Santa Maria (UFSM) for the support and the facilities, to CAPES for the student Assistantship and the undergraduate student salary and CNPq by research fellowship to Vania Lucia Loro.
About this article
Cite this article
Cattaneo, R., Clasen, B., Loro, V.L. et al. Toxicological Responses of Cyprinus carpio Exposed to a Commercial Formulation Containing Glyphosate. Bull Environ Contam Toxicol 87, 597–602 (2011). https://doi.org/10.1007/s00128-011-0396-7
Received:

Accepted:

Published:

Issue Date:
Keywords