Abstract
Norflurazon and simazine are pre-emergent herbicides detected frequently in surface water associated with South Florida agricultural canals and drainage water. This study investigated the potential use of a 1.34 ha constructed wetland for removing these herbicides from surface water. The total length of the wetland was 400 m and width was 35 m. A surface water flow rate of 740 L/min was maintained in the system using a pump. The plant community within the system consisted primarily of Panicum repens, Alternanthera philoxeroides, and Bacopa caroliniana. Norflurazon and simazine, derived from commercial formulations, were injected (51.1 g active ingredient each) directly into the water pumped into the wetland over a 2 h period. Water samples were collected from the wetland upstream of the dosing system at 3 h intervals from the beginning through 360 h and at the exit point at 1, 2, and 3 h intervals for the periods of 0–24, 25–48 and 49–360 h after dosing, respectively. The herbicides were extracted using C-18 cartridges and were analyzed by GC-TSD. The total mass of each herbicide discharged from the system was estimated by multiplying the concentration by the total volume discharged during the sampled period. Neither herbicide was detected in the inflow water during the entire study. Norflurazon was first detected at the exit 19 h after dosing and simazine after 23 h. Discharge patterns of the two herbicides differed dramatically. Norflurazon tended to bleed off from the wetland with no distinct peak concentration. However, the mobile fraction of simazine was discharged over a 58 h period. Mean/maximum/median detectable concentrations of the herbicides were 3.9 ± 1.7/8.1/3.4 μg L−1 for norflurazon, and 11.9 ± 6.8/23.6/12.0 μg L−1 for simazine, respectively. The total masses of norflurazon and simazine discharged from the exit during the 15 day study were 51.7 and 26.9 g, indicating 0% and 47.4% removal from the surface water by the system.
Access options
Buy single article
Instant access to the full article PDF.
USD 39.95
Price includes VAT (USA)
Tax calculation will be finalised during checkout.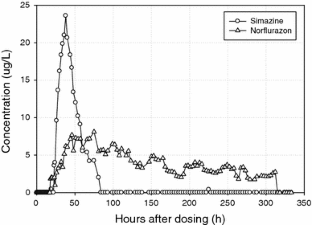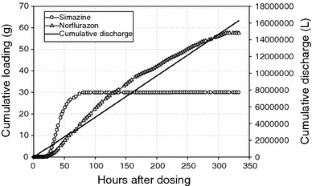 References
Clark GM, Goolsby DA (2000) Occurrence and load of selected herbicides and metabolites in the lower Mississippi river. Sci Tot Environ 248:101–113

Domagalski JL, Ator S, Coupe R, McCarthy K, Lampe D, Sandstrom M, Baker N (2008) Comparative study of transport processes of nitrogen, phosphorus and herbicides to streams in five agricultural basins, USA. J Environ Qual 37:1158–1169

Florida Department of Agriculture, Consumer Services (FDACS) (2003) Summary of agricultural pesticide use in Florida: 1999–2002. Bureau of Pesticides, Tallahassee

Glotfelty DE, Taylor AW, Isensee AR, Jersey J, Glen S (1984) Atrazine and simazine movement to Wye river estuary. J Environ Qual 13:115–121

Harman-Fetcho JA, McConnell LL, Baker JE (1999) Agricultural pesticides in the Patuxent river, a tributary of the Chesapeake Bay. J Environ Qual 28:928–938

Hubbs CW, Lavy TL (1990) Dissipation of norflurazon and other persistent herbicides in soil. Weed Sci 38:81–88

Kookana RS, Aylmore LAG, Gerritse RG (1992) Time-dependent sorption of pesticides during transport in soils. Soil Sci 54:214–225

Louchart X, Voltz M, Andrieux P, Moussa R (2001) Herbicide transport to surface waters at field and watershed scales in a Mediterranean vineyard area. J Environ Qual 30:982–991

McConnel LL, Harman-Fetcho JA, Hagy JD III (2004) Measured concentrations of herbicides and model predictions of atrazine fate in the Patuxent river estuary. J Environ Qual 33:594–604

Miles CJ, Pfeuffer RJ (1997) Pesticides in canals of south Florida. Arch Environ Contam Toxicol 32:337–345

Office of Pesticide Programs (OPP) (2000) Pesticide ecotoxicity database. Environ fate effects div. US EPA, Washington

Page D, Dillon P, Mueller J, Bartkow M (2010) Quantification of herbicide removal in a constructed wetland using passive samplers and composite water quality monitoring. Chemosphere 81:394–399

Schroeder J, Banks PA (1986) Persistence of norflurazon in five Georgia soils. Weed Sci 34:595–599

Schuler LJ, Rand GM (2008) Aquatic risk assessment of herbicides in freshwater ecosystems of south Florida. Arch Environ Contam Toxicol 54:571–583

Senseman SA, Lavy TL, Mattice JD, Gbur EE, Skulman BW (1997) Trace level pesticide detections in Arkansas surface waters. Environ Sci Technol 31:395–401

Sharma SD, Singh M (2001) Susceptibility of Florida Candler fine soil to herbicide leaching. Bull Environ Contam Toxicol 67:594–600

Singh M, Castle WS, Achhireddy NR (1985) Movement of bromacil and norflurazon in a sandy soil in Florida. Bull Environ Contam Toxicol 35:279–284

Southwick LM, Willis GH, Bengtson RL (1993a) Leaching losses of norflurazon through Mississippi alluvial soil. Bull Environ Contam Toxicol 50:441–448

Southwick LM, Willis GH, Bengtson RL (1993b) Runoff losses of norflurazon-effect of runoff timing. J Agric Food Chem 41:1503–1506

Thomas J-P, Bejjani A, Nsouli B, Gardon A, Chovelon J-M (2008) Investigation of norflurazon pesticide photodegradation using plasma desorption time-of-flight mass spectrometry analysis. Rapid Com Mass Spec 22:2429–2434

Vencill WK (2002) Herbicide Handbook, 8th edn. Weed Science Society of America, Lawrence

Ware GW (Ed) (1992) The SCR/ARS/CES pesticide properties database for environmental decision-making. Rev Environ Contam Toxicol 123:164

Wilson PC, Wilson SB (2010) Toxicity of the herbicides bromacil and simazine to the aquatic macrophyte, Vallisneria americana. Environ Toxicol Chem 29:201–211

Wilson PC, Wilson SB, Haunert D (2006) Toxicity of the herbicide norflurazon to the aquatic macrophyte Vallisneria americana (Michx.). J Toxicol Environ Health A 69:1167–1179

Wilson PC, Boman B, Ferguson-Foos J (2007) Norflurazon and simazine losses in surface runoff water from flatwoods citrus production areas. Bull Environ Contam Toxicol 78:341–344

Ying G, Williams BD (2000) Mobility and persistence of four herbicides in soil of a South Australian vineyard. Pest Manag Sci 56:277–283
About this article
Cite this article
Chris Wilson, P., Lu, H. & Lin, Y. Norflurazon and Simazine Removal from Surface Water Using a Constructed Wetland. Bull Environ Contam Toxicol 87, 426 (2011). https://doi.org/10.1007/s00128-011-0380-2
Received:

Accepted:

Published:
Keywords
Triazine

Pyridazinone

Herbicide

Remediation

Wetland