Abstract
Bryophyte species composition and 26 common physico-chemical and inorganic chemical parameters were assessed at 23 selected sites in the Maritsa River (BG) over a 4-year period. Principal components analyses (PCA) of both bryophytes and water variables distinguished different locations in the ecosystem. The data imply that the content of elements measured in bryophytes represents river contamination, while species compositional patterns reflect hydromorphology and general degradation. This study for the first time combined aquatic bryophyte occurrence, the bioaccumulation of 17 macro-and microelements in 17 species, and 26 water factors by principal components analysis (PCA) in an assessment of river pollution.
Access options
Buy single article
Instant access to the full article PDF.
USD 39.95
Price includes VAT (USA)
Tax calculation will be finalised during checkout.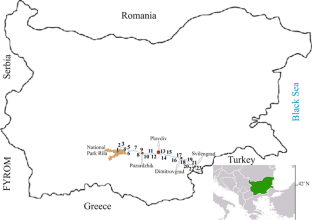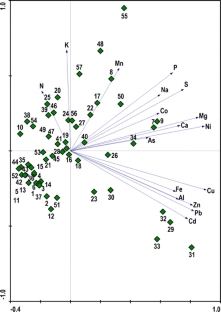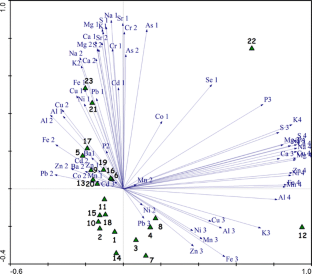 References
Regulation No. 7 (1986) about the parameters and norms for defining the quality of the running surface waters. State Gazette 96

Cesa M, Bizzotto A, Ferraro C, Fumagalli F, Nimis PL (2006) Assessment of intermittent trace element pollution by moss bags. Environ Poll 144(3):886–892

Cesa M, Bizzotto A, Ferraro C, Fumagalli F, Nimis PL (2010) Palladio, an index of trace element alteration for the River Bacchiglione based on Rhynchostegium riparioides moss bags. Water Air Soil Pollut 208:59–77

Dierssen K (2001) Distribution. Ecological amplitude and phytosociological characterization of European bryophytes, J Cramer Berlin-Stuttgard

Ganeva A, Natcheva R (2003) Check-list of the bryophytes of Bulgaria with data on their distribution. I Hepaticae Anthocerotae Cryptog Bryol 24:229–239

Glime JM, Vitt DH (1987) A comparison of bryophyte species diversity and structure of montane streams and stream banks. Canadian J Bot 65:1824–1837

Grolle R, Long DG (2000) An annotated check-list of the Hepaticae and Anthocerotae of Europe and Macaronesia. J Bryol 22:103

Hill MO, Bell N, Bruggeman-Nannenga MA, Brugués M, Cano MJ, Enroth J, Flatberg KI, Frahm J-P, Gallego MT, Garilleti R, Guerra J, Hedenäs L, Holyoak DT, Hyvönen J, Ignatov MS, Lara F, Mazimpaka V, Muñoz J, Söderström L (2006) An annotated checklist of the mosses of Europe and Macaronesia. J Bryol 28(3):198–267

Illies J (1978) Limnofauna Europaea. Gustav Fischer, New York

López J, Retuerto R, Carballeira A (1997) D665/D665a index versus frequencies as indicators of bryophyte response to physicochemical gradients. Ecol 78(1):261–271

Natcheva R, Ganeva A (2005) Check-list of the bryophytes of Bulgaria. II Musci Cryptog Bryol 26:149–172

Peñuelas J (1984) Pigments of aquatic mosses of the River Muga, NE Spain, and their response to water pollution. Lindberg 10:127–132

Samecka-Cymerman A, Kolon K, Kempers AJ (2002) Heavy metals in aquatic bryophytes from the Ore Mountains (Germany). Ecotoxicol Environ Saf 52:203–210

Scarlett P, O'Hare M (2006) Community structure of in-stream bryophytes in English and Welsh rivers. Hydrobiol 553:143–152

Steinnes E, Rühling Å, Lippo H, Mäkinen A (1997) Reference materials for large- scale metal deposition survey. Accredit and Qual Assur 2:243–249

Ter Braak CJF, Smilauer P (2002) CANOCO reference manual and CanoDraw for Windows user's guide: software for canonical community ordination (version 4.5). Microcomputer Power, Ithaca, New York

Vazquez MD, Wappelhorst O, Markert B (2004) Determination of 28 elements in aquatic moss Fontinalis antipyretica Hedw and water from the upper reaches of the River Nysa (CZ, D), by ICP-MS, ICP-OES and AAS. Water Air Soil Poll 152:153–172

Vieira AR, Gonzalez C, Branquinho C, Martins-Louc MA (2009) Intracellular and extracellular ammonium (NH4+) uptake and its toxic effects on the aquatic biomonitor Fontinalis antipyretica. Ecotoxicol 18:1087–1094
Acknowledgments
We would like to thank Mrs Rositsa Andreeva for her assistance in Analytical Laboratory, IBER, BAS. Also we are thankful to Mrs Galina Stoyanova, Chief of Certified Laboratory Geochemistry, University of Mining, Sofia, and to Mr Zlatko Gospodinov, who provided field assistance, and to Editor-in-Chief Dr. Herbert Nigg, Associate Editor and three anonymous peer reviewers for their outstanding contributions to this manuscript.
About this article
Cite this article
Gecheva, G., Yurukova, L. & Ganeva, A. Assessment of Pollution with Aquatic Bryophytes in Maritsa River (Bulgaria). Bull Environ Contam Toxicol 87, 480 (2011). https://doi.org/10.1007/s00128-011-0377-x
Received:

Accepted:

Published:
Keywords
Aquatic bryophytes

River pollution

Heavy metals

Toxic elements