Abstract
The main objectives of study were to monitor the metals concentrations, in freshwater fish species, Carassius gibelio and Esox lucius; and to identify any relationships between species and bioaccumulation of metals. The highest concentration of metals (cadmium, 1.96; copper, 24.2; zinc, 49.6; lead, 5.4; chromium, 4.4) between the fish species and tissues was in the liver of Esox lucius, while the lowest (cadmium,0.21; copper,7.2; zinc,19.4; lead,0.9; chromium,0.6 μg/g) found in the muscle of Carassius gibelio. Results showed that the metal concentrations were in fishes in descending order of zinc > copper > lead > chromium > cadmium, similarly in the tissue liver > kidney > gill ~ intestine > muscle.
Access options
Buy single article
Instant access to the full article PDF.
USD 39.95
Price includes VAT (USA)
Tax calculation will be finalised during checkout.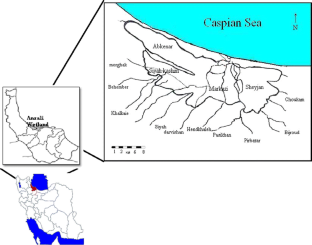 References
Alam MGM, Tanaka A, Allinson G, Laurenson LJB, Stagnitti F (2002) A comparison of trace element concentrations in cultured and wild carp (Cyprinus carpio) of Lake Kasumigaura, Japan. Ecotoxicol Environ Saf 53:348–354

Amundsen PA, Staldvik FJ, Lukinb AA, Kashulinb NA, Popova OA, Reshetnikov YS (1997) Heavy metal contamination in freshwater fish from the border region between Norway and Russia. Sci Total Environ 201:211–224

AO F (1983) Compilation of legal limits for hazardous substances in fish and fishery product. FAO Fisheries Circular 464:5–100

Asuquo FE, Ewa-Oboho I, Asuquo E, Udo P (2004) Fish species used as biomarker for heavy metal and hydrocarbon contamination for Cross River, Nigeria. Environ 24:29–37

Charkhabi AH, Sakizadeh M (2006) Assessment of spatial variation of water quality parameters in the most polluted branch of the Anzali Wetland, Northern Iran. Polish J Environ Stud 15:395–403

Dural M, Göksu LZM, Özak AA, Derící B (2006) Bioaccumulation of some heavy metals in different tissues of Dicentrachus labrax L, 1758, Sparus aurata L, 1758 and Mugil cephalus, L, 1758 from the Çamlik Lagoon of the eastern cost of Mediterranean (Turkey). Environ Monit Assess 18:65–74

Erdoĝrul Z, Ates DA (2006) Determination of cadmium and copper in fish samples from Sir and Menzelet dam lake Kahramanmaras, Turkey. Environ Monit Assess 117:281–290

Ip CM, Li XD, Zhang G, Wong CSC, Zhang WL (2005) Heavy metal and Pb isotopic compositions of aquatic organisms in the Pearl River Estuary, South China. Environ Pollut 138:494–504

Karadede H, Oymak SA, Ünlü E (2004) Heavy metals in mullet, Liza abu, and catfish, Silurus triostegus, from the Atatürk Dam Lake (Euphrates), Turkey. Environ Int 30:183–188

Khaleghizadeh A, Behrouzi-Rad B (2004) On waterbirds in the Anzali Wetlands, Iran, in 1999/2000. Zoo Middle East 31:13–21

Klavins M, Potapovics O, Rodinov V (2009) Heavy metals in fish from Lakes in Latvia: concentrations and trends of changes. Bull Environ Contam Toxicol 82:96–100

Licata P, Trombetta D, Cristani M, Naccari C, Martino D, Calo M, Naccari F (2005) Heavy metals in liver and muscle of bluefin tuna (Thunnus thynnus) caght in the straits of Messina (Sicily, Italy). Environl Monit Assess 107:239–248

Moriarty F (1999) Ecotoxicology, the study of pollutants in ecosystems, 3rd edn. Academic press, London

Nussey G, Vuren JHJ, Preez HH (2000) Bioaccumulation of chromium, manganese, nickel and lead in the tissues of the moggel, Labeo umbratus (Cyprinidae), from Witbank Dam, Mpumalanga. Water SA 26:269–284

Stahl LL, Snyder BD, Olsen AR, Pitt JL (2009) Contaminants in fish tissue from US lakes and reservoirs: a national probabilistic study. Environ Monit Assess 150:3–19

Storelli MM, Storelli A, D'ddabbo R, Marano C, Bruno R, Marcotrigiano GO (2005) Trace elements in loggerhead turtles (Caretta caretta) from the eastern Mediterranean Sea: overview and evaluation. Environ Pollut 135:163–170

Tekin-Özan S (2008) Determination of heavy metal levels in water, sediment and tissues of tench (Tinca tinca L. 1758) from Beyşehir Lake (Turkey). Environ Monit Assess 145:295–302

Tekin-Özan S, Kir I (2008) Seasonal variations of heavy metals in some organs of carp (Cyprinus carpio L. 1758) from Beyşehir Lake (Turkey). Environ Monit Assess 138:201–206

Tekin-Özan S, Kır I (2006) Concentrations of some heavy metals in organs of two fish species from the Beyşehir Lake, Turkey. Fresen Environ Bull 15:530–534

Terra BF, Araújo FG, Calza CF, Lopes RT, Teixeira TP (2008) Heavy metal in tissues of three fish species from different trophic levels in a tropical Brazilian River. Water Air Soil Pollut 187:275–284
Acknowledgment
This research was sponsored by University of Birjand, Iran.
About this article
Cite this article
Ebrahimpour, M., Pourkhabbaz, A., Baramaki, R. et al. Bioaccumulation of Heavy Metals in Freshwater Fish Species, Anzali, Iran. Bull Environ Contam Toxicol 87, 386 (2011). https://doi.org/10.1007/s00128-011-0376-y
Received:

Accepted:

Published:
Keywords
Carassius gibelio

Concentration

Esox lucius

Tissues

Trophic level