Abstract
We aimed to conduct an exposure assessment to dust and free silica for workers of Sangan iron ore mine in Khaf, Iran. The maximum concentrations of total dust and free silica were measured in crusher machine station at 801 ± 155 and 26 ± 7 mg/m3, respectively. Meanwhile, the minimum concentrations were measured in official and safeguarding station at 8.3 ± 2 and 0.012 ± 0.002 mg/m3, respectively. Also, the maximum concentrations of respirable dust and free silica were measured in Tappeh Ghermez drilling no. 1 at 66 ± 13 and 1.5 ± 0.4 mg/m3, respectively, while the minimum concentrations were measured in pneumatic hammer at 5.26 ± 3 and 0.01 ± 0.005 mg/m3, respectively. Considerate to Iranian standard for respirable dust concentrations (0.11 mg/m3) and international standards (ACGIH = 0.1 and NIOSH = 0.05 mg/m3), it was found that dust and free silica amounts were much higher than national and international standard levels in this mine.
Access options
Buy single article
Instant access to the full article PDF.
USD 39.95
Price includes VAT (USA)
Tax calculation will be finalised during checkout.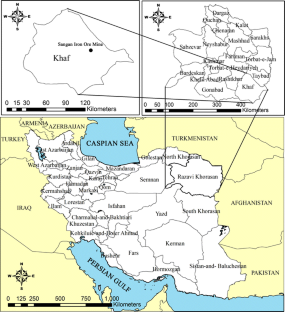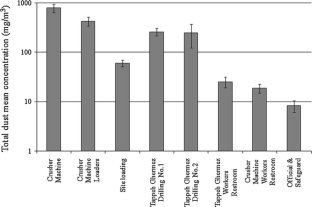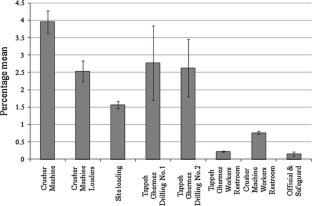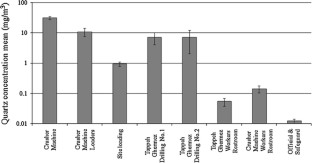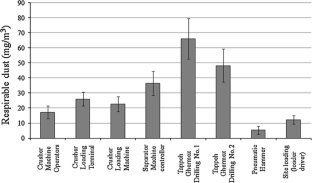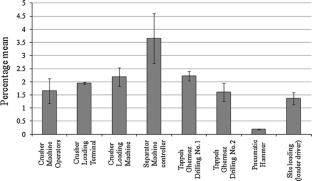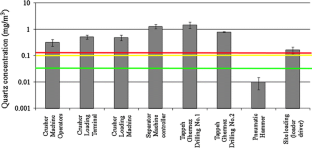 References
Allen GC, Samimi B, Ziskind M, Weill H (1974) X-ray diffraction determination of alpha-quartz in respirable and total dust samples from sand-blasting operations. Am Ind Hyg Assoc J 35(11):711–717

Banks DE, Parker JE (1998) Occupational lung disease: an international perspective. Chapman and Hall Medical, London, England

Brun E, European Agency for Safety and Health at Work (2009) Expert forecast on emerging chemical risks related to occupational safety and health. European risk observatory report. Office for Official Publications of the European Communities, Luxembourg

Chen CH, Tsaia PJ, Lai CY, Peng YL, Soo JC, Chen CY, Shih TS (2010) Effects of uniformities of deposition of respirable particles on filters on determining their quartz contents by using the direct on-filter X-ray diffraction (DOF XRD) method. J Hazard Mater 176:389–394

Clayton GD, Clayton FE, Patty FA (1993) Patty's industrial hygiene and toxicology: toxicology. Wiley, New York

Dehdashti A, Malek F (2000) Silica dust exposure and respiratory effects in Semnan Ferrosilicon workers. J Semnan Univ Med Sci 2(1):34–44

De-Vuyst P, Camus P (2000) The past and present of pneumoconioses. Curr Opin Pulm Med 6(2):151–156

Englert H, Small-McMahon J, Davis K, O'Connor H, Chambers P, Brooks P (2000) Male systemic sclerosis and occupational silica exposure-a population-based study. Aust N Z J Med 30(2):215–220

Estellita L, Santos AMA, Anjos RM, Yoshimura EM, Velasco H, da Silva AAR, Aguiar JG (2010) Analysis and risk estimates to workers of Brazilian granitic industries and sandblasters exposed to respirable crystalline silica and natural radionuclides. Radiat Meas 45:196–203

Flynn MR, Susi P (2003) Engineering controls for selected silica and dust exposures in the construction industry–a review. Appl Occup Environ Hyg 18(4):268–277

IARC (1997) Silica, some silicates, coal dust and para-aramid fibrils: IARC monograph on the evaluation of carcinogenic risks to humans. International Agency for Research on Cancer (IARC), Lyon, France

Iler RK (1979) The chemistry of silica. Wiley, New York

Kane F (1997) The campaign to end silicosis. Job Saf Health Q 8:16–19

NIOSH (2003) NIOSH manual of analytical methods (NMAM), silica, crystalline, by XRD, METHOD 7500. DHHS (National Institute for Occupational Safety and Health) Publication, Available via http://www.cdc.gov/niosh/docs/2003-154/method-s.html. Accessed 1 Jul 2011

Samadi S (2002) Respiratory diseases and its relation to working in EMARAT underground mine. J Qazvin Univ Med Sci 21:64–68

Schatzel SJ (2009) Identifying sources of respirable quartz and silica dust in underground coal mines in southern West Virginia, western Virginia, and eastern Kentucky. Int J Coal Geol 78(2):110–118

Steenland K, Mannetje A, Boffetta P, Stayner L, Attfield M, Chen J, Dosemeci M, DeKlerk N, Hnizdo E, Koskela R, Checkoway H, International Agency for Research on Cancer (2001) Pooled exposure-response analyses and risk assessment for lung cancer in 10 cohorts of silica-exposed workers: an IARC multicentre study. Cancer Causes Control 12(9):773–784

West JB (1982) Pulmonary pathophysiology: the essentials. Williams and Wilkins, Baltimore

Yassin A, Yebesi F, Tingle R (2005) Occupational exposure to crystalline silica dust in the United States, 1988–2003. Environ Health Perspect 113(3):255–260
Acknowledgments
The authors acknowledge the Department of Health and Security of Sangan Iron Ore Mine, Department of Environmental Health of Khaf Health Service Center, Institute for Environmental Research (IER) of Tehran University of Medical Sciences for funding and support, and Department of Valuable Metals Analysis of Geological Survey of Iran for their whole-hearted contributions. Finally, the authors declare that they have no conflicts of interest.
About this article
Cite this article
Naghizadeh, A., Mahvi, A.H., Jabbari, H. et al. Exposure Assessment to Dust and Free Silica for Workers of Sangan Iron Ore Mine in Khaf, Iran. Bull Environ Contam Toxicol 87, 531 (2011). https://doi.org/10.1007/s00128-011-0375-z
Received:

Accepted:

Published:
Keywords
Crystalline silica

Iron ore mine