Abstract
To test whether the dose addition and independent action models can predict the combined toxicity of the mixtures of phenol and aniline derivatives, six phenolic and two aniline derivatives were selected as the test components. The inhibition toxicity of the derivatives and their mixtures to Vibrio qinghaiensis sp.-Q67 indicated that all dose–response relationships could be effectively described by the Weibull function with correlation coefficients greater than 0.99. The combined toxicity of two equivalent-effect concentration ratio mixtures and eight uniform design concentration ratio mixtures could be predicted successfully by the dose addition model within 95% confidence intervals. However, it was also well predicted by the independent action model, especially at lower concentrations.
Access options
Buy single article
Instant access to the full article PDF.
USD 39.95
Price includes VAT (USA)
Tax calculation will be finalised during checkout.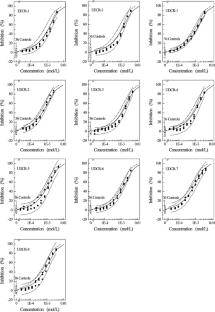 References
Altenburger R, Nendza M, Schuurmann G (2003) Mixture toxicity and its modeling by quantitative structure – activity relationships. Environ Toxicol Chem 22:1900–1915

Altenburger R, Schmitt H, Schuurmann G (2005) Algal toxicity of nitrobenzenes: combined effect analysis as a pharmacological probe for similar modes of interaction. Environ Toxicol Chem 24:324–333

Arrhenius Å, Grönvall F, Scholze M, Backhaus T, Blanck H (2004) Predictability of the mixture toxicity of 12 similarly acting congeneric inhibitors of photosystem II in marine periphyton and epipsammon communities. Aquat Toxicol 68:351–367

Backhaus T, Faust M, Scholze M, Gramatica P, Vighi M, Grimmel LH (2004) Joint algal toxicity of phenylurea herbicides is equally predictable by concentration addition and independent action. Environ Toxicol Chem 23:258–264

Belden JB, Gilliom RJ, Lydy MJ (2007) How well can we predict the toxicity of pesticide mixtures to aquatic life? Integr Environ Assess Manag 3:364–372

Bödeker W, Altenburger R, Faust M, Grimme LH (1992) Synopsis of concepts and models for the quantitative analysis of combination effects: from biometrics to ecotoxicology. Arch Complex Environ Stud 4:45–53

Cronin MTD, Schultz TW (1996) Structure-toxicity relationships for phenols to Tetrahymena pyriformis. Chemosphere 32:1453–1468

Faust M, Altenburger R, Backhaus T, Blanck H, Bödeker W, Gramatica P, Hamer V, Scholze M, Vighi M, Grimm LH (2003) Joint algal toxicity of 16 dissimilarly acting chemicals is predictable by the concept of independent action. Aquat Toxicol 63:43–63

Gao H, Zhang SH, Xiong DQ, Liu N, Gong WM, Wang Q (2006) Study on acute toxicities of phenol and aniline to two marine organisms. Mar Environ Sci 25:33–36

Huang WY, Liu F, Liu SS, Ge HL, Chen HH (2011) Predicting mixture toxicity of seven phenolic compounds with similar and dissimilar action mechanisms to Vibrio qinghaiensis sp.nov.Q67. Ecotoxicol Environ Saf. doi:10.1016/j.ecoenv.2011.01.007

Junghans M, Backhaus T, Faust M, Scholze M, Grimmel LH (2006) Application and validation of approaches for the predictive hazard assessment of realistic pesticide mixtures. Aquat Toxicol 76:93–110

Könemann H, Musch A (1981) Quantitative structure-activity relationships in fish toxicity studies. Part 2: the influence of pH on the QSAR of chlorophenols. Toxicology 19:223–228

Lin C, Kang LJ, Su LM (2002) Joint toxicity of 2, 4-DNT and derivatives of nitro benzenes to Vibrio fischeri. J Jilin Univ (Sci Ed) 40:419–422 (in Chinese)

Liu SS, Song XQ, Liu HL, Zhang YH (2009) Combined photobacterium toxicity of herbicide mixtures containing one insecticide. Chemosphere 75:381–388

Lu GH, Wang C, Guo XL (2008) Prediction of toxicity of phenols and anilines to algae by quantitative structure-activity relationship. Biomed Environ Sci 21:193–196

Ramos EU, Vaes WHJ, Mayer P, Hermens JLM (1999) Algal growth inhibition of Chlorella pyrenoidosa by polar narcotic pollutants: toxic cell concentrations and QSAR modeling. Aquat Toxicol 46:1–10

Thomulka KW, Abbas CG, Yong DA, Lange JH (1996) Evaluating median effective concentrations of chemical with bioluminescent bacteria. B Environ Contam Tox 56:446–452

Wang C, Lu GH, Tang ZY, Guo XL (2008) Quantitative structure-activity relationships for joint toxicity of substituted phenols and anilines to Scenedesmus obliquus. J Environ Sci 20:115–119

Yang BL, Ding GH, Li DW, Xiong DQ (2010) Determination and prediction of joint toxicity of benzene and chloro-benzene on luminescent bacteria. J Dalian Maritime Univ 36:83–85

Yuan X, Su LM, Song LL (2004) Evaluation and prediction of joint toxicity of aniline and its derivatives to Photobacterium Phosphoreum. Chem Res Chin U 20:32–35

Zhang J, Liu SS, Liu HL (2009) Effect of ionic liquid on the toxicity of pesticide to Vibrio-qinghaiensis sp.-Q67. J Hazard Mater 170:920–927

Zhang J, Liu SS, Dou RN, Liu HL, Zhang J (2011) Evaluation on the toxicity of ionic liquid mixture with antagonism and synergism to Vibrio qinghaiensis sp.-Q67. Chemosphere 82:1024–1029

Zhou WM, Fu DQ, Sun ZG (1990) Water control priority pollutants blacklist. Environ Monitor China 6:1–3 (in Chinese)

Zhou QX, Kong FX, Zhu L (2004) Ecotoxicology. Science Press, Beijing (in Chinese)
Acknowledgments
The manuscript has greatly benefited from insightful comments by the associate editor and an anonymous reviewer. The authors are especially grateful to the financial support from the Laboratory of Ecology of Rare and Endangered Species and Environmental Protection (Guangxi Normal University), the Ministry of Education, China (Grant No.1002K001), the National Natural Science Foundation of China (Grant No. 20777056/B0705) and the Provincial Natural Science Foundation of Guangxi (GuiKeZi 2011GXNSFF018003).
About this article
Cite this article
Mo, LY., Liu, SS., Zhu, YN. et al. Combined Toxicity of the Mixtures of Phenol and Aniline Derivatives to Vibrio qinghaiensis sp.-Q67. Bull Environ Contam Toxicol 87, 473 (2011). https://doi.org/10.1007/s00128-011-0374-0
Received:

Accepted:

Published:
Keywords
Phenol derivative

Aniline derivative

Vibrio qinghaiensis

Combined toxicity