Abstract
Residues of organochlorine pesticides (OCPs), dichlorodiphenyltrichloroethane (DDT) and hexachlorocyclohexane (HCH), their risks and affecting factors in 544 representative soils collected from a typical alluvial plain of the Yangtze River Delta region, China, were investigated. Mean concentrations of ΣDDT and ΣHCH in soils were 88.8 and 99 ng/g, respectively. Historical application of DDT and HCH were the major sources of their residues in soils. Concentrations of DDT in soils had relative greater levels of contamination, while concentrations of HCH were almost at safe levels. Residues of DDT and HCH in soils were affected by soil types as well as soil textures.
Access options
Buy single article
Instant access to the full article PDF.
USD 39.95
Price includes VAT (USA)
Tax calculation will be finalised during checkout.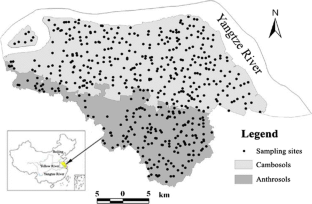 References
Bakan G, Ariman S (2004) Persistent organochlorine residues in sediments along the coast of mid-Black Sea region of Turkey. Mar Pollut Bull 48:1031–1039

Borghini F, Grimalt JO, Sanchez-Hernandez JC, Barra R, Garcia CJT, Focardi S (2005) Organochlorine compounds in soils and sediments of the mountain Andean Lakes. Environ Pollut 136:253–266

Cai QY, Mo CH, Wu QT, Katsoyiannis A, Zeng QY (2008) The status of soil contamination by semivolatile organic chemicals (SVOCs) in China: a review. Sci Total Environ 389:209–224

CRGCST (2001) Cooperative research group on Chinese soil taxonomy. Chinese Soil Taxonomy Science Press, Beijing

Feng K, Yu BY, Ge DM, Wong MH, Wang XC, Cao ZH (2003) Organo-chlorine pesticide (DDT and HCH) residues in the Taihu Lake Region and its movement in soil-water system I. Field survey of DDT and HCH residues in ecosystem of the region. Chemosphere 50:683–687

Hu WY, Lu YL, Wang G, Wang TY, Luo W, Shi YJ, Zhang X, Jiao WT (2009) Organochlorine pesticides in soils around watersheds of Beijing reservoirs: a case study in Guanting and Miyun reservoirs. Bull Environ Contam Toxicol 82:694–700

Hu WY, Lu YL, Wang TY, Luo W, Zhang X, Geng J, Wang G, Shi YJ, Jiao WT, Chen CL (2010) Factors affecting HCH and DDT in soils around watersheds of Beijing reservoirs, China. Environ Geochem Health 32:85–94

Klanova J, Matykiewiczova N, Macka Z, Prosek P, Laska K, Klan P (2008) Persistent organic pollutants in soils and sediments from James Ross Island, Antarctica. Environ Pollut 152:416–423

Li YF, Cai DJ, Singh A (1999) Historical DDT use trend in China and usage data gridding with 1/4 by 1/6 longitude/latitude resolution. Adv Environ Res 2:497–506

Li QB, Zhang H, Luo YM, Song J, Wu LH, Ma JM (2008) Residues of DDTs and their spatial distribution characteristics in soils from the Yangtze River Delta, China. Environ Toxicol Chem 27:24–30

Nelson DW, Sommers LE (1996) Total carbon, organic carbon, and organic matter. In: Sparks DL (ed) Methods of soil analysis, part 3, chemical methods–SSSA book series no. 5. Madison, Wisconsin, pp 961–1010

Shegunova P, Klanova J, Holoubek I (2007) Residues of organochlorinated pesticides in soils from the Czech Republic. Environ Pollut 146:257–261

Smith RL (1996) Ecology and field biology, 5th Ed. Harper Collins, New York

Tang ZW, Yang ZF, Shen ZY, Niu JF, Liao RF (2007) Distribution and sources of organochlorine pesticides in sediments from typical catchment of the Yangtze River, China. Arch Environ Contam Toxicol 53:303–312

Tao S, Liu WX, Li Y, Yang Y, Zuo Q, Li BG, Cao J (2008) Organochlorine pesticides contaminated surface soil as Reemission source in the Haihe Plain, China. Environ Sci Technol 42:8395–8400

Willett KL, Ulrich EM, Hites RA (1998) Differential toxicity and environmental fates of hexachlorocyclohexane isomers. Environ Sci Technol 32:2197–2207

Yang RQ, Jiang GB, Zhou QF, Yuan CG, Shi JB (2005) Occurrence and distribution of organochlorine pesticides (HCH and DDT) in sediments collected from East China Sea. Environ Int 31:799–804

Yang XL, Wang SS, Bian YR, Chen F, Yu GF, Gu CG, Jiang X (2008) Dicofol application resulted in high DDTs residue in cotton fields from northern Jiangsu province, China. J Hazard Mater 150:92–98

Zhang HB, Luo YM, Li QB (2009) Burden and depth distribution of organochlorine pesticides in the soil profiles of Yangtze River Delta Region, China: implication for sources and vertical transportation. Geoderma 153:69–75

Zhou RB, Zhu LZ, Kong QX (2008) Levels and distribution of organochlorine pesticides in shellfish from Qiantang River, China. J Hazard Mater 152:1192–1200
Acknowledgments
This study was supported by the funding from the National Natural Science Foundation of China (40773075, 41071299) and the Special Research Foundation of the Public Natural Resource Management Department from Ministry of Environmental Protection of China (201109018).
About this article
Cite this article
Hu, W., Huang, B., Zhao, Y. et al. Organochlorine Pesticides in Soils from a Typical Alluvial Plain of the Yangtze River Delta Region, China. Bull Environ Contam Toxicol 87, 561 (2011). https://doi.org/10.1007/s00128-011-0368-y
Received:

Accepted:

Published:
Keywords
Organochlorine pesticides

Soil contamination

Sources

Affecting factors