Abstract
Surface water sampling in 2006–2008 measured the occurrence of sulfonylureas and related herbicides (SUs) during base flow conditions and wet weather events. Flumetsulam (29.2%), diuron (36.5%) and fomesafen (25.3%) were most frequently detected over the course of the study. Typical SU concentrations were in the low parts per trillion range; however, maximum concentrations of fomesafen (873 ng/L), linuron (856 ng/L) and diuron (2,900 ng/L) approached or exceeded 1 μg/L. The temporal trend in SUs showed a correlation with application periods. In general, detections of SUs were more frequent where rotation of row crops was more intense. Sampling during wet-weather events indicated potential for a range of SUs to be flushed into surface waters at relatively high concentrations.
Access options
Buy single article
Instant access to the full article PDF.
USD 39.95
Price includes VAT (USA)
Tax calculation will be finalised during checkout.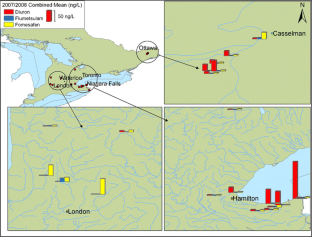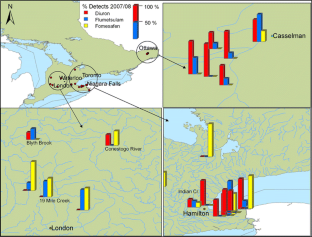 References
Battaglin WA, Furlong ET, Burkhardt MR, Peter CJ (2000) Occurrence of sulfonyl urea, sulfonamide, imidazolinone, and other herbicides in rivers, reservoirs and ground water in the Midwestern United States, 1998. Sci Total Environ 248:123–133

Cessna AJ, Donald DB, Bailey J, Waiser M, Headley JV (2006) Persistence of the sulfonylurea herbicides thifensulfuron-methyl, ethametsulfuron-methyl, and metsulfuron-methyl in farm dugouts (ponds). J Environ Qual 27:2395–2401

E.I. du Pont de Nemours and Company (2005) DuPont crop protection sulfonylurea herbicides. DuPont brochure K-05825 (09/05)

Furlong ET, Burkhardt MR, Gates PM, Werner MG, Battaglin WA (2000) Routine determination of sulfonylurea, imidazolinone, and sulfonamide herbicides at parts per trillion concentrations by solid-phase extraction and liquid chromatography/mass spectrometry. Sci Total Environ 248:135–146

McGee B, Berges H, Callow K (2004) Survey of pesiticide use in Ontario, 2003. Ontario Ministry of Agriculture, Food and Rural Affairs, Toronto. ISBN 0-7743-9959-7

Ontario Ministry of Agriculture, Food and Rural Affairs (2001) Guide to weed control 2001. Publication 75, Toronto. ISSN 0836-1045

Zaugg SD, Sandstrom MW, Smith SG, Fehlberg KM (1995) Methods of analysis by the US Geological Survey National Water Quality Laboratory – determination of pesticides in water by C-18 solid-phase extraction and capillary-column gas chromatography/mass spectrometry with selected-ion monitoring. US Geological Survey Open-File Report 95-181
Acknowledgments
The authors thank Mr. John Kraft and Mr. Michael Knudson of Environment Canada for technical assistance.
About this article
Cite this article
Struger, J., Grabuski, J., Cagampan, S. et al. Occurrence and Distribution of Sulfonylurea and Related Herbicides in Central Canadian Surface Waters 2006–2008. Bull Environ Contam Toxicol 87, 420 (2011). https://doi.org/10.1007/s00128-011-0361-5
Received:

Accepted:

Published:
Keywords
Sulfonylurea herbicides

Surface water

Pesticides