Abstract
During the process of domestic sewage treatment in the Subsurface Wastewater Infiltration System (SWIS), changes in the microbial populations (nitrifying and denitrifying bacteria) and enzyme activities (urease, nitrate reductase and nitrite reductase) involved in the nitrogen removal process were evaluated over a 2-year period. The results showed nitrifying bacteria number declined with depths increasing, while denitrifying bacteria increased, both of which increased nearer the inlet. The depth for nitrate reductase activity from high to low in sequence was 0.3, 0.5, 0.7, 0.9 and 1.1 m. For nitrite reductase, the sequence was 0.5, 0.3, 0.7, 0.9 and 1.1 m. Urease and nitrite reductase activities were in positive correlation with the total nitrogen removal efficiency, with correlation coefficients 0.8662 and 0.9140, respectively and could be alternative to monitor the nitrogen biodegradation process in SWIS.
Access options
Buy single article
Instant access to the full article PDF.
USD 39.95
Price includes VAT (USA)
Tax calculation will be finalised during checkout.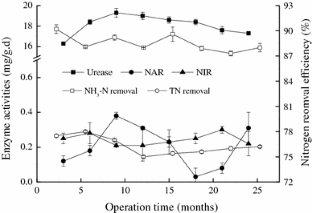 References
Agency ChineseEnvironmentalProtection (2002) Methods for water and wastewater analysis. Environmental Science Publishing House of China, Beijing (in Chinese)

Arienzo M, Christen EW, Quayle W, Kumar A (2009) A review of the fate of potassium in the soil-plant system after land application of wastewaters. J Hazard Mater 164:415–422

Babatunde AO, Zhao YQ, O'Neill M, O'Sullivan B (2008) Constructed wetlands for environmental pollution control: a review of developments, research and practice in Ireland. Environ Int 34:116–126

Belinda EH, Tim DF, Ana D (2007) Treatment performance of gravel filter medium: implication for design and application of stormwater infiltration systems. Water Res 41:2513–2524

Guan SY (1986) Soil enzyme and the researching methods. Agriculture Publishing House of China, Beijing (in Chinese)

Hati KM, Mandal KG, Misra AK, Ghosh PK, Bandyopadhyay KK (2006) Effect of inorganic fertilizer and farmyard manure on soil physical properties, root distribution, and water-use efficiency of soybean in Vertisols of central India. Bioresour Technol 97:2182–2188

Head MA, Oleszkiewicz JA (2004) Bioaugmentation for nitrification at cold temperatures. Water Res 38:523–530

Hsu MJ, Selvaraj K, Agoramoorthy G (2006) Taiwan's industrial heavy metal pollution threatens terrestrial biota. Environ Pollut 143:327–334

Kamitani T, Kaneko N (2007) Species-specific heavy metal accumulation patterns of earthworms on a floodplain in Japan. Ecotoxicol Environ Saf 66:82–91

Kim JY, Sansalone JJ (2008) Event-based size distributions of particulate matter transported during urban rainfall-runoff events. Water Res 42:2756–2768

Li YH, Li HB, Sun TH, Wang X (2011) Study on nitrogen removal enhanced by shunt distributing wastewater in a constructed subsurface infiltration system under intermittent operation mode. J Hazard Mater 189:336–341

Luanmanee S, Boonsook P, Attanandana T, Saitthiti B, Panichajakul C, Wakatsuki T (2002) Effect of intermittent aeration regulation of a multi-soil-layering system on domestic wastewater treatment in Thailand. Ecol Eng 24:415–428

Molle P, Liénard A, Grasmick A, Iwema A (2006) Effect of reeds and feeding operations on hydraulic behavior of vertical flow constructed wetlands under hydraulic overloads. Water Res 40:606–612

Parveen S, Nazif W, Ahmad MF, Khan A, Khattak IA (2006) Nutritional status of different orchards irrigated with wastewater in district Peshawar. J Agric Biol Sci 1:42–50

Smiles DE (2006) Sodium and potassium in soils of the Murray-Darling basin: a note. Aust J Soil Res 44:727–730

Tunçsiper B, Ayaz S, Akça L, Gunes K (2009) Performance of a pilot-scale, three-stage constructed wetland system for domestic wastewater treatment. Environ Technol 30:1187–1194

Walid KL, Al-Qodah Z (2006) Combined advanced oxidation and biological treatment processes for the removal of pesticides from aqueous solutions. J Hazard Mater B137:489–497

Xu W, Que-Hee SS (2007) Permeation of a straight oil metalworking fluid through disposable nitrile, chloroprene, vinyl, and latex gloves. J Hazard Mater B147:923–929
Acknowledgments
The authors would like to thank the National Key Technology R&D Program (no. 2011BAJ06B02), National Natural Science Foundation of China (no. 50908151 and no. 51008198), the Ministry of Science and Technology of the People's Republic of China "Major projects on control and rectification of water body pollution, Research on Key Technology and its Demonstration of Liaohe River Estuary Land-source Pollution Control and Water Quality Improve" (no. 2008ZX07208-008-04) and the Program for Excellent Talents of Liaoning Province (LR201028) for the financial support of this research.
About this article
Cite this article
Li, Y., Li, H., Wang, X. et al. Changes in Microbial Populations and Enzyme Activities During Nitrogen Biodegradation of Domestic Sewage Treatment in the Subsurface Wastewater Infiltration System (SWIS). Bull Environ Contam Toxicol 87, 431 (2011). https://doi.org/10.1007/s00128-011-0359-z
Received:

Accepted:

Published:
Keywords
Soil treatment

Subsurface wastewater infiltration system

Nitrogen removal

Microbial population

Enzyme activity