Abstract
Although, the Yaqui and Mayo valleys are the most important agricultural areas in Sonora, there is only limited data of the pesticides residue in soils in these valleys. This study measured the organochlorine pesticides (OCPs) in 234 soil samples (residential and agricultural) from 24 communities. The global results (mean, range) indicated that benzene hexachloride (19.2, ND-938.5 μg g−1), endrin (6.6, ND-377.3 μg g−1) and DDTs (36.45, ND-679.7 μg g−1) were the dominant contaminants. Soil is one of the most important routes of exposure to OCPs in the population of southern Sonora and this study can be used to establish background levels of OCPs.
Access options
Buy single article
Instant access to the full article PDF.
USD 39.95
Price includes VAT (USA)
Tax calculation will be finalised during checkout.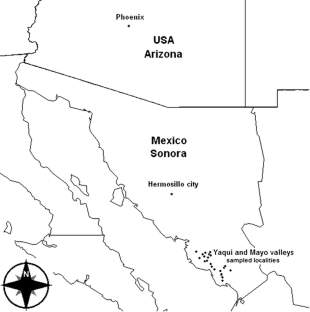 References
Bejarano Gonzales F (2002) The spiral of poison, citizen review guide on pesticides, RAPAM, vol 1. Texcoco, Mexico State, p 9

Cheng H, Fu S, Liu Y, Li D, Zhou J, Xia X (2008) Organochlorine pesticides in the soil in Linfen, China. Bull Environ Contam Toxicol 81:599–603

Cruz-Medina I (2006) Analysis of the influence of ENSO in the Yaqui Valley (Sonora, Mexico) regression models and multiple dynamic. Latin Am J Nat Res 2(2):65–80

Hildebrandt A, Lacorte S, Barcelo D (2009) Occurrence and fate of organ chlorinated pesticides and PAH in agricultural soils from the Ebro River basin. Arch Environ Contam Toxicol 57:247–255

Hu W, Lu Y, Wang G, Wang T, Luo W, Shi Y, Zhang X, Jiao W (2009) Organochlorine pesticides in soils around watersheds of Beijing reservoirs: a case study in Guanting and Miyun reservoirs. Bull Environ Contam Toxicol 82:694–700

Kumari B, Madan V, Kathpal T (2008) Status of insecticide contamination of soil and water in Haryana, India. Environ Monit Assess 136:239–244

Mexican Norm Project NMX-AA-132-SCFI-2006, Soil sampling for metal and semimetal identification and quantification and sample handling. http://www.semarnat.gob.mx/leyesynormas/normas/Normas%20Mexicanas%20Vigentes/nmx-aa-132-scfi-2006.pdf. Accesed 07 June 2011

Mexican Official Norm NOM-021-ZOO-1995, Analysis of organochlorine pesticide residues and polychlorinated biphenyls in fat of cattle, horses, pigs, sheep and poultry by gas chromatography. http://siscop.ine.gob.mx/descargas/legislacion/021-zoo.pdf. Accesed 05 Jan 2011

Rodriguez-Valle S (2009) Major agricultural pesticides sold in the Yaqui and Mayo Valleys. Thesis Institute Technological of Sonora

SAGARPA, Monitor AGROECONÓMICO (2011) Available at http://www.sagarpa.gob.mx/agronegocios/Documents/pablo/Documentos/monitor%20estados/Sonora.pdf. Accessed 23 Feb 2011

Singh K, Malik A, Sinha S (2007) Persistent organochlorine pesticide residues in soil and surface water of northern Indo-Gangetic alluvial plains. Environ Monit Assess 125:147–155

Toan V, Thao V, Walder J, Schmutz H, Ha C (2007) Contamination by selected organochlorine pesticides (OCPs) in surface soils in Hanoi, Vietnam. Bull Environ Contam Toxicol. doi:10.1007/s00128-007-9149-z

Valenzuela-Quintanar A, Armenta Corral A, Moreno Villa R, Gutiérrez Coronado L, Grajeda Cota P, Orantes Arenas C (2006) Optimization and validation of a method based on matrix solid-phase dispersion for organophosphorus pesticides in vegetables. Rev Fac Agron 23(4):471–482

Vassilev K, Kambourova V (2006) Pesticides as global environmental pollutants. Chem Intent Accid Glob Environ Threat 26:173–191

Villa-Ibarra M, Flores Suarez A, Badii Zabech M, Brito Zurita O, González Enriquez R, Herrera Andrade H (2006) PESTICIDES NOTES: an analysis of their characteristics, uses, impact and status in the Yaqui Valley, vol 1. ITESCA, Obregon City, Sonora, p 51

Wang Y, Guo S, Xue R, Qi S, Xu Y, Xue B, Yuan D (2010) Organochloride pesticides in the soil of a karst cave in Guilin, China. Environ Monit Assess. doi:10.1007/s10661-010-1801-0

Yañez L, Borja-Aburto V, Rojas E, de la Fuente H, Gonzales-Amaro R, Gomez H, Jongitud A, Diaz-Barriga F (2004) DDT induces DNA damage in blood cells. Studies in vitro and in women chronically exposed to this insecticide. Environ Res 94:18–24
Acknowledgments
We thank Dr. A. Jay Gandolfi for constructive discussion of this study and too for the support of the Dean Carter Binational Center for Environmental Health Sciences. This research was supported by FOMIX-CONACYT-SONORA (No. SON-2005-C01-22879).
About this article
Cite this article
Cantu-Soto, E.U., Meza-Montenegro, M.M., Valenzuela-Quintanar, A.I. et al. Residues of Organochlorine Pesticides in Soils from the Southern Sonora, Mexico. Bull Environ Contam Toxicol 87, 556 (2011). https://doi.org/10.1007/s00128-011-0353-5
Received:

Accepted:

Published:
Keywords
Organochlorine pesticides

Soil

Sonora