Abstract
As a consequence of offshore drilling, used Water Based Drilling Muds (WBMs) are typically disposed off, by discharging into the sea; such a disposal does not fully eliminate the environmental hazards. Hence, in this study, 2, 3, 4 and 5 ringed polycyclic aromatic hydrocarbons (PAHs i.e. naphthalene, fluorene, phenanthrene, fluoranthene, chrysene and benzo (a) pyrene) were determined from the WBMs and associated drill cuttings obtained from varying depths(viz. 150, 300 and 600 m) from three offshore wells present in East coast of India. In both WBMs and drill cuttings, concentration of naphthalene was maximum i.e. 81.59 ± 2.73 and 39.87 ± 2.40 mg/kg respectively, while benzo (a) pyrene was minimum i.e. 0.19 ± 0.07 and 0.12 ± 0.03 mg/kg respectively. The WBMs contained significantly (p < 0.05) higher PAH concentration than drill cuttings. The individual PAH concentration significantly (p < 0.01) increased with increasing depth in each well.
Access options
Buy single article
Instant access to the full article PDF.
USD 39.95
Price includes VAT (USA)
Tax calculation will be finalised during checkout.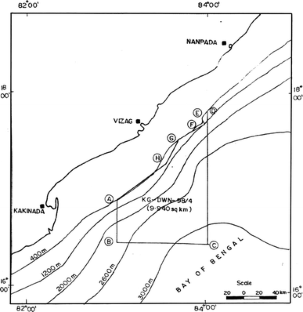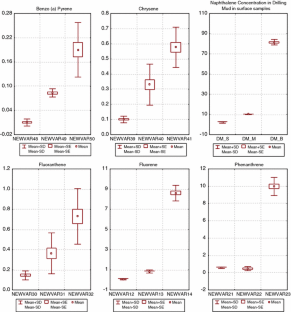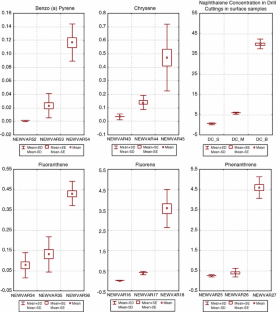 References
AURIS Environmental (1993) North West Hutton Drill Cutting Survey, report of sediment, chemical and biological analyses. Auris Environmental Report prepared for Brown and Root Survey Ltd.

Burke CJ, Veil JA (1995) Synthetic-based drilling fluids have many environmental pluses. Oil Gas J 93:59–71

Daan R, Mulder M (1994) Long-term effects of OBM cuttings discharges in the sandy erosion area of the Dutch Continental Shelf. 1994-10, NIOZ, Texel

Daan R, Mulder M (1996) On the short-term and long-term impact of drilling activities in the Dutch sector of the North. ICES J Mar Sci 53(6):1036–1044

Daan R, Mulder M, Lewis WE (1992) Long-term effect of discharges of washed and unwashed OBM drill cuttings on the Dutch Continental Shelf. 1992-9, NIOZ, Texel

Davies JM, Addy JM, Blackman RA, Blanchard JR, Ferbrache JE, Moore DC, Somerville HJ, Whitehead A, Wilkinson T (1984) Environmental effects of the use of oil-based drilling muds in the North Sea. Mar Pollut Bull 15(10):363–370

Ferm R (1996) Assessing and managing man-made impacts on the marine environment – the North Sea example. Sci Total Environ 186(1–2):3–11

Gray JS, Clarke KR, Warwick RM, Hobbs G (1990) Detection of initial effects of pollution on marine benthos: an example from the Ekofisk and Eldfisk oil fields, North Sea. Mar Ecol Prog Ser 66:285–299

Hartley JP, Ferbrache J (1983) Biological monitoring of the Forties Oilfield (North Sea). In: Proceedings, 1983 oil spill conference (Prevention, behavior, control, cleanup), San Antonio, Texas

Hinwood JB, Potts AE, Dennis LR, Carey JM, Houridis H, Bell RJ, Thomson JR, Boudreau P, Ayling AM (1994) Environmental implications of offshore oil and gas development in Australia- Drilling Activities. In: Swan JM, Neff JM, Young PC (eds) Environmental implications of offshore oil and gas development in Australia – the findings of an independent scientific review. Australian Petroleum Exploration Association, pp 124–207

International Association of Oil & Gas Producers (OGP) (2003) Environmental aspects of the use and disposal of non-aqueous drilling fluids associated with offshore oil and gas operations, report no. 342

Kroncke I, Duineveld GCA, Raak S, Rachor E, Daan R (1992) Effects of a former discharge of drill cuttings on the macrofauna community. Mar Ecol Prog Ser 91(1–3):277–287

Method 5520 D (2005) Soxhlet extraction method. standard methods for the examination of water and wastewater, 21st edn. Prepared and Published Jointly by APHA, AWWA, WEF, pp 5–40

Method 6410 B (2005) Liquid-liquid extraction gas chromatographic/mass spectrometric method standard methods for the examination of water & wastewater, 21st edn. Prepared and Published jointly by APHA, AWWA, WEF, pp 6–66

Neff JM (1987) Biological effects of drilling fluids, drill cuttings and produced waters. In: Boesch DF, Rabalais NN (eds) Long-term effects of offshore oil and gas development. Elsevier, London, pp 469–638

Neff JM (2005) Composition, environmental fate and biological effect of water based drilling muds and cuttings discharged to the marine environment: a synthesis and annotated bibliography (Submitted to PERF, Battelle Duxbury MA)

Neff JM, McKelvie S, Ayers RC Jr (2000) Environmental impacts of synthetic based drilling fluids. Report prepared for MMS by Robert Ayers & Associates, Inc. U.S. Department of the Interior, Minerals Management Service, Gulf of Mexico OCS Region, New Orleans, LA. OCS Study MMS 2000-064, 118 pp

Patin SA (1999) Environmental impact of the offshore oil and gas industry. Eco Monitor Publishing, East-Northport, New York, ISBN-0-9671836-O-X

Plante-Cuny MR, Salenpicard C, Grenz C, Plante R, Alliot E, Barranguet C (1993) Experimental field study of the effects of crude oil, drill cuttings and natural biodeposits on microphytozoobenthic and macrozoobenthic communities in a Mediterranean area. Mar Biol 117(2):355–366

Sorbye E (1989) Technical performance and ecological aspects of various drilling muds. In: Proceedings of the first international conference on fisheries and offshore petroleum exploitation. Bergen, pp 1–18

USEPA (1999) Development document for proposed effluent limitations, guidelines and standards for synthetic based drilling fluids and other non-aqueous drilling fluids in the oil and gas extraction point source category, EPA-821-B-98-021

Wills J (2000) Muddied waters: a survey of offshore oil field drilling wastes and disposal techniques to reduce the ecological impact of sea dumping, Ph.D., M. Inst. Pet for Ekologicheskaya Vahkta Sakhalina (Sakhalina Environment Watch)
Acknowledgments
The authors are extremely thankful to Director, NEERI for providing the necessary facilities for carrying out this research work and DataSol Consultancy, for guidance in statistical analysis of data and editing of manuscript.
About this article
Cite this article
Jagwani, D., Kulkarni, A., Shukla, P. et al. PAH Composition of Water Based Drilling Mud and Drill Cuttings in the Offshore Region, East Coast of India. Bull Environ Contam Toxicol 87, 550 (2011). https://doi.org/10.1007/s00128-011-0340-x
Received:

Accepted:

Published:
Keywords
Water based drilling muds

Drill cuttings

Disposal

Environmental hazards

Polycyclic Aromatic Hydrocarbons