Abstract
Concentrations of 12 perfluorinated compounds (PFCs) were measured in 21 representive water, sediment and soil samples from Guanting Reservoir and vicinity. Perfluorooctanoic acid (PFOA) was the predominant PFCs with concentrations of 0.55–2.3 ng/L, <LOQ to 0.68 ng/g dw and <LOQ to 2.8 ng/g dw in water, sediment and soil, respectively. Perfluorododecanoic acid (PFDoA) was frequently detected in solid matrices, with concentrations of <LOQ to 0.18 ng/g dw in sediment and 0.13–0.26 ng/g dw in soil. PFCs were detected in all environmental matrices sampled, but concentrations found throughout the watershed were less than those reported from other locations.
Access options
Buy single article
Instant access to the full article PDF.
USD 39.95
Price includes VAT (USA)
Tax calculation will be finalised during checkout.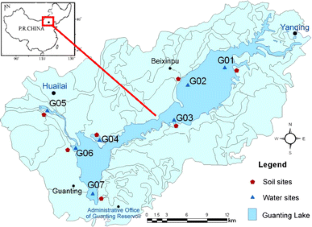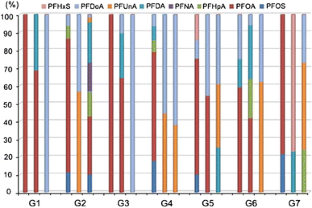 References
Bao J, Liu W, Liu L, Jin YH, Ran XR, Zhang ZX (2010) Perfluorinated compounds in urban river sediments from Guangzhou and Shanghai of China. Chemosphere 80:123–130

Chaemfa C, Barber JL, Huber S, Breivik K, Jones KC (2010) Screening for PFOS and PFOA in European air using passive samplers. J Environ Monit 12:1100–1109

Dreyer AE (2009) Polyfluorinated compounds in ambient air from ship- and land-based measurements in northern Germany. Atmos Environ 43:1527–1535

Giesy JP, Kannan K (2002) Perfluorochemical surfactants in the environment. Environ Sci Technol 36:146A–152A

Giesy JP, Naile JE, Khim JS, Jones PD, Newsted JL (2010) Aquatic toxicology of perfluorinated chemicals. Rev Environ Contam Toxicol 202:1–52

Higgins CP, Field JA, Criddle CS, Luthy RG (2005) Quantitative determination of perfluorochemicals in sediments and domestic sludge. Environ Sci Technol 39:3946–3956

Houde M, Martin JW, Letcher RJ, Solomon KR, Muir DCG (2006) Biological monitoring of polyfluoroalkyl substances: a review. Environ Sci Technol 40:3463–3473

Jiao WT, Lu YL, Wang TY, Li J, Han JY, Wang G (2009) Polycyclic aromatic hydrocarbons in soils around Guanting Reservoir, Beijing, China. Chem Ecol 25:39–48

Kissa E (2001) Fluorinated surfactants and repellents. Marcel Decker, New York

Luo W, Wang TY, Lu YL, Giesy JP, Shi YJ, Zheng YM (2007) Landscape ecology of the Guanting Reservoir, Beijing, China: multivariate and geostatistical analyses of metals in soils. Environ Pollut 146:567–576

Naile JE, Khim JS, Wang TY, Chen CL, Luo W, Kwon BO, Park JS, Koh CH, Jones PD, Lu YL, Giesy JP (2010) Perfluorinated compounds in water, sediment, soil and biota from estuarine and coastal areas of Korea. Environ Pollut 158:1237–1244

Rayne S, Forest K (2009) Perfluoroalkyl sulfonic and carboxylic acids: a critical review of physicochemical properties, levels and patterns in waters and wastewaters, and treatment methods. J Environ Sci Health A 44:1145–1199

Rostkowski P, Yamashita N, So IMK, Taniyasu S, Lam PKS, Falandysz J, Lee KT, Kim SK, Khim JS, Im SH, Newsted JL, Jones PD, Kannan K, Giesy JP (2006) Perfluorinated compounds in streams of the Shihwa industrial zone and Lake Shihwa, South Korea. Environ Toxicol Chem 25:2374–2380

Sakurai T, Serizawa S, Isobe T, Kobayashi J, Kodama K, Kume G, Lee JH, Maki H, Imaizumi Y, Suzuki N, Horiguchi T, Morita M, Shiraishi H (2010) Spatial, phase, and temporal distributions of perfluorooctane sulfonate (PFOS) and perfluorooctanoate (PFOA) in Tokyo Bay, Japan. Environ Sci Technol 44:4110–4115

Senthilkumar K, Ohi E, Sajwan K, Takasuga T, Kannan K (2007) Perfluorinated compounds in river water, river sediment, market fish, and wildlife samples from Japan. Bull Environ Contam Toxicol 79:427–431

So MK, Taniyasu S, Yamashita N, Giesy JP, Zheng J, Fang Z, Im SH, Lam PKS (2004) Perfluorinated compounds in coastal waters of Hong Kong, South China, and Korea. Environ Sci Technol 38:4056–4063

So MK, Miyake Y, Yeung WY, Ho YM, Taniyasu S, Rostkowski P, Yamashita N, Zhou BS, Shi XJ, Wang JX, Giesy JP, Yu H, Lam PKS (2007) Perfluorinated compounds in the Pearl River and Yangtze River of China. Chemosphere 68:2085–2095

Wang TY, Lu YL, Shi YJ, Zhang H (2005) Spatial distribution of organochlorine pesticide residues in soils surrounding Guanting Reservoir, People's Republic of China. Bull Environ Contam Toxicol 74:623–630

Yamashita N, Kannan K, Taniyasu S, Horii Y, Petrick G, Gamo T (2005) A global survey of perfluorinated acids in oceans. Mar Pollut Bull 51:658–668
Acknowledgments
This study was supported by the National Natural Science Foundation of China with Grant No. 41071355, Environmental Protection Welfare Program under Grant No. 201009032 and the National Basic Research Program of China ("973" Research Program) with Grant No.2007CB407307. Portions of the research were supported by a Discovery Grant from the National Science and Engineering Research Council of Canada (Project No. 326415-07).
About this article
Cite this article
Wang, T., Chen, C., Naile, J.E. et al. Perfluorinated Compounds in Water, Sediment and Soil from Guanting Reservoir, China. Bull Environ Contam Toxicol 87, 74 (2011). https://doi.org/10.1007/s00128-011-0307-y
Received:

Accepted:

Published:
Keywords
PFOS

PFOA

Exposure

Composition

Risk

Hazard