Abstract
The fate of pharmaceuticals in a wastewater treatment plant (WWTP) in Kumamoto, Japan with activated sludge treatment is reported. Selected pharmaceuticals were detected in influent. Results from the present study confirmed that Acetaminophen, Amoxicillin, Ampicillin and Famotidine were removed at a high rate (>90% efficiency). In contrast, removal efficiency of Ketoprofen, Losartan, Oseltamivir, Carbamazepine, and Diclofenac was relatively low (<50%). The selected pharmaceuticals were also detected in raw sludge. In digestive process, Indomethacin, Atenolol, Famotidine, Trimethoprim and Cyclofosamide were removed at a high (>70% efficiency). On the other hand, removal of Carbamazepine, Ketoprofen and Diclofenac was not efficient (<50%).
Access options
Buy single article
Instant access to the full article PDF.
USD 39.95
Price includes VAT (USA)
Tax calculation will be finalised during checkout.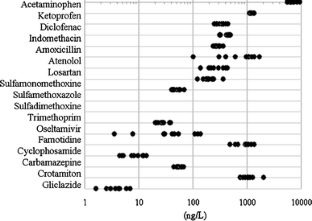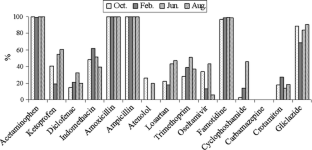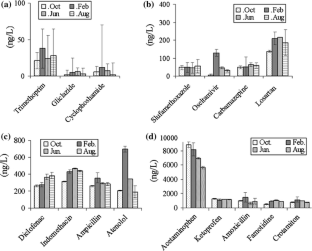 References
Azuma Y (2008) Environmental risk of pharmaceuticals and the industry's thoughts on risk management. J Water Waste 50(7):99–105 [in Japanese]

Fick J, Lindberg LH, Tysklind M, Haemig PD, Waldenström J, Wallensten A, Olsen B (2007) Antiviral Oseltamivir is not removed or degraded in normal sewage water treatment: implications for development of resistance by influenza a virus 2(10): e986

Ghosh GC, Nakada N, Yamashita N, Tanaka H (2010) Oseltamivir carboxylate, the active metabolite of Oseltamivir phosphate (Tamivir), detected in sewage discharge and river water in Japan. Environ Health Perspect 118(1):103–107

Kolpin DW, Furlong ET, Meyer MT, Thurman EM, Zaugg SD, Barber LB, Buxton HT (2002) Pharmaceuticals, hormones, and other organic wastewater contaminants in U.S. Streams, 1999–2000: National reconnaissance. Environ Sci Technol 36(6):1202–1211

Narumiya M, Okuda T, Nakata N, Yamashita N, Tanaka H, Sato K, Sueoka M, Ooiwa T (2009) Actual behavior and the presence of pharmaceuticals in sewage treatment process. Environ Eng Res Arch 46:175–186 [in Japanese]

Radjenović J, Petrović M, Barceló D (2009) Fate and distribution of pharmaceuticals in wastewater and sewage sludge of the conventional activated sludge (CAS) and advanced membrane bioreactor (MBR) treatment. Water Res 43(3):831–841

Takada H (2008) As an emerging contaminant, drug and cosmetic. J Water Waste 50(7):35–36 [in Japanese]

Ternes TA, Herrmann N, Bonerz M, Knacker T, Siegrist H, Joss A (2004) A rapid method to measure the solid–water distribution coefficient (Kd) for pharmaceuticals and musk fragrances in sewage sludge. Water Res 38(19):4075–4084

Yamamoto H, Nakamura Y, Nakamura Y, Kitani C, Imari T, Sekizawa J, Takao Y, Yamashita N, Hirai N, Oda S, Tatarazako N (2007) Initial ecological risk assessment of eight selected human pharmaceuticals in Japan. Environ Sci 14(4):177–193

Yamamoto H, Nakamura Y, Moriguchi S, Nakamura Y, Honda Y, Tamura I, Hirata Y, Hayashi A, Sekizawa J (2009) Persistence and partitioning of eight selected pharmaceuticals in the aquatic environment: Laboratory photolysis, biodegradation, and sorption experiments. Water Res 43(2):351–362
Acknowledgments
The authors thank Professor Jay Melton for his reviewing this paper for English style and usage. Any remaining errors are our responsibility.
About this article
Cite this article
Matsuo, H., Sakamoto, H., Arizono, K. et al. Behavior of Pharmaceuticals in Waste Water Treatment Plant in Japan. Bull Environ Contam Toxicol 87, 31–35 (2011). https://doi.org/10.1007/s00128-011-0299-7
Received:

Accepted:

Published:

Issue Date:
Keywords
PPCP

WWTP

Activated sludge

Removal efficiency