Abstract
The widespread use of the pharmaceutical chlortetracycline to treat human and animal infectious diseases is raising concern in Korea regarding the potential development of antibiotic-resistant bacteria. This study investigated the fate of chlortetracycline in Korean arable soils, to assess its environmental impact. The estimated half-life of chlortetracycline was 26.70–27.17 days indoors and 18.63–30.16 days outdoors. The chlortetracycline epimers and metabolites, 4-epichlortetracycline and 4-epi-anydrochlotetracycline were determined using liquid chromatography tandem mass spectroscopy. The respective concentrations of 4-epi-anydrochlotetracycline and 4-epichlortetracycline were 1.91%–9.71% and 11.12%–23.92% of the total chlortetracycline residual concentration indoors and 2.96%–11.44% and 17.61%–40.73% outdoors.
Access options
Buy single article
Instant access to the full article PDF.
USD 39.95
Price includes VAT (USA)
Tax calculation will be finalised during checkout.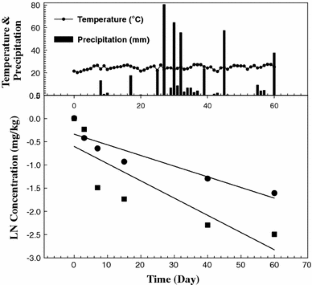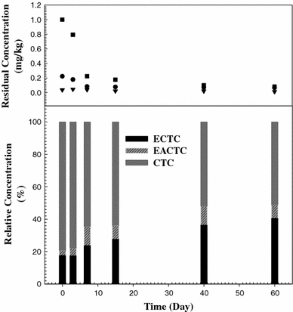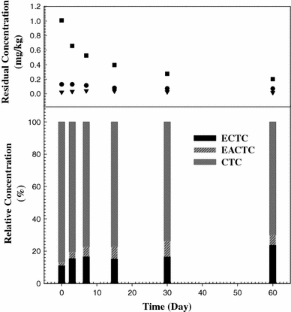 References
Alexy R, Kümmerer K, Kümpel T (2004) Assessment of degradation of 18 antibiotics in the Closed Bottle Test. Chemosphere 57:505–512

Blackwell PA, Kay P, Boxall ABA (2007) The dissipation and transport of veterinary antibiotics in a sandy loam soil. Chemosphere 62(2):292–299

EMEA (1995) Oxytetracycline, tetracycline and chlortetracycline summary report 3. EMEA/MRL/023/95

Geiger W, Alder AC, Golet EM, Kohler HPE, McAedrell CS, Molnar E, Siegrist H, Suter MJF (2003) Occurrence and fate of antibiotics as trace contaminants in wastewaters sewage sludge and surface waters. Chimia 57:485–491

Göbel A, McAedrell CS, Suter MJF, Geiger W (2004) Trace determination of macrolide and sulfonamide antimicrobials a human sulfonamide metabolite and trimetoprim in wastewater using liquid chromatography coupled to electrospray tandem mass spectrometry. Anal Chem 76:4756–4764

Halling-Sørens B, Nors Nielsen S, Lansky PF, Ingerslev F, Holten Lutzhoft HC, Jorgensen SE (1998) Occurrence, fate, and effects of pharmaceutical substances in the environment—a review. Chemosphere 36(2):357–393

Halling-Sørensen B, Sengeløv G, Tjørnelund J (2002) Toxicity of tetracyclines and tetracycline degradation products to environmental relevant bacteria, including selected tetracycline-resistant bacteria. Arch Environ Contam Toxicol 42:263–271

Kay P, Blackwell PA, Boxall ABA (2004) Fate of veterinary antibiotics in a macroporous tile drained clay soils. Environ Toxicol Chem 23(5):1136–1144

Kümmerer K (2001) Pharmaceuticals in the environment. Springer, Berlin

Kümmerer K, Alexy R, Hüttiga J, Schölla A (2004) Standardized tests fail to assess the effects of antibiotics on environmental bacteria. Water Res 38:2111–2116

Sarmah AK, Meyer MT, Boxall ABA (2006) A global perspective on the use, sales, exposure pathways, occurrence, fate and effects of veterinary antibiotics (VAs) in the environment—a review. Chemosphere 65:725–759

Søeborg T, Ingerslev F, Halling-Sørensen B (2004) Chemical stability of chlortetracycline and chlortetracycline degradation products and epimers in soil interstitial water. Chemosphere 57(10):1515–1524

VICH (2001) Environmental Impact Assessment (EIAs) for veterinary medicinal products (VMPs)—phase 1 VICH GL6 (ecotoxicity phase 1)

VICH (2005) Environmental impact assessment (EIAs) for veterinary medicinal products (VMPs)—phase II VICH GL38 (ecotoxicity phase II)
Acknowledgments
This study was funded by grant from the IAEA Research Contract No. 15578/R0 (CRP) and NVRQS Research Work B-FS08-2009-10-02.
About this article
Cite this article
Kwon, JW. Fate of Chlortetracycline in Korean Arable Soil. Bull Environ Contam Toxicol 87, 36 (2011). https://doi.org/10.1007/s00128-011-0298-8
Received:

Accepted:

Published:
Keywords
Chlortetracycline

Dissipation

Korean arable soil

Epimers