Abstract
Concentrations of the elements mercury, arsenic, cadmium and lead were measured in the muscle tissue of Orange roughy (Hoplostethus atlanticus) obtained from the Mid-Atlantic Ridge during the Mar-Eco expedition in the North Atlantic Ocean in 2004. The age of the fish varied from 1 to 139 years. To the best of our knowledge, the concentration of the heavy metals presented here is for one of the oldest fish in the literature, in addition to the fact that very little information on arsenic in Orange roughy has been previously published. The concentration of mercury in the fillet of the fish varied between 0.06 and 1.1 μg g−1 w.w. Mercury was the only element that was positively correlated to the age. The concentrations of mercury were found to be below the maximum limits for Orange roughy set by EU at 1.0 μg g−1 w.w, except for a 134 year fish sample with a concentration of 1.1 μg g−1 w.w.
Access options
Buy single article
Instant access to the full article PDF.
USD 39.95
Price includes VAT (USA)
Tax calculation will be finalised during checkout.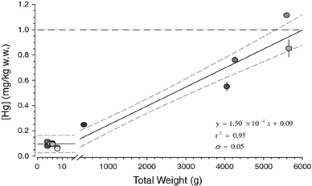 References
Alexander J, Frøyland L, Hemre GI, Jacobsen BK, Lund E, Meltzer HM, Skåre JU (2007) A comprehensive assessment of fish and other seafood in the Norwegian diet. Norwegian scientific committee for food safety 2007. ISBN: 978-82-8082-207-9

Bergstad OA, Menezes G, Hoines AS (2008) Demersal fish on a mid-ocean ridge: distribution patterns and structuring factors. Deep Sea Res Part II Top Stud Oceanogr 55(1–2):185–202

Bull B, Doonan I, Tracey D, Hart A (2001) Diel variation in spawning orange roughy (Hoplostethus atlanticus, Trachichthyidae) abundance over a seamount feature on the north-west Chatham Rise. N Z J Mar Freshwater Res 35(3):435–444

Bulman CM, Koslow JA (1995) Diet and food-consumption of a deep-sea fish, orange roughy Hoplostethus atlanticus (Pisces, Trachichthyidae), of Southeastern Australia. Mar Ecol-Progr Ser 82(2):115–129

Clark M (1999) Fisheries for orange roughy (Hoplostethus atlanticus) on seamounts in New Zealand. Oceanol Acta 22(6):593–602

Clark MR, Anderson OF, Chris Francis RIC, Tracey DM (2000) The effects of commercial exploitation on orange roughy (Hoplostethus atlanticus) from the continental slope of the Chatham Rise, New Zealand, from 1979 to 1997. Fish Res 45(3):217–238

Cronin M, Davies IM, Newton A, Pirie JM, Topping G, Swan S (1998) Trace metal concentrations in deep sea fish from the North Atlantic. Mar Environ Res 45:225–238

EC (2008) Commision regulation (EC) No 629/2008 of 2 July 2008 amending regulation (EC) no 1881/2006 setting maximum levels for certain contaminants in foodstuffs. Off J Eur Union. L 173/6, 03.07

European Food Safety Authority (EFSA) (2009) Scientific opinion on arsenic in food. CONTAM 7(10):1351

FSA (2005) Arsenic in fish and shellfish. Available: http://www.food.gov.uk/science/surveillance/fsis2005/fsis8205

Julshamn K, Lundebye AK, Heggstad K, Berntssen MH, Bøe B (2004) Norwegian monitoring programme on the inorganic and organic contaminants in fish caught in the Barents Sea, Norwegian Sea and North Sea, 1994–2001. Food Add Contam 21:365–376

Julshamn K, Maage A, Norli HS, Grobecker KH, Jorheim L, Fecher P (2007) Determination of arsenic, cadmium, mercury, and lead by inductively coupled plasma/mass spectrometry in foods after pressure digestion: NMKL interlaboratory study. J AOAC Int 90:844–856

Lack M, Short K, Willock A (2003) Managing risk and uncertainty in deep-sea fisheries: lessons from Orange roughy: TRAFFIC oceania and WWF endangered seas programme

Lorance P, Uiblein F, Latrouite D (2002) Habitat, behaviour and colour patterns of orange roughy Hoplostethus atlanticus (Pisces: Trachichthyidae) in the Bay of Biscay. J Mar Biol Ass UK 82(2):321–331

Marine Resources Service, Fishery Resources Division, and FAO Fisheries Department (2005) Review of the state of world marine fishery resources. FAO fisheries technical paper, vol 457. Food and Agriculture Organization of the United Nations, Rome

McClatchie S, Coombs RF (2005) Spatial variability of orange roughy around the Northwest Hills on the Chatham Rise, New Zealand. Deep Sea Res Part I-Oceanogr Res Pap 52(4):589–603

Rosecchi E, Tracey DM, Webber WR (1988) Diet of orange roughy, Hoplostethus atlanticus (Pisces: Trachichthyidae) on the Challenger Plateau, New Zealand. Mar Biol 99(2):293–306

Sirot T, Guérin T, Volatier JL, Leblanc JC (2009) Dietary exposure and biomarkers of arsenic in consumers of fish and shellfish from France. Sci Total Environ 407:1875–1885

Stange K, Maage A, Klungsøyr J (1996) Contaminants in fish and sediments in the North Atlantic Ocean. TemaNord 1996:522. Nordic Council of Ministers, Copenhagen, p 72

Tracey D (2007) Ageing of Orange roughy otoliths from MAR-ECO expedition. National Institute of Water & Atmospheric Research Ltd, Wellington

Van den Broek WLF, Tracey DM (1981) Concentration and distribution of mercury in flesh of Orange roughy (Hoplostethus atlanticus). N Z J Mar Freshwater Res 15(3):255–260
About this article
Cite this article
Julshamn, K., Måge, A., Tyssebotn, I.M.B. et al. Concentrations of Mercury and Other Toxic Elements in Orange Roughy, Hoplostethus atlanticus, from the Mid-Atlantic Ridge. Bull Environ Contam Toxicol 87, 70–73 (2011). https://doi.org/10.1007/s00128-011-0296-x
Received:

Accepted:

Published:

Issue Date:
Keywords
Contamination

Heavy metals

Orange roughy