Abstract
An active sampler for monitoring polychlorinated dibenzo-p-dioxins and furans (PCDD/Fs) in air was developed using an automobile air filter set. The performance of the mobile air sampler was evaluated. Recoveries of PCDD/F congeners ranged from 62.3% to 64.5% with sampling volumes of 500–1,800 m3. Air samples were collected between April and June, 2007 in Beijing. The monitoring results of PCDD/F levels by the mobile sampler were comparable to results obtained by a conventional stationary high-volume active sampler. The results suggest this mobile air sampling technology is a promising new strategy for the assessment of air quality in urban areas.
We're sorry, something doesn't seem to be working properly.
Please try refreshing the page. If that doesn't work, please contact support so we can address the problem.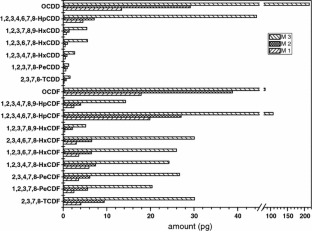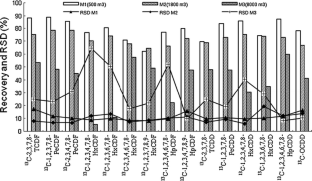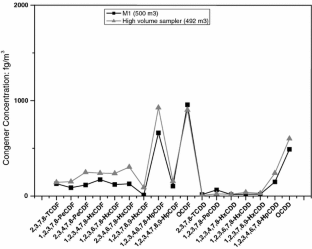 References
Chang H, Wang S, Wang Y, Li H, Wang L (2010) Contributions of dry and wet depositions of polychlorinated dibenzo-p-dioxins and dibenzofurans to a contaminated site resulting from a penetachlorophenol manufacturing process. Environ Monit Assess (in press). doi:10.1007/s10661-010-1545-x

Chao MR, Hu CW, Chen YL, Chang-Chien GP, Lee WJ, Chang LW, Lee WS, Wu KY (2004) Approaching gas-particle partitioning equilibrium of atmospheric PCDD/Fs with increasing distance from an incinerator: measurements and observations on modeling. Atmos Environ 38:1501–1510

Clarkson PJ, Larrazabal-Moya D, Staton I, McLeod CW, Ward DB, Sharifi VN, Swithenbank J (2002) The use of tree bark as a passive sampler for polychlorinated dibenzo-p-dioxins and furans. Int J Environ Anal Chem 82:843–850

Klanova J, Kohoutek J, Hamplova L, Urbanova P, Holoubek I (2006) Passive air sampler as a tool for long-term air pollution monitoring: Part 1. Performance assessment for seasonal and spatial variations. Environ Pollut 144:393–405

Li YM, Jiang GB, Wang YW, Cai ZW, Zhang QH (2008) Concentrations, profiles and gas-particle partitioning of polychlorinated dibenzo-p-dioxins and dibenzofurans in the ambient air of Beijing, China. Atmos Environ 42:2037–2047

Mari M, Schuhmacher M, Feliubadalo J, Domingo JL (2008) Air concentrations of PCDD/Fs, PCBs and PCNs using active and passive air samplers. Chemosphere 70:1637–1643

Shoeib M, Harner T (2002) Characterization and comparison of three passive air samplers for persistent organic pollutants. Environ Sci Technol 36:4142–4151

Wennrich L, Popp P, Hafner C (2002) Novel integrative passive samplers for the long-term monitoring of semivolatile organic air pollutants. J Environ Monit 4:371–376
Acknowledgments
The work was supported by National High-tech R&D Program of China (2007AA061602, 2007AA06A407, 2009AA061603).
About this article
Cite this article
Zhang, B., Zhang, L., Wu, J. et al. An Active Sampler for Monitoring Polychlorinated Dibenzo-p-dioxins and Furans in Ambient Air. Bull Environ Contam Toxicol 87, 1–5 (2011). https://doi.org/10.1007/s00128-011-0287-y
Received:

Accepted:

Published:

Issue Date:
Keywords
Active air sampler

Automobile air filter set

PCDD/Fs

Air quality