Abstract
The aim of this study was to investigate the kinetics of accumulation and elimination of microcystins in the tissues of Nile tilapia (Oreochromis niloticus) and to evaluate the effect of cyanobacterial exposure on fish muscle quality (levels of total fat and ash, protein, dry matter and the composition of saturated, monounsaturated and polyunsaturated fatty acids). Fish were exposed for 28 days to a natural cyanobacterial bloom with total microcystin concentration around 1,200 μg g−1 biomass dry weight. The hepatopancreas accumulated microcystins up to 350 ng g−1 fresh weight, but concentrations in muscle were generally below the detection limit (2 ng g−1 fresh weight). Following the exposure, fish were moved to the clean water, but only minor microcystin removal from the hepatopancreas was observed during a 4 week depuration period. Exposures of tilapia to the complex cyanobacterial bloom had only minor and temporary impacts on the investigated parameters of dietetic quality.
Access options
Buy single article
Instant access to the full article PDF.
USD 39.95
Price includes VAT (USA)
Tax calculation will be finalised during checkout.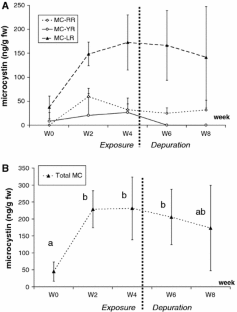 References
Adamovsky O, Kopp R, Hilscherova K, Babica P, Palikova M, Paskova V, Navratil S, Blaha L (2007) Microcystin kinetics (bioaccumulation, elimination) and biochemical responses in common carp and silver carp exposed to toxic cyanobacterial blooms. Environ Toxicol Chem 26:687–2693

Ahlgren G (1992) Fatty acid content and chemical composition of freshwater microalgae. J Phycol 28:37–50

APHA (1981) Standard methods for the examination of water and wastewater, 15th ed. American Public Health Association Inc., Washington, DC

Blaha L, Marsalek B (2003) Contamination of drinking water in the Czech Republic by microcystins. Arch Hydrobiol 158:21–429

Blahova L, Babica P, Marsalkova E, Smutna M, Marsalek B, Blaha L (2007) Concentrations and seasonal trends of extracellular microcystins in freshwaters of the Czech Republic—results of the national monitoring program. CLEAN Soil Air Water 35:348–354

Deblois CP, Aranda-Rodrigues R, Gianic A, Bird DF (2008) Microcystin accumulation in liver and muscle of tilapia in two large Brazilian hydroelectric reservoirs. Toxicon 5:435–448

Folsch J, Lees M, Sloane-Stanley H (1957) A simple method for the isolation and purification of total lipids from animal tissues. J Biol Chem 226:497–509

ISO 10260 (1992) Water quality. Measurement of biochemical parameters. Spectrometric determination of the chlorophyll-a concentration. Int. Org. Standard, 1st edn. Geneva

Kohoutek J, Adamovsky O, Oravec M, Simek Z, Palikova M, Kopp R, Blaha L (2010) LC-MS analyses of microcystins in fish tissues overestimate toxin levels—critical comparison with LC-MS/MS. Anal Bionala Chem 398:1231–1237

Magalhaes VF, Soares RM, Azevedo SMFO (2001) Microcystin contamination in fish from the Jacarepagua Lagoon (Rio de Janeiro, Brazil): ecological implication and human health risk. Toxicon 39:1077–1085

Malbrouck C, Trausch G, Devos P, Kestemont P (2003) Hepatic accumulation and effects of microcystin-LR on juvenile goldfish Carassius auratus L. Comp Biochem Physiol C Toxicol Pharmacol 135:39–48

Mares J, Palikova M, Kopp R, Navratil S, Pikula J (2009) Changes in the nutritional parameters of muscles of the common carp (Cyprinus carpio) and the silver carp (Hypophthalmichthys molitrix) following environmental exposure to cyanobacterial water bloom Aquacul Res 40:148–156

Mohamed Z, Hussein A (2006) Depuration of microcystins in tilapia fish exposed to natural populations of toxic cyanobacteria: a laboratory study. Ecotox Environ Safe 63:424–429

Peng LA, Liu YM, Chen W, Liu LM, Kent M, Song LR (2010) Health risks associated with consumption of microcystin-contaminated fish and shellfish in three Chinese lakes: significance for freshwater aquacultures. Ecotox Environ Safe 73:1804–1811

Soares RM, Magalhaes VF, Azevedo SMFO (2004) Accumulation and depuration of microcystins (cyanobacteria hepatotoxins) in Tilapia rendalli (Cichlidae) under laboratory conditions. Aquat Toxicol 70:1–10

Tadesse Z, Boberg M, Sonesten L, Ahlgren G (2003) Effects of algal diets and temperature on the growth and fatty acid content of the cichlid fish Oreochromis niloticus L.—a laboratory study. Aquat Exil 37:169–182

Tricarico E, Bertocchi S, Brusconi S, Casalone E, Gherardi F, Giorgi G, Mastromei G, Parisi G (2008) Depuration of microcystin-LR from the red swamp crayfish Procambarus clarkii with assessment of its food quality. Aquaculture 285:90–95

WHO (1998) Guidelines for drinking water quality. World Health Organization, Geneva

Yang H, Xie P, Xu J, Zheng L, Deng D, Zhou Q, Wu S (2006) Seasonal variation of microcystin concentration in Lake Chaohu, a shallow subtropical lake in the People's Republic of China. Bull Environ Contam Toxicol 77:367–374

Zhang D, Xie P, Chen J (2010) Effects of temperature on the stability of microcystins in muscle of fish and its consequences for food safety. Bull Environ Contam Toxicol 84:202–207

Zhao M, Xie S, Zhu X, Yang Y, Gan N, Song L (2006) Effect of dietary cyanobacteria on growth and accumulation of microcystins in Nile tilapia (Oreochromis niloticus). Aquaculture 261:960–966
Acknowledgments
The authors highly acknowledge comments of two anonymous referees that substantially helped to improve quality of the manuscript. This study was supported by the Ministry of Education, Youth and Sports of the Czech Republic "Veterinary aspects of food safety and quality" No. MSM6215712402, Research plan No. MSM6215648905 "Biological and technological aspects of sustainability of controlled ecosystems and their adaptability to climate change, and by the National Agency for Agricultural Research (grant No. QH 71015)". Infrastructure is supported by a project CETOCOEN (no. CZ.1.05/2.1.00/01.0001) from the European Regional Development Fund.
About this article
Cite this article
Palikova, M., Mares, J., Kopp, R. et al. Accumulation of Microcystins in Nile Tilapia, Oreochromis niloticus L., and Effects of a Complex Cyanobacterial Bloom on the Dietetic Quality of Muscles. Bull Environ Contam Toxicol 87, 26 (2011). https://doi.org/10.1007/s00128-011-0279-y
Received:

Accepted:

Published:
Keywords
Fatty acids

Cyanobacteria

Bioaccumulation

Fish