Abstract
One field experiment was conducted with Difenoconazole (25% EC) on chili crop during December 2009 to January 2010 at two different locations of West Bengal and Maharashtra. The main objective was to understand the residue and persistence behaviour of fungicide difenoconazole in chili fruit and soil samples. Difenoconazole was applied in chili field at 50 mL and 100 mL/100 liter of water. Its residue was analyzed by using LC–MS/MS and it dissipated in chili fruit and soil following first order kinetics. The half life values of difenoconazole were found in the range 2.15–2.32 days and 4.68–8.09 days for chili fruit and soil, respectively.
Access options
Buy single article
Instant access to the full article PDF.
USD 39.95
Price includes VAT (USA)
Tax calculation will be finalised during checkout.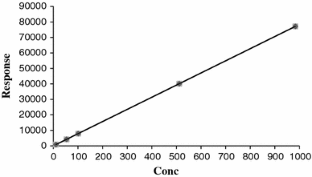 References
Ahuja KDK, Robertson LK, Geraghty DP, Ball MJ (2006) Effects of chili consumption on postprandial glucose, insulin, and energy metabolism. Am J Clin Nutr 84:63–69

Anonymous (1994) Food and environment protection act: department for environment, food and rural affairs, pesticide safety directorate. Available via http://www.pesticides.gov.uk/psd_pdfs/…/106_difenoconazole(1).pdf. Accessed on 20 Oct 2010

Banerjee K, Oulkar DP, Patil SH, Dasgupta S, Adsule PG (2008) Degradation kinetics and safety evaluation of tetraconazole and difenoconazole residues in grape. Pest Manag Sci 64:283–289

CRN India (2010) Available via http://www.crnindia.com. Accessed 26 Oct 2010

FAOSTAT (2008) FAO Statistical Database. http://www.fao.org. Accessed 10 Nov 2010

Wang ZH, Yang T, Qin DM, Ji W (2008) Determination and dynamics of difenoconazole residues in Chinese cabbage and soil. Chin Chem Lett 19:969–972
Acknowledgments
This research work was supported financially by M/S Astec Lifesciences Ltd., Mumbai, India.
About this article
Cite this article
Mukhopadhyay, S., Das, S., Bhattacharyya, A. et al. Dissipation Study of Difenoconazole in/on Chili Fruit and Soil in India. Bull Environ Contam Toxicol 87, 54–57 (2011). https://doi.org/10.1007/s00128-011-0275-2
Received:

Accepted:

Published:

Issue Date:
Keywords
Difenoconazole

Residue

Chili

LC–MS/MS