Abstract
Present study was conducted to evaluate current status of trace elements contamination in the surface sediments of the Johor Strait. Iron (2.54 ± 1.24%) was found as the highest occurring element, followed by those of zinc (210.45 ± 115.4 μg/g), copper (57.84 ± 45.54 μg/g), chromium (55.50 ± 31.24 μg/g), lead (52.52 ± 28.41 μg/g), vanadium (47.76 ± 25.76 μg/g), arsenic (27.30 ± 17.11 μg/g), nickel (18.31 ± 11.77 μg/g), cobalt (5.13 ± 3.12 μg/g), uranium (4.72 ± 2.52 μg/g), and cadmium (0.30 ± 0.30 μg/g), respectively. Bioavailability of cobalt, nickel, copper, zinc, arsenic and cadmium were higher than 50% of total concentration. Vanadium, copper, zinc, arsenic and cadmium were found significantly different between the eastern and western part of the strait (p < 0.05). Combining with other factors, Johor Strait is suitable as a hotspot for trace elements contamination related studies.
Access options
Buy single article
Instant access to the full article PDF.
USD 39.95
Price includes VAT (USA)
Tax calculation will be finalised during checkout.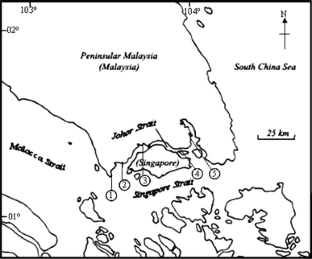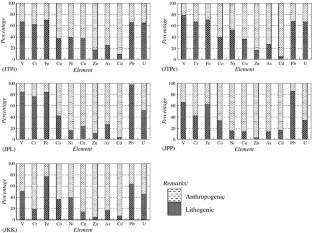 References
Amin B, Ismail A, Aziz A, Yap CK, Kamaruddin MS (2009) Anthropogenic impacts on heavy metal concentrations in the coastal sediments of Dumai, Indonesia. Environ Monit Assess 148:291–305

Apitz SE, Davis JW, Finkelstein K (2005) Assessing and managing contaminated sediments: part I. Developing an effective investigation and risk evaluation strategy. Integr Environ Assess Manag 1:2–8

Bayen S, Thomas GO, Lee HK, Obbard J (2004) Organochlorine pesticides and heavy metals in green mussel, Perna viridis, in Singapore. Water Air Soil Pollut 155:103–116

Bryan GW, Langston WJ (1992) Bioavailability, accumulation and effects of heavy metals in sediments with special reference to United Kingdom estuaries: a review. Environ Pollut 76:89–131

Cuong DT, Obbard N (2006) Metal speciation in coastal marine sediments from Singapore using a modified BCR sequential extraction procedure. Appl Geochem 21:1335–1346

Cuong DT, Bayen S, Wurl O, Subramanian K, Wong KKS, Sivasothi N, Obbard JP (2005) Heavy metal contamination in mangrove habitats of Singapore. Mar Pollut Bull 50:1713–1744

Daskalakis KDO, O'Connor TP (1995) Normalization and elemental sediment contamination in the coastal United States. Environ Sci Technol 29:470–477

DOE (2007) Annual Report 2006. Department of Environment, Kuala Lumpur

DSM (2002) Population distribution by local authority areas and mukims. Jabatan Perangkaan Malaysia, Kuala Lumpur

Goh BPL, Chou LM (1997) Heavy metal levels in marine sediments of Singapore. Environ Monit Assess 44:67–80

Groengroeft A, Jaehnig U, Miehlich G, Lueschow R, Maass V, Stachel B (1998) Distribution of metals in sediments of the Elbe Estuary in 1994. Water Sci Technol 37:109–116

Huang KM, Lin S (2003) Consequences and implication of heavy metal spatial variations in sediments of the Keelung River drainage basin, Taiwan. Chemosphere 53:1113–1121

Ismail A (2008) A need for monitoring of heavy metals and organotin compounds in the east coast of Johor. In: Che Abdul Rahim M, Masri MA, Zaidi CK, Norhayati A (eds) Research and information series of Malaysian coast of Malaysia marine ecosystem. Marine Ecosystem Research Centre UKM, Bangi, pp 163–176

Ismail A, Rosniza R (1997) Trace metals in sediments and molluscs from an estuary receiving pig farms effluent. Environ Technol 18:509–515

Ismail A, Badri MA, Ramlan MN (1993) The background levels of heavy metals concentrations in sediments from the west coast of Peninsular Malaysia. Sci Total Environ 134:315–323

Ismail A, Jusoh NR, Ghani IA (1995) Trace metal concentrations in marine prawns off the Malaysian coast. Mar Pollut Bull 31:108–110

ISO (1995) ISO 11466: soil quality, extraction of trace elements soluble in aqua regia. International Organization for Standardization, Geneva

Lim PE, Kiu MY (1995) Determination and speciation of heavy metals in sediments of Juru River, Penang, Malaysia. Environ Monit Assess 35:85–95

Long ER, MacDonald DD, Smith SC, Calder FD (1995) Incidence of adverse biological effects within ranges of chemical concentrations in marine and estuarine sediments. Environ Manag 19:81–97

Morillo J, Usero J, Gracia I (2004) Heavy metal distribution in marine sediments from the southwest coast of Spain. Chemosphere 55:431–442

Nayar S, Goh B, Chou L (2004) Environmental impact of heavy metals from dredged and resuspended sediments on phytoplankton and bacteria assessed in in situ mesocosms. Ecotoxicol Environ Safe 59:349–369

Quevauviller P, Rauret G, Lόpez-Sánchez J-F, Rubio R, Ure A, Muntau H (1997) Certification of trace metal extractable contents in a sediment reference material (CRM 601) following a three-step sequential extraction procedure. Sci Total Environ 205:223–234

Shazili NAM, Yunus K, Ahmad AS, Abdullah N, Rashid MKA (2006) Heavy metal pollution status in the Malaysian aquatic environment. Aquat Ecosyst Health 9:137–145

Sin YM, Wong MK, Chou LM, Normala A (1991) A study of the heavy metal concentrations of the Singapore River. Environ Monit Assess 19:481–494

Wedepohl KH (1971) Environmental influences on the chemical composition of shales and clays. Phys Chem Earth 8:307–331

Wood AK, Ahmad Z, Shazili NAM, Yaakob R, Carpenter R (1997) Geochemistry of sediments in Johor Strait between Malaysia and Singapore. Cont Shelf Res 17:1207–1228

Wu HY, Ting YP (2006) Metal extraction from municipal incineration fly ash—chemical leaching and fungal bioleaching. Enzyme Microb Technol 38:839–847

Yap CK, Choh MS, Edward FB, Ismail A, Tan SG (2006) Comparison of heavy metal concentrations in surface sediment of Tajung Piai wetland with other sites receiving anthropogenic inputs along the southwestern coast of Peninsular Malaysia. Wetl Sci 4:48–57

Zhang X, Zhuang G, Guo J, Yin K, Zhang P (2007) Characterization of aerosol over the Northern South China Sea during two cruises in 2003. Atmos Environ 41:7821–7836

Zulkifli SZ, Mohamat-Yusuf F, Arai T, Ismail A, Miyazaki N (2010) An assessment of selected trace elements in intertidal surface sediments collected from the Peninsular Malaysia. Environ Monit Assess. doi:10.1007/s10661-009-1189-x
Acknowledgments
This study was supported by a grant-in-aid from Scientific Program (No. 19380224), the Multilateral Core University Program "Coastal Marine Science" from the Japan Society for Promotion of Science, and the eScienceFund (Project No. 06-01-04-SF0715) from the Ministry of Science, Technology and Innovation of Malaysia.
About this article
Cite this article
Zulkifli, S.Z., Ismail, A., Mohamat-Yusuff, F. et al. Johor Strait as a Hotspot for Trace Elements Contamination in Peninsular Malaysia. Bull Environ Contam Toxicol 84, 568–573 (2010). https://doi.org/10.1007/s00128-010-9998-8
Received:

Accepted:

Published:

Issue Date:
Keywords
Johor Strait

Sediments

Trace elements

Bioavailability

Hotspot