Abstract
Maize seeds obtained from 14C-chlorfenvinphos treated plants contained 0.12% of the applied dose. The insecticide residues in crude oil, methanol and cake amounted to 10%, 6% and 69%, respectively of original residues inside the seeds. The 14C-activity in the crude oil could be a gradually reduced by the refining processes. The alkali treatment and bleaching steps are the most effective steps in these processes. The refined oil contained small amount of the 14C-residues originally present. The major residues in processed oil contain the parent compound, in addition to five metabolites of the insecticide. When rats fed the extracted seeds (cake), the bound residues were found to be considerably bioavailability. After feeding rats for five days with the cake, a substantial amount of 14C-residues was eliminated in the urine (59.5%), while about 20% excreted in the feces. About 15% of the radioactive residues were distributed among various organs.
Access options
Buy single article
Instant access to the full article PDF.
USD 39.95
Price includes VAT (USA)
Tax calculation will be finalised during checkout.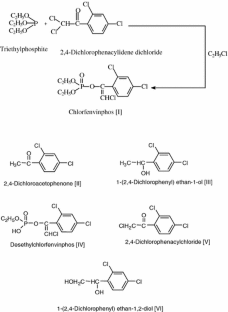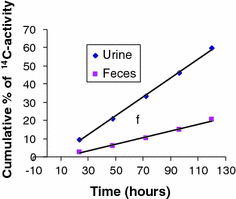 References
Beynon KI, Wright AN (1968) Breakdown of 14C-chlorphenvinphos on crops. J Sci Fd Agric 19:146–153

Dahamna S, Sekfali N, Walker CH (2004) Biochemical indicator of hepatotoxic effects of pesticides. Commun Agric Appl Biol Sci 69(4):821–828

El-Maghraby S (2007) Metabolism of deltamethrin in rats. Biomed Environ Sci 20:212–216

Fukazawa T, Aoyama M, Tsutsumi T, Tokairin S, Ehara H, Maruyama T, Niiya I (1999) Behavior of pyrethroid pesticides towards edible oils during refining. J Jpn Oil Chem Soc 48:885–889

Gozek K, Yucel U, Ilim M, Aysal P, Tuncbilek AS (1999) 14C-dimethoate residues in olive oil during oil processing. J Environ Sci Health B 34:413–429

Hanes CS, Isherwood FA (1949) Separation of the phosphoric ester on the paper chromatogram. Nature 164:1107

Hegazi B, Abdel-Gawad H, Afifi LM (2003) 14C-Zineb residues in sunflower seeds and oils and the effect of processing. Arab J Nucl Sci Appl 36:345–354

Hilbert G, Lillemark L, Balchen S, Schriver-Hojskov CR (1998) Eduction of organo-chlorine contaminants from fish oil during refining. Chemosphere 37:1241–1252

Hutson DH, Hathway DE (1967) The metabolism of 2-chloro-1-(2, 4-dichlorophenyl) vinyl diethyl phosphate in the dog and cat. Biochem J 102:133–142

Jebakumar SRD, Kannan N, Subramanian BR, Jayaraman J (1998) Residues of phosphamidon in rice fields. Environ Pollut 61:227–234

Khan US, Kacew S, Mattews W (1992) Bioavailability to rats of bound 14C-pirimiphos-methyl in stored wheat. J Environ Sci Health B 27:355–367

Lutz P, Wiaderna D, Gralewicz S, Kur B (2006) Exposure to chlorphenvinphos, an organophosphate insecticide, prevents from behavioral sensitization to amphetamine. Int J Occup Med Environ Health 19(2):132–141

Mahdy F, Taha H (2007) Toxicity of bound 14C-dichlorvos residues in stored soybeans and their bioavailability to rats. Bull NRC Egypt. 32:125–137

Mendez MVR, De La Rosa IP, Marquez AJ, Ojeda MU (2005) Elimination of pesticides in olive oil by refining using bleaching and deodorization. Food Addit Contam 22:23–30

Miyahara M, Saito Y (1993) Pesticide removal efficiencies of soybean oil refining processes. J Agric Food Chem 41:731–734

Qureshi MJ, Jamil FF, Haq A, Mujtaba SM (1992) Bioavailability and toxicity to rats of bound residues of 14C-pirimiphos-methyl in stored wheat. J Environ Sci Health B 27:369–375

Sismeiro-Vivas J, Abrantes N, Pereira JL, Castro BB, Goncalves F (2007) Short-term effects on Quirlan (chlorphenvinphos) on the behavior and asetylcholinesterase activity of Gambusia holbrooki. Environ Toxicol 22(2):194–202

Takahashi H, Kojima Kojima T, Ikeda T, Tsuda S, Shirasu Y (1991) Differences in the mode of lethality produced through intravenous and oral administration of organophosphorus insecticides in rats. Fundam App Toxicol 16:459–468

Tayaputch N, Sitayoung R, Thangnipon W (1995) Effect of processing of crude soybean oil on 14C-chlorpyriphos residues. Isotope aided studies of pesticide residues during food processing. IAEA-TECDOC. 818:9–13

Tuncbilek AS, Aysal O, Halitligil MB (1997) Loss of label during processing cotton grown with 14C-aldicarb. Bull Environ Contam Toxicol 58:213–218

Uygun U (1997) Degradation of chlorfenvinphos in carrots during storage. Food Chem 60:479–487

Zayed SMAD, Farghaly M, Mahdy F (1998) Effect of commercial processing procedures on carbofuran residues in soybean oil. Food Chem 6:265–268

Zayed SMAD, Farghaly M, Mahdy F (2003) Efficiency of the refining processes in removing 14C-pirimiphos-methyl residues in soybean oil. Bull NRC Egypt. 28:567–575

Zayed SMAD, Farghaly M, Mahdy F (2005) Effect of refining processes on magnitude and nature of malathion and carbofuran residues in cotton seed oil. Arab J Nucl Sci Appl 38:277–288
About this article
Cite this article
Mahdy, F.M., El-Maghraby, S.I. Effect of Processing on 14C-Chlorfenvinphos Residues in Maize Oil and Bioavailability of its Cake Residues on Rats. Bull Environ Contam Toxicol 84, 582–586 (2010). https://doi.org/10.1007/s00128-010-9984-1
Received:

Accepted:

Published:

Issue Date:
Keywords
14C-Chlorfenvinphos

Maize oil

Refining processes

Residues

Bioavailability