Abstract
In this study, the mercury concentrations of liver, breast feathers and tail feathers in three species of Gull; Black-headed Gull (Larus ridibundus), Common Gull (Larus canus) and Little Gull (Larus minutus) from the South coast of the Caspian Sea in Iran were assayed. Mercury accumulation in liver, breast feathers and tail feathers of species were 1.69–3.16, 2.88–7.18 and 2.09–5.66 mg/kg, respectively. Mercury concentration hierarchy in tissues we tested was as follows: breast feather > tail feather > and liver. We found that despite its small size, Little Gull had highest (3.85–8.05 mg/kg) and Common Gull lowest (1.69–2.88 mg/kg) level of Hg in their bodies. An inverse relationship between body size and Hg levels in these Gulls was detected. Mercury in Little Gull and Black-headed Gull exceeded the 5 ppm threshold for adverse effect.
Access options
Buy single article
Instant access to the full article PDF.
USD 39.95
Price includes VAT (USA)
Tax calculation will be finalised during checkout.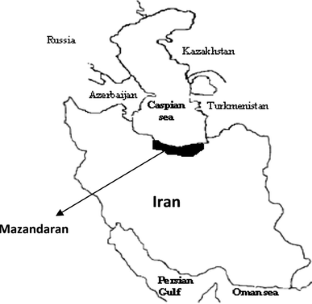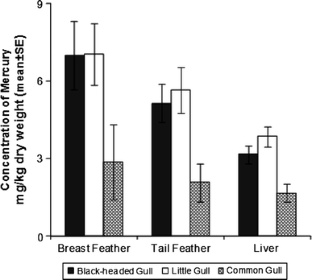 References
Agusa T, Kunito T, Tanabe S, Pourkazemi M, Aubrey DG (2004) Concentrations of trace elements in muscle of sturgeons in the Caspian Sea. Mar Pollut Bull 49:789–800. doi:10.1016/jmarpolbul.2004.06.008

Albanis TA, Goutner V, Konstantinou IK, Frigis K (2003) Organochlorine contaminants in eggs of the yellow-legged gull (Larus cachinnans michahellis) in the North Eastern Mediterranean; is this gull a suitable biomonitor for the region? Environ Pollut 126:245–255. doi:10.1016/s0269-7491(03)00188-x

Bashkin VN (2006) Casspian sea environments, modern biogeochemistry: second edition. Environ Risk Assess 291–322. doi:10.1007/1-4020-4586-7

Braune BM (1987) Comparison of total mercury levels in relation to diet and molt for nine species of marine birds. Arch Environ Contam Toxicol 16:217–224. doi:10.1007/BFO1055802

Braune BM, Gaskin DE (1987) Mercury level in Bonaparte's Gulls (Larus Philadelphia) during autumn molt in the Quoddy region, New Bruswick, Canada. Environ Contam Toxicol 16:539–549. doi:10.1007/BFO1055810

Braune BM, Mallory ML, Gilchrist HG, Letcher RJ, Drouillard KG (2007) Levels and trends of organochlorines and brominated flame retardants in Ivory Gull egg from the Canadian Arctic 1976–2004. Sci Total Environ 378:403–417. doi:10.1016/j.scitotenv.2007.03.003

Burger J, Gochfeld M (2000) Metal levels in feathers of 12 species of seabird from Midway Atoll in the northern Pacific Ocean. Sci Total Environ 275:37–52

Cramp S, Simmons KEL (1997) Handbook of the Bird of Europe the Middle East and North Africa, vol 1. Oxford University Press, Oxford (p 722)

Eisler R (1987) Mercury hazards to fish, wildlife and invertebrates: a synoptic review. US Fish and Wildl Serv Biol Report 85(10.1), pp 24–32

Furness RW, Muirhead SJ, Woodburn M (1986) Using bird feathers to measure mercury in the environmental: relationships between mercury content and molt. Mar Pollut Bull 17:27–30

Hebert CE, Norstrom RJ, Weseloh DVC (1999) A quarter century of environmental surveillance: the Canadian wildlife service's Great Lakes herring gull Monitoring Program. Environ Rev 7:147–166. doi:10.1139/er-7-4-147

Helberg M, Bustnes JO, Erikstad KE, Kristiansen KO, Skaare JU (2005) Relationships between reproductive performance and organochlorine contaminants in Great Black-backed Gull (Larus marinus). Environ Pollut 134:475–483. doi:10.1016/j.envpol.2004.09.006

Lee DP (1989) Heavy metal accumulation in birds use of feathers as monitoring without killing. PhD thesis, Ehime University, Matsuyama Japan

Lewis SA, Becker PH, Furness RW (1993) Mercury levels eggs, tissues, and feathers of herring gulls (Larus argentatus) from the German Wadden Sea coast. Environ Pollut 80:293–299

Mansoori J (1999) Field guide to birds of Iran. University of Tehran, Iran

Mineau P, Fox GA, Norstrom RJ, Weseloh DV, Hallett DJ, Ellenton JA (1984) Using the herring gull to monitor levels and effects of organochlorine contamination in the Canadian Great Lakes. In: Nriagu JO, Simmon MS (eds) Toxico cantaminants in the Grat Lakes. Wiley, New York, pp 426–452

Mora SD, Sheikholeslami MR, Wyse E, Azemard S, Cassi R (2004) An assessment of metal contamination in coastal sediments of the Caspian Sea. Mar Pollut Bull 48:61–77. doi:10.1016/s0025-326x(03)00285-6

Nakata H, Tanabe S, Tatsukawa R, Koyama Y, Miyazaki N, Belikov S, Boltunov A (1998) Persistent organochlorine contaminants in ringed Seals (Phoca hispida) from the Kara Sea. Russian Arctic Environ Toxicol Chem 17:1745–1755

Ochoa-acuna H, Sepulveda MS, Gross TS (2002) Mercury in feathers from Chilean birds: influence of location, feeding strategy, and taxonomic affiliation. Mar Pollut Bull 44:340–349

Pacyna J (2002) Sources and emissions. In: Symon C, Wilson SJ (eds) A MAP assessment: heavy metals in the Arctic. Arctic Monitoring and assessment Programme (AMAP), Oslo, pp 5–10

Sagerup K, Savinov V, Savinova T, Kuklin V, Muir DCG, Gabrielsen GW (2009) Persistent organic pollutants, heavy metals and parasites in the glaucous gull (Larus hyperboreus) on Spitsbergen. Environ Pollut xxx:1–9. doi:10.1016/j.envpol.2009.03.031

Savinova TN, Polder A, Gabrielsen GW, Skaare JU (1995) Chlorinated hydrocarbons in seabirds from the Barents Sea area. Sci Total Environ 160(161):497–504

Thompson DR (1996) Mercury in birds and terrestrial mammals. In: Beyer WN, Heinz GH, Redmon-Norwood AW (eds) Environmental contaminants in wildlife, interpreting tissue concentrations. CRC Press LCC, Boca Raton, pp 341–356

Thompson DR, Stewart FM, Furness RW (1990) Using seabird to monitor mercury in Marine environments. Mar Pollut Bull 21:339–342

Zammani Ahmadmahmoodi R, Esmaili-sari A, Savabieasfahani M, Bahramifar N (2009) Cattle egret (Bubulcus ibis) and Little egret (Egretta garzetta) as monitors of mercury contamination in Shadegan Wetlands of south western Iran. Environ Moni Assess. doi:10.1007/s10661-009-1008-4

Zolfaghari G, Esmaili-sari A, Ghasempouri M, Hassanzade Kiabi B (2007) Examination of mercury concentration in the feather of 18 species of birds in southwest Iran. Environ Res 104:258–265. doi:10.1016/j.envres.2006.12.002
Acknowledgments
We thank Dr. Mozhgan Savabieasfahani for support and guidance in writing this manuscript. We are also grateful to M. Davodi and H. Malvandi for scientific assistance. This work was funded by the Tarbiat Modares University of Iran.
About this article
Cite this article
Rajaei, F., Esmaili Sari, A., Bahramifar, N. et al. Mercury Concentration in 3 Species of Gulls, Larus ridibundus, Larus minutus, Larus canus, From South Coast of the Caspian Sea, Iran. Bull Environ Contam Toxicol 84, 716–719 (2010). https://doi.org/10.1007/s00128-010-9973-4
Received:

Accepted:

Published:

Issue Date:
Keywords
Mercury

Liver

Feather

Caspian Sea