Abstract
We analyzed total mercury and selenium bioaccumulation in muscle tissue and cartilage fibers (fins) from smooth hammerhead shark, Sphyrna zygaena, caught off Baja California Sur, Mexico. In muscle tissue, the mercury concentration ranged from 0.005 to 1.93 μg g−1 ww (wet weight), which falls within the safety limits for food set by international agencies (Hg > 1.0 μg g−1 ww). Only one specimen showed a mercury value that exceeded this limit. In fins, the mercury bioaccumulation was lower (<0.05). Selenium in muscle ranged from 0.11 to 1.63 μg g−1 ww, while in fins it ranged from 0.13 to 0.56 μg g−1 ww.
Access options
Buy single article
Instant access to the full article PDF.
USD 39.95
Price includes VAT (USA)
Tax calculation will be finalised during checkout.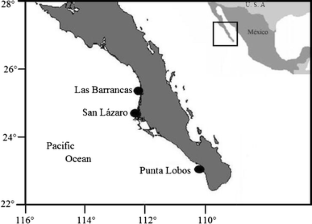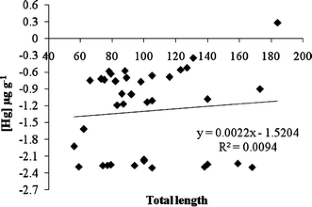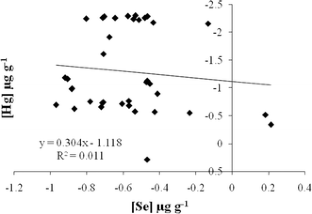 References
Adams HD, McMichael RH Jr (1999) Mercury levels in four species of sharks from the Atlantic coast of Florida. Fish Bull 97:372–379

Bustamante P, Lahaye V, Durnez C, Churlaud C, Caurant F (2006) Total and organic Hg concentrations in cephalopods from the North Eastern Atlantic waters: influence of geographical origin and feeding ecology. Sci Total Environ 368:585–596

Cabañero AI, Madrid Y, Cámara C (2007) Mercury-selenium species ratio in representative fish samples and their bioaccessibility by in vitro digestion method. Biol Trace Elem Res 119:195–211

Cardellicchio C, Decataldo A, Di Leo A, Misino A (2002) Accumulation and tissue distribution of mercury and selenium in striped dolphins (Stenella coeruleoalba) from the Mediterranean Sea (southern Italy). Environ Pollut 116:265–271

Eisler R (1981) Trace metal concentrations in marine organisms. Pergamon Press, New York

García-Hernández J, Cadena-Cárdenas L, Betancourt-Lozano M, García-de la Parra LM, García-Rico L, Márquez-Farías F (2007) Total mercury content found in edible tissues of top predator fish from the Gulf of California, Mexico. Toxicol Environ Chem 89:507–522

Gray J (2002) Biomagnification in marine systems: the perspective of an ecologist. Mar Poll Bull 45:46–52

Kaneko JJ, Ralston NVC (2007) Selenium and mercury in pelagic fish in the central north Pacific near Hawaii. Biol Trace Elem Res 119:242–254

Mársico ET, Machado MES, Knoff M, São Clemente SC (2007) Total mercury in sharks along the southern Brazilian Coast Arq. Bras Med Vet Zootec 59:1593–1596

Núñez-Nogueira G, Ordoñez JB, Rosiles MR (1998) Concentración y distribución de mercurio en tejidos del cazón (Rhizoprionodon terraenovae) del Golfo de México. Vet Mex 29:15–20

Ochoa-Díaz MR (2009) Espectro trófico del tiburón martillo Sphyrna zygaena (Linnaeus, 1758) en Baja California Sur: aplicación de δ13C y δ15N. Master's Thesis. CICIMAR-IPN, México

Shumilin EN, Rodríguez-Figueroa G, Bermea OM, Baturina E, Hernández E, Meza GDR (2000) Anomalous trace element composition of coastal sediments near the copper mining district of Santa Rosalía, Península of Baja California, Mexico. Bull Environ Contam Toxicol 65:261–268

Shumilin E, Paez-Osuna F, Green-Ruiz C, Sapozhnikov D, Rodriguez-Meza GD, Godinez-Orta L (2001) Arsenic, antimony, selenium and other trace elements in sediments of the La Paz lagoon, Peninsula of Baja California, Mexico. Mar Pollut Bull 42:174–178

Storelli MM, Marcotrigiano GO (2002) Mercury speciation and relationship between mercury and selenium in liver of Galeus melastomus from the Mediterranean Sea. Bull Environ Contam Toxicol 69:516–522

Svobodová Z, Vykusová B, Máchová J, Bastl J, Hrbková M, Svobodník J (1993) Monitoring of foreign substances in fishes from the Jizera River in the Otradovice locality. Bull VURH Vodňany 29:28–42

Zar HJ (1984) Biostatistical analysis. Prentice Hall, Englewood Cliffs
Acknowledgments
We thank Jaime Ballinas-Flores and M. Sc. Alfredo Ordiano-Flores for help in the use of analytical instrumentation. We would like to thank to the Toxicology Laboratory from UNAM and to IPN (PIFI and EDI) and CONACyT for support.
About this article
Cite this article
Escobar-Sánchez, O., Galván-Magaña, F. & Rosíles-Martínez, R. Mercury and Selenium Bioaccumulation in the Smooth Hammerhead Shark, Sphyrna zygaena Linnaeus, from the Mexican Pacific Ocean. Bull Environ Contam Toxicol 84, 488–491 (2010). https://doi.org/10.1007/s00128-010-9966-3
Received:

Accepted:

Published:

Issue Date:
Keywords
Bioaccumulation

Mercury

Selenium

Sphyrna zygaena