Abstract
Boron is an essential nutrient for plants and an essential element for many organisms, but can be toxic to aquatic and terrestrial organisms above certain concentrations. The aim of this research was to determine boron concentrations in water, sediment and biotic samples (Gammaridae spp.-Crustacea, Helix sp.-Gastropoda, Donax sp.-Bivalvia, Helobdella sp.-Hirudinae, Ephemeroptera nymph, Chrinomidae larvae, Tipulidae larvae-Insecta, Rana sp.-Amphibia, Natrix sp.-Serpentes, fish sample Leiscus cephalus (Linnaeus, 1758) and leaves of Salix sp.-Salicacea from Seydi Stream (Kırka-Eskişehir). Our results have shown that boron concentrations of the Seydi Stream water is higher than the Turkish Environmental Guidelines standard (>1 mg L−1) and in Europe (mean values typically below 0.6 mg L−1).
Access options
Buy single article
Instant access to the full article PDF.
USD 39.95
Price includes VAT (USA)
Tax calculation will be finalised during checkout.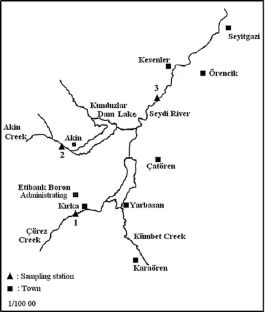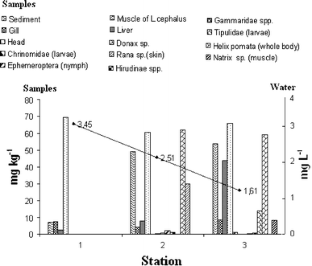 References
APHA (1992) Standard methods for the examination of water and wastewater, In: Greenberg AE, Clesceri LS, Eato AD (eds) 18th edn, American Public Health Association, Washington, USA

Çöl M, Çöl C (2003) Environmental boron contamination in waters of Hisarcik area in the Kütahya Province of Turkey. Food Chem Toxicol 41(10):1417–1420

Duran M, Kara Y, Akyildiz GK, Ozdemir A (2007) Antimony and heavy metals accumulation in some macroinvertebrates in the Yesilirmak River (N Turkey) near the Sb-mining area. Bull Environ Contam Toxicol 78:395–399. doi:10.1007/s00128-007-9183-x

EGVM: Expert Group on Vitamins and Minerals (2003) Safe upper levels for vitamins and minerals. Food standards agency. United Kingdom http://www.food.gov.uk/multimedia/pdfs/vitmin2003.pdf Accessed 05 Feb 2007

Eimers RD, Evans RD, Welbourn PM (2001) Cadmium accumulation in the freshwater isopod Asellus racovitzai: the relative importance of solute and particulate sources at trace concentrations. Environ Pollut 111:247–253

EPA METHOD 2007 (2001) Determination of metals and trace elements in water and wastes by inductively coupled plasma-atomic emission spectrometry

Gemici U, Tarcan G (2002) Distribution of B in thermal waters of Western Anatolia, Turkey and examples of their environmental impacts. Environ Geol 43:87–98

ISO 9390 (1990) Water quality determination of borate spectrometric method using azomethine-H. International Organization for Standardization, Geneva

National Academy of Sciences (NAS) (1980) Boron. In: Mineral tolerance of domestic animals. Natl Acad Sci, Natl Res Counc Comm Anim Nutr, Washington, DC

Natural Health Products Directorate Health Canada (2007) Boron as a medicinal ingredient in oral. http://www.hc-sc.gc.ca/dhp-mps/pubs/natur/boron-bore-eng.php

Şaylı BS, Tuccar E, Elhan AH (1998) An assessment of fertility in boron-exposed Turkish subpopulations. Reprod Toxicol 12:297–304

Şaylı BS, Çöl M, Elhan AH, Genç Y (2003) Assessment of fertility and infertility in boron-exposed Turkish subpopulations 6: relevant data from all centers. J Ankara Med Sch 25(4):165–174

USEPA-IRIS: United States Environmental Protection Agency Integrated Risk Information System (2004) Toxicological review of boron and compounds. U.S. environmental protection agency. http://www.epa.gov/iris/toxreviews/0410-tr.pdf Accessed 09 Apr 2007

WHO (1998a) Environmental health criteria, 204. http://www.inchem.org/documents/ehc/ehc/ehc204.htm. Accessed 05 Oct 2008

WHO (1998b) Guidelines for drinking-water quality. 2nd edn. Addendum to vol. 2. Health criteria and other supporting information. World Health Organization, Geneva

WHO (1998c) Boron: environmental health criteria; 204: World Health Organization, ISSN 0250-863

WHO (1998d) Boron. Geneva, World Health Organization, International programme on chemical safety (Environmental health criteria monograph)
About this article
Cite this article
Emiroğlu, Ö., Çiçek, A., Arslan, N. et al. Boron Concentration in Water, Sediment and Different Organisms around Large Borate Deposits of Turkey. Bull Environ Contam Toxicol 84, 427–431 (2010). https://doi.org/10.1007/s00128-010-9961-8
Received:

Accepted:

Published:

Issue Date:
Keywords
Boron

Contamination

Seydi Stream

Kırka