Abstract
This work analyzed metal concentrations and potential sources of sediment pollutants in the Tamsui River, Taiwan, by instrumental neutron activation analysis. The Tamsui River, the second longest of Taiwan's three major rivers, flows through metropolitan Taipei City in northern Taiwan and is renowned for its preserved mangrove wetlands. In total 11 elements Al, As, Br, Cs, Fe, La, Mg. Mn, Na, Sc, and Ti were identified in 24 samples taken from three sites upriver, the mangrove area and estuary during the spring of 2004. Specifically, the most abundant Al metal concentration was 15.6–0.92 mg/g adopted as standard reference in this study. Only few sites had As at the statistical meaning (>DL). Furthermore, arsenic concentrations fluctuated at roughly 0.67 ± 0.09 mg/kg based on variations in background counts in various γ-ray spectra. Elemental concentrations of these elements were compared with those in other nations, and discussed in the context of enrichment factors calculated for elements using the earth crust of various sediments as references, based on elemental values of Al.
Access options
Buy single article
Instant access to the full article PDF.
USD 39.95
Price includes VAT (USA)
Tax calculation will be finalised during checkout.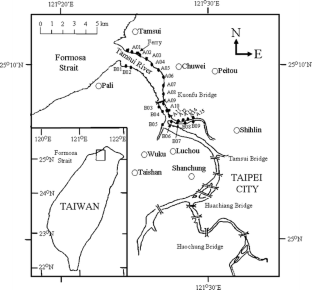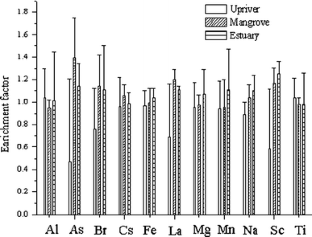 References
Al-Jundi J (2000) Determination of trace elements and heavy metals in the Zarka River sediments by instrumental neutron activation analysis. Nucl Instrum Methods Phys Res B 170:180–186

Aloupi M, Angelidis MO (2001) Geochemistry of natural and antropogenic metals in the coastal sediments of the island of Lesvos, Aegean Sea. Environ Pollut 113:211–219

Chen HW (2006) Gallium, Indium, and Arsenic pollution of groundwater from a semiconductor manufacturing area of Taiwan. Bull Environ Contam Toxicol 77:289–296

Chen CY, Pan LK (2001) Trace elements of taiwanese dioscorea spp. using instrumental neutron activation analysis. Food Chem 72:255–260

Chen CY, Wei YY, ChangLai SP, Pan LK (2003) Bromine and iodine in Chinese medical herbs determined via epithermal neutron activation analysis. J Radioanal Nucl Chem 257(2):405–410

Curie LA (1968) Limits for qualitative determination and quantitative determination. Anal Chem 40:586–593

Dinescu LC, Steinnes E, Duliu OG, Ciortea C, Sjøbakk TE, Dumitriu DE, Gugiu MM, Haralambie M (2004) Distribution of some major and trace elements in Danube Delta lacustrine sediments and soil. J Radioanal Nucl Chem 262(2):345–354

Environmental Protection Agency, Taiwan (1997) The guideline of drinking water quality. Available: http://w3.epa.gov.tw/epalaw/docfile/090030.doc (in Chinese)

Fang TH, Hong E (1999) Mechanisms influencing the spatial distribution of trace metals in surficial sediments of the south-western Taiwan. Mar Pollut Bull 38(11):1026–1037

Huang YH, Chen SC (1995) Anatomical responses in Kandelia candel (L.) druce seedlings growing in the presence of different concentrations of NaCl. Bot Bull Acad Sin 36:181–188

Izquierdo C, Usero J, Gracia I (1997) Speciation of heavy metals in sediments from salt marshes on the southern atlantic coast of Spain. Mar Pollut Bull 34:123–128

Jingchun L, Chongling Y, Macnair MR, Jun H, Yuhong L (2006) Distribution and speciation of some metals in mangrove sediments from Jiulong River Estuary, People's Republic of China. Bull Environ Contam Toxicol 76:815–822

Kao WY, Chang KW (1998) Stable carbon isotope ratio and nutrient contents of the kandelia candel mangrove populations of different growth forms. Bot Bull Acad Sin 39:39–45

Lee CL, Wang TC, Hsu CH, Chiou AA (1998) Heavy metal sorption by aquatic plants in Taiwan. Bull Environ Contam Toxicol 61:479–504

Lide DR (2006–2007) CRC Handbook of chemistry and physics, 87th edn. Taylor & Francis, New York, pp 14–17

Machado W, Silva-Filho EV, Oliveira RR, Lacerda LD (2002) Trace metal retention in mangrove ecosystems in Guanabara Bay, SE Brazil. Mar Pollut Bull 44:1277–1280

Mubiana VK, Blust R (2006) Metal content of marine mussels from Western Scheldt Estuary and Nearby Protected Marine Bay, The Netherlands: impact of past and present contamination. Bull Environ Contam Toxicol 77:203–210

Schuhmacher M, Meneses M, Granero S, Llobet JM, Domingo JL (1997) Trace element pollution of soils collected near a municipal solid waste incinerator: human health risk. Bull Environ Contam Toxicol 59:861–867

Sharma VK, Rhudy KB, Koenting R, Vazquez FG (1999) Metals in sediments of the upper laguna madre. Mar Pollut Bull 38(12):1221–1226

Shirley VS, Lederer CM (1978) Table of isotopes. Wiley-interscience Publishing Co, New York

Shumilin E, Rodrýguez Meza GD, Sapozhnikov D, Lutsarev S, de Nava JM (2005) Arsenic concentrations in the surface sediments of the Magdalena-Almejas Lagoon Complex, Baja California Peninsula, Mexico. Bull Environ Contam Toxicol 74:493–500

Tam NFY, Yao MWY (1999) Three digestion methods to determine concentrations of Cu, Zn, Cd, Ni, Pb, Cr, Mn, and Fe in Mangrove Sediments from Sai Keng, Chek Keng, and Sha Tau Kok, Hong Kong. Bull Environ Contam Toxicol 62:708–716

Tsao CS, Pan LK (2000) Verification of the neutron flux of a modified zero-power reactor using a neutron activation method. Nucl Sci Eng 135:64–72

Waheed S, Ahmad S, Rahman A, Qureshi IH (2001) Antarctic marine sediments as fingerprints of pollution migration. J Radioanal Nucl Chem 250(1):97–107

Wang HC, Wang HP, Peng CY, Liu HL, Huang HL (2003) X-ray absorption spectroscopic studies of As-Humic substance in the ground water of the Taiwan Blackfoot Disease Area. Bull Environ Contam Toxicol 71:798–803
Acknowledgments
The authors would like to thank the staff members of the zero-power reactor at LungTan for their supports of this work without reservation, and also thank the National Science Council for financially supporting this research under Contract No. NSC 89-2212-E-014-022.
About this article
Cite this article
Lai, DS., Lin, JB., Liu, WS. et al. Metal Concentrations in Sediments of the Tamsui River, Flows Through Central Metropolitan Taipei. Bull Environ Contam Toxicol 84, 628–634 (2010). https://doi.org/10.1007/s00128-010-9959-2
Received:

Accepted:

Published:

Issue Date:
Keywords
Sediments

Metals

Tamsui River

Mangrove

Instrumental neutron activation analysis

Enrichment factor