Abstract
In 2008, a total of 37 condoms was sampled from the Chinese market. Released nitrosamines and nitrosatable substances from the samples were monitored according to EN12868 method. Furthermore, to simulate the process of nitrosamines migration from condoms, a new and proper migration experiment was proposed in this study. N-nitrosodimethylamine, N-nitrosodiethylamine and N-nitrodibutylamine were found in almost all samples. The release levels of nitrosamines varied from 15.62 to 792.89 μg/kg. The proposed method is feasible, sensitive and accurate.
Access options
Buy single article
Instant access to the full article PDF.
USD 39.95
Price includes VAT (USA)
Tax calculation will be finalised during checkout.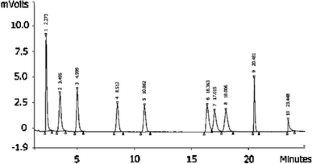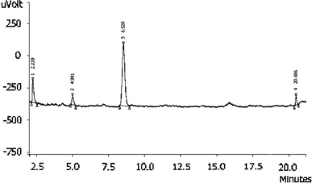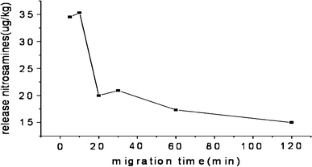 References
Altkofer W, Srtefan B, Kathi E, Margit KG, Gabriele S (2005) Migration of nitrosamines from rubber products are balloons and condoms harmful to the human health? Mol Nutr Food Res 49:235–238

Barrington JW, Linton D, Blackwell A, Brick J, Calvert JP (1997) Anaerobic (bacterial) vaginosis and premalignant disease of the cervix. J Obstet Gynaecol 17:383–385

Biaudet H, Mouillet L, Debry G (1997) Migration of nitrosamines from condoms to physiological secretions. Bull Environ Contam Toxicol 598:47–853

Bouma K, Schothorst RC (2003) Identification of extractable substances from rubber nettings used to package meat products. Food Addit Contam 20:300–307

Commission directive 93/11/EEC (1993) Concerning the release of the N-nitrosamines and N-nitrosatable substace from elatomer or rubber teats and soothers. Official J L093(17/04/1993):0037–0038

Eisenbrand G, Fuchs A, Koehl W (1996) N-Nitroso compounds in Cosmetics, household commodities and cutting fluids. Eur J Cancer 5:41–46

European Committee for Standardization (1999) EN 12868 child use and care articles. Methods for determining the release of N-Nitrosamines and N-Nitrosatable substances from elastomer or rubber teats and soothers

Feng D, Wang HP, Cheng XL, Wang JD, Ning LF, Zhou QF, Zhou Y, Yang QL (2009) Detection and toxicity assessment of nitrosamines migration from latex gloves in the Chinese Market. Int J Hyg Environ Health 212:533–540

Fiddler W, Pensabene JW, Kimoto WI (1985) Investigation of volatile nitrosamines in disposables protective gloves. Am Ind Hyg Assoc J 46:463–465

Glória MB (1991) Levels of volatile N-nitrosamines in baby bottle rubber nipples commercialized in Belo Horizonte, Mina Gerais, Brazil. Bull Environ Contam Toxicol 47:120–125

Harington JS, Nunn JR, Irwig L (1973) Dimethylnitrosamine in the human vaginal vault. Nature 241:49–50

Inspectorate for Health Protection and Veterinary Public Health of Netherlands (2002) Report ND1TOY01/01 Migration of nitrosamines and nitrosatable substances from balloons. Regional Service North, Netherland

Pensabene JW, Fiddler W, Gates RA, Foster JM (1995) Nitrosamine formation and penetration in hams processed in elastic rubber nettings: N-Nitrosodibutylamine and N-Nitrosodibenzylamine. Agric Food Chem 43:1919–1922

Vieira ER, Pierozen NJ, Lovison V (2006) Determination of N-nitrosamines and N-nitrosatables substances in rubber teats and sothers by GC-TEA. Brazil Arch Bio Technol 49:73–77
Acknowledgments
The study was funded by National Population and Family Planning Commission of China (2007GJSSJKA02).
About this article
Cite this article
Feng, D., Zhou, Q., Cheng, X. et al. Analysis of Nitrosamines Migration from Condoms in the Chinese Market Using a Proper Migration Experiment. Bull Environ Contam Toxicol 84, 373–377 (2010). https://doi.org/10.1007/s00128-010-9949-4
Received:

Accepted:

Published:

Issue Date:
Keywords
Nitrosamines

Migration

Determination