Abstract
Nicotine, a major toxic component of cigarette smoke has been identified as a major risk factor for different diseases. This study investigates the role of reduce glutathione (GSH) against nicotine treated liver and kidney toxicity. Results showed that the application of 80 mg GSH per kg body weight per day exert protective effect against nicotine-induced liver and kidney toxicity by modulating the biochemical marker enzyme LDH, lipid peroxidation and augmenting antioxidant defense system. To our knowledge, this is the first finding of this sort.
Access options
Buy single article
Instant access to the full article PDF.
USD 39.95
Price includes VAT (USA)
Tax calculation will be finalised during checkout.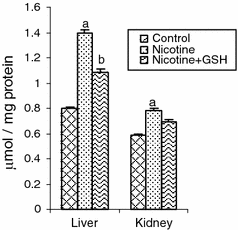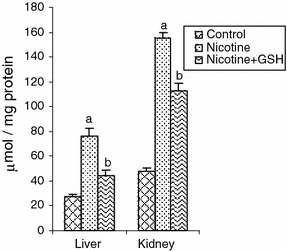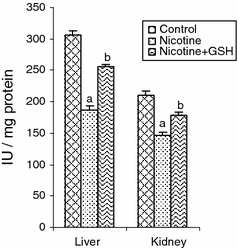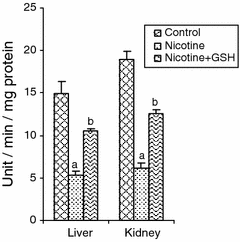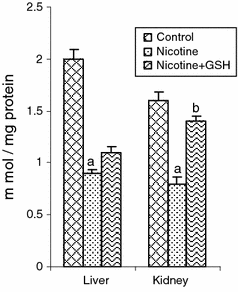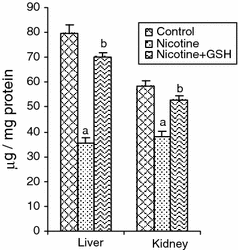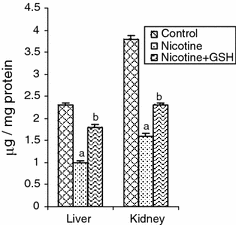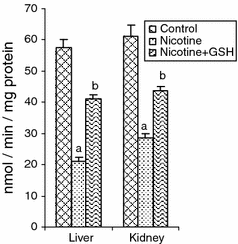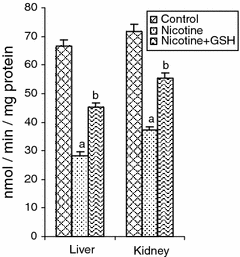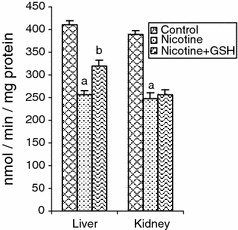 References
Aebi HE (1983) Catalase. In: Bergmeyer HU (ed) Methods of enzymatic analyses. Verlag Chemie, Weinheim, pp 273–282

Ashakumary L, Vijayammal PL (1996) Additive effect of alcohol and nicotine on lipid peroxidation and antioxidant defence mechanism in rats. J Applied Toxicol 16:305–308

Griffith OW (1980) Determination of glutathione and glutathione sulfide using glutathione reductase and 2-vinyl pyridine. Anal Biochem 106:207–212

Habig WH, Pabst MJ, Jakoby WB (1974) Glutathone S-transferases, the first enzymatic step in mercapturic acid formation. J Biol Chem 249:7130–7139

Helen A, Krishnakumar K, Vijayammal PL, Augusti KT (2000) Antioxidant effect of onion oil (Allium cepa Linn.) on the damages induced by nicotine in rats as compared to alpha-tocopherol. Toxicol Lett 116:61–68

Husain K, Scott RB, Reddy KS, Somani SM (2001) Chronic ethanol and nicotine interaction on rat tissue antioxidant defense system. Alcohol 25:89–97

Jung BH, Chung BC, Chung S, Shim C (2001) Different pharmacokinetics of nicotine following intravenous administration of nicotine base and nicotine hydrogen tartarate in rats. J Control Release 77:183–190

Lowry OH, Roseborough NJ, Farr AL, Randll AJ (1951) Protein measurement with Folin's phenol reagent. J Biol Chem 193:265–275

Mahapatra SK, Das S, Dey SK, Roy S (2008) Smoking induced oxidative stress in serum and neutrophil of the university students. Al Ameen J Med Sci 1:20–31

Marklund S, Marklund G (1974) Involvement of superoxide anion radical in autoxidation of pyrogallol and a convenient assay of superoxide dismutase. European J Biochem 47:469–474

Miwa S (1972) Hematology. Mod Med Technol 3:306–310

Neogy S, Das S, Mahapatra SK, Mandal N, Roy S (2008) Amelioratory effect of Andrographis paniculata Nees on liver, kidney, heart, lung and spleen during nicotine induced oxidative stress. Environ Toxicol Paharma 25:321–328

Ohkawa H, Ohisi N, Yagi K (1979) Assay for lipid peroxides in animal tissues by thiobarbituric acid reaction. Anal Biochem 95:351–358

Paglia DE, Valentine WN (1967) Studies on quantitative and qualitative characterization of erythrocyte glutathione peroxidase. J Lab Clin Med 70:158–169

Panda K, Chattopadhyay R, Chattopadhyay DJ, Chatterjee IB (2000) Vitamin C prevents cigarette smoke–induced oxidative damage in vivo. Free Radical Biol Med 29:115–124

Ray G, Husain SA (2002) Oxidants, antioxidants and carcinogenesis. Indian J Exp Biol 42:1213–1232

Sargeant LA, Jaeckel A, Wareham NJ (2000) Interaction of vitamin C with the relation between smoking and obstructive airways disease in EPIC Norfolk. European Prospective Investigation into Cancer and Nutrition. Eur Respir J 16:397–403

Slater TI (1980) Overview of methods used for detecting lipid peroxidation. Methods Enzymol 105:283–293

Suleyman H, Gumustekin K, Taysi S, Keles S, Oztasan N, Aktas O, Altinkaynak K, Timur H, Akcay F, Akar S, Dane S, Gul M (2002) Beneficial effects of Hippophae Rhamnoides L, on nicotine induced oxidative stress in rat blood compared with vitamin E. Biol Pharm Bull 25:1133–1136

Wetscher GJ, Bagchi M, Bagchi D, Perdikis G, Hinder PR, Glaser K, Hinder RA (1995) Free radical production in nicotine treated rats. Free Rad Biol Med 18:877–882

Yildiz D, Liu YS, Ercal N, Armstrong DW (1999) Comparison of pure nicotine and smokeless tobacco extractinduced toxicities and oxidative stress. Arch Environ Contam Toxicol 37:434–439

Young DS, Pestaner LC, Gibberman V (1975) Effects of drugs on clinical laboratory tests. Clin Chem 21:1D–432D
Acknowledgment
The authors are thankful to Vidyasagar University for sanctioning Personal Research Grant.
About this article
Cite this article
Dey, S.K., Roy, S. Role of Reduced Glutathione in the Amelioration of Nicotine-Induced Oxidative Stress. Bull Environ Contam Toxicol 84, 385–389 (2010). https://doi.org/10.1007/s00128-010-9948-5
Received:

Accepted:

Published:

Issue Date:
Keywords
Nicotine

GSH

Tissues

Oxidative stress