Abstract
A new method for simultaneous analysis of clopyralid and picloram residues in rape plant, rapeseed and field soil was developed and validated. The residual dynamics and final residues of clopyralid and picloram in rape plant, rapeseed and soil were determined by High Performance Liquid Chromtography-Diode Array Detector (HPLC-DAD) and High Performance Liquid Chromtography-Mass Spectroscopy Detector (HPLC-MSD). The limit of quantification (LOQ) was established as 0.02 mg/kg for soil sample, 0.5 mg/kg for rape and rapeseed sample, respectively. It was shown that recoveries ranged from 71.3%–109.0% for clopyralid, and 84.0%–100.5% for picloram at fortified levels of 0.02–2 mg/kg. From residue trials at two geographical experimental plots in China and laboratory simulated pots, the results showed that the half-lives of clopyralid in rape and soil were 3.66–4.83 and 2.53–5.17 days, respectively, for picloram with half-lives of 5.17–10.73 and 3.45–7.11 days. For tirals applied according to the label recommended, at harvest time the final residues of clopyralid in rapeseed were below 1.82 mg/kg, while the picloram residues could not be detected in rapeseed (<LOQ).
We're sorry, something doesn't seem to be working properly.
Please try refreshing the page. If that doesn't work, please contact support so we can address the problem.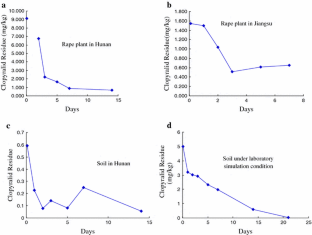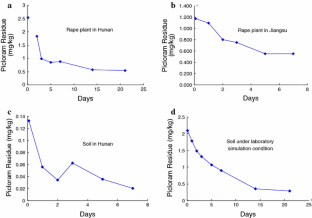 References
Ali O, Yucel S, Savas A, Mehmet K, Oturan A (2008) Degradation of picloram by the electro-Fenton process. J Hazard Mater 153:718–727

Corredor MC, Rodíıguez Mellado JM, Ruiz Montoya M (2006) EC(EE) process in the reduction of the herbicide clopyralid on mercury electrodes. Electrochim Acta 51:4302–4308

Denis RL H, Jack T, Anisur R (1988) Analysis of the herbicides dicamba, clopyralid and bromacil in asparagus by high-performance liquid chromatography. J Chromatogr A 439:470–475

Dhananjay KT, Vipin K, Ravindranath SD, Adarsh S (2005) Dissipation behavior of bifenthrin residues in tea and its brew. Food Control 16:231–237

Jesús Santos-Delgado M, Crespo-Corral E, Polo-Díez L (2000) Determination of herbicides in soil samples by gas chromatography: optimization by the simplex method. Talanta 53:367–377

Lingyan Z, Kim HE, Limian Z, Hian KL (2002) Analysis of phenoxy herbicides in bovine milk by means of liquid–liquid–liquid microextraction with a hollow-fiber membrane. J Chromatogr A 963:335–343

Marina K, Maria LA, Damia B (2009) Liquid chromatography—tandem mass spectrometric analysis and regulatory issues of polar pesticides in natural and treated waters. J Chromatogr A 1216:520–529

Rodríguez Pereiro I, González Irimia R, Rubí Cano E, Cela Torrijos R (2004) Optimisation of a gas chromatographic–mass spectrometric method for the determination of phenoxy acid herbicides in water samples as silyl derivatives. Anal Chim Acta 524:249–256

Schütz S, Vedder H, During R-A, Weissbecker B, Hummel HE (1996) Analysis of the herbicide clopyralid in cultivated soils. J Chromatogr A 754:265–271

Urairat K, Kunaporn S, Natchanun L (2008) Rapid determination of phenoxy acid residues in rice by modified QuEChERS extraction and liquid chromatography—tandem mass spectrometry. Anal Chim Acta 626:10–20
Acknowledgments
This study was supported by Program for 2008 New Century Excellent Talents in University and Key Technology R&D Program in the 11th Five-year Plan of China (No.2009BADB7B03-6).
About this article
Cite this article
Zhao, P., Wang, L., Chen, L. et al. Residue Dynamics of Clopyralid and Picloram in Rape Plant Rapeseed and Field Soil. Bull Environ Contam Toxicol 86, 78–82 (2011). https://doi.org/10.1007/s00128-010-0184-9
Received:

Accepted:

Published:

Issue Date:
Keywords
Clopyralid

Picloram

Residue dynamic

Rape

Soil