Abstract
The analytical method for the residue analysis of a novel herbicide, oxaziclomefone, and its dissipation in soil, water, rice plants and husked rice in rice fields at GAP (Good Agricultural Practices) conditions were studied. Oxaziclomefone residues were determined by GC-NPD. Mean recoveries ranged from 84.4 to 108.2% with relative standard deviations (RSDs) of 2.4 to 17.2% at three different spiking levels for each different matrix. The limits of quantification (LOQ) were found to be 0.01 mg/kg in soil, water, rice plants and husked rice and 0.02 mg/kg in rice hull. The mean half-lives of oxaziclomefone residues in water, soil and rice plants were 11.3, 37 and 4.4 days, respectively. At harvest, soil, straw, rice hull and husked rice samples were found to contain oxaziclomefone below the maximum residue level (0.1 mg/kg) set by Japan and Korea. Following the recommended application method, this herbicide is therefore safe to apply to rice fields.
Access options
Buy single article
Instant access to the full article PDF.
USD 39.95
Price includes VAT (USA)
Tax calculation will be finalised during checkout.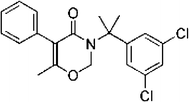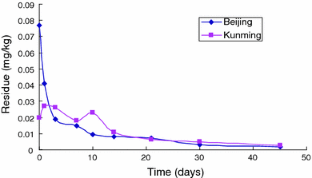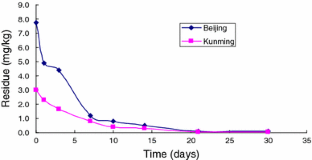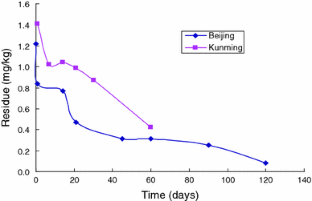 References
Jiang YF (2006) Analytical method for determination of oxaziclomefone by HPLC. Pestic Sci Admin 27(6):6–8

Kawata K, Asada T, Tanabe A, Oikawa K (2005) Runoff of clomeprop and oxaziclomefone from a paddy field. Bull Environ Contam Toxicol 75(5):922–928. doi:10.1007/s00128-005-0838-1

Li W, Qiu SP, Wu YJ (2008) Triazophos residues and dissipation rates in wheat crops and soil. Ecotox Environ Safe 69:312–316

O'Looney N, Fry SC (2005a) The novel herbicide oxaziclomefone inhibits cell expansion in maize cell cultures without affecting turgor pressure or wall acidification. New Phytol 168(2):323–330. doi:10.1111/j.1469-8137.2005.01501.x

O'Looney N, Fry SC (2005b) Oxaziclomefone, a new herbicide, inhibits wall expansion in maize cell-cultures without affecting polysaccharide biosynthesis, xyloglucan transglycosylation, peroxidase action or apoplastic ascorbate oxidation. Ann Bot 96(6):1097–1107. doi:10.1093/aob/mci261

Suzuki H, Jikihara K, Sonoda M, Usui Y (2003) Development of a new herbicide, oxaziclomefone. J Pestic Sci 28(2):221–222

Tewary DK, Ravindranath VK, Shanker A (2005) Dissipation behavior of bifenthrin residues in tea and its brew. Food Control 16:231–237
Acknowledgments
This work was supported by grants from the Institute for the Control of Agrochemicals, Ministry of Agriculture of the People's Republic of China.
About this article
Cite this article
Liang, H., Li, L., Ji, R. et al. Dissipation of Oxaziclomefone and Residue Analysis in Rice, Soil and Water Under Field Conditions. Bull Environ Contam Toxicol 86, 28–32 (2011). https://doi.org/10.1007/s00128-010-0115-9
Received:

Accepted:

Published:

Issue Date:
Keywords
Oxaziclomefone

Dissipation

Residue

Rice plant